Our expert advisors will take care of everything
Proud British manufacturers for over 40 years
A career with Hillarys blinds
Work with us
Become an advisor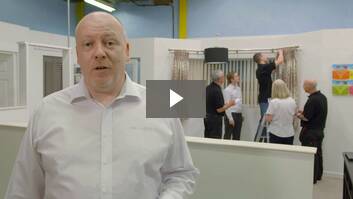 The heart of our business, our expert advisors visit customers in their homes to offer advice, hints and tips on our window dressings and to measure up and provide quotes. They also return to fit the products to a tee. Combine your practical and people skills together and reap the rewards of this varied role.
Work at head office or in the factory
You'll find so many possibilities at our head office and factories. There are departments for marketing, customer service, IT, product design, quotes, manufacturing and more.
Browse the roles that are open right now. And read real-life testimonials from our team to learn more about working at Hillarys. 
You can also find out about the rewards we offer employees and the awards that we've won.
Customer Service Sales Support Manager
Diane Stanley
"Opportunities have kept me here, and I'm so grateful for the chances I've had to move up and progress in such a brilliant company. I genuinely love my job, and that is necessary in order to be successful. You can only get the results I get from a happy team and someone who is motivated running that team."