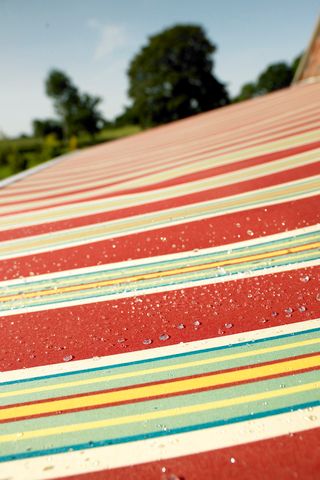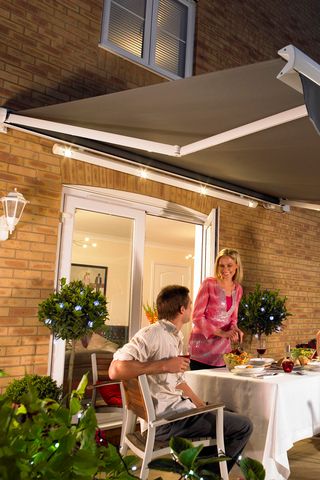 Tips for choosing the perfect Awning
Choosing the perfect awning for your home is simple, with a few bits of expert advice. Here Mark Lucas, our  awnings expert, takes you through the key points.
Why choose a garden awning?
Awnings are an ideal way to transform your patio area into an outdoor living space. They give you the ultimate control over light and shade and really come into their own in the summer months when the sun is hottest, creating a lovely shaded area to enjoy relaxing or dining alfresco, while protected from the sun.
Do you want to use your awning at other times of the year?
Awnings aren't just perfect for summer, in fact our range of accessories has been designed to keep your awning practical even when the sun isn't shining. Choose integrated heating to keep you warm and cosy in cooler temperatures, or lighting to help you enjoy the outdoors into the evening. Our awnings are not designed as shelters from rain or snow and should be retracted in these conditions. Your Hillarys advisor will be happy to talk through all of the options available.
What size awning is right for you?
It's important to get the size of your awning absolutely right because it will affect the area of shade it provides. Be mindful that as the sun moves across the sky throughout the day the shade your awning provides will change, so it's better to go wider than you may think to ensure your chosen area remains shaded all day. Hillarys made-to-measure service means your expert advisor will take precise measurements of your space during your technical survey, giving you complete peace of mind that your awning is just the right size.
Is your awning robust enough to stand up to the weather?
We all know how unpredictable the British weather can be but with Hillarys you can be safe in the knowledge our awnings are made from water resistant fabrics which are specially treated to help prevent fading and weathering. The high performance materials we use are selected to meet strict technical requirements and undergo extensive testing.
When you're not using your awning, it rolls neatly away into a wall mounted cassette for added protection against the elements. Alternatively you can opt for our intelligent weather sensor, which cleverly opens the awning when the sun is shining and closes when it's too windy, meaning you can just sit back and relax. We always recommend retracting your awning when it's raining or snowing and on windy days too.
Are you looking for a motorised option?
If ease and convenience are important to you then our motorised awnings are the perfect choice. They open and close at the touch of a button, giving you instant fingertip control. Your Hillarys advisor will explain more about how motorised awnings can meet your needs.
Is the design of your awning important?
Our wide range of practical and stylish fabrics has something for every taste. Choose from sophisticated plains and continental style striped fabrics, all designed to make your outdoor living space look as good as it feels. Your Hillarys advisor will take you through the entire range.
Let us help you create the perfect outdoor entertaining space. Request an in-home appointment with an expert advisor today.