Fundamentals: how to create impact with your living room carpet
Decorating the living room often translates as painting the walls and moving the furniture. But choosing a new carpet should be at the heart of any true lounge transformation.
Here are three ideas for perfectly finishing your living room with a new carpet.
Plain living room carpets are anything but plain
Don't be fooled: plain carpets are seriously stylish and often form the foundation of a stunning living room look.
Dark wall colours and rich furnishings will contrast acutely with a plain living room carpet in a light shade. This is a sophisticated and very fashionable finish.
Alternatively, a light colour scheme with a pale neutral carpet will create a modern, but oh-so soft effect. It's one for the dreamers.
Boost your interior with a coloured lounge carpet
You've two major options when choosing a coloured carpet for your living room.
First, go for light walls and pick a lounge carpet in a big colour. You'll find drama in the contrast.
Second, add more colour to your colour scheme with your carpet. You might think this sounds risky. But Hillarys offers you a straightforward way to achieve an unconventional and eye catching look.
Book a free, in-home appointment and one of our specialists will bring our coloured carpets to you. So you can match bright shades to your walls and furnishings and find a stunning combination that really works.
Your simple choice for striking style
Going for a striped carpet is a shortcut to style success. These are smart designs that catch the eye and suit the décor in plenty of living rooms. Check out our guide for more advice on choosing a striped carpet.
Request an appointment
How Hillarys can help you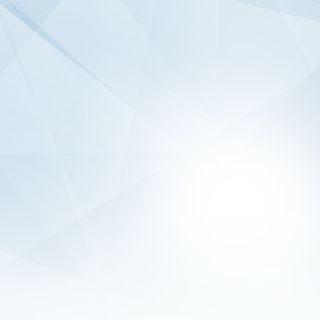 Find out how to create a stylish look in your home with a striped carpet.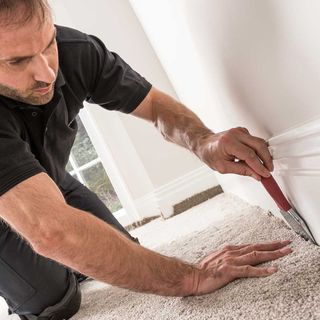 Choose Hillarys for carpets and you can relax on your fitting day. Our specialist fitters will take care of everything and leave you with a pristine finish.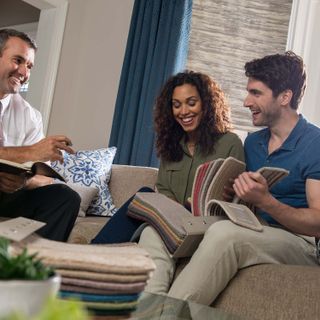 Discover the reasons why Hillarys' in-home appointment service is a better way to buy a carpet.