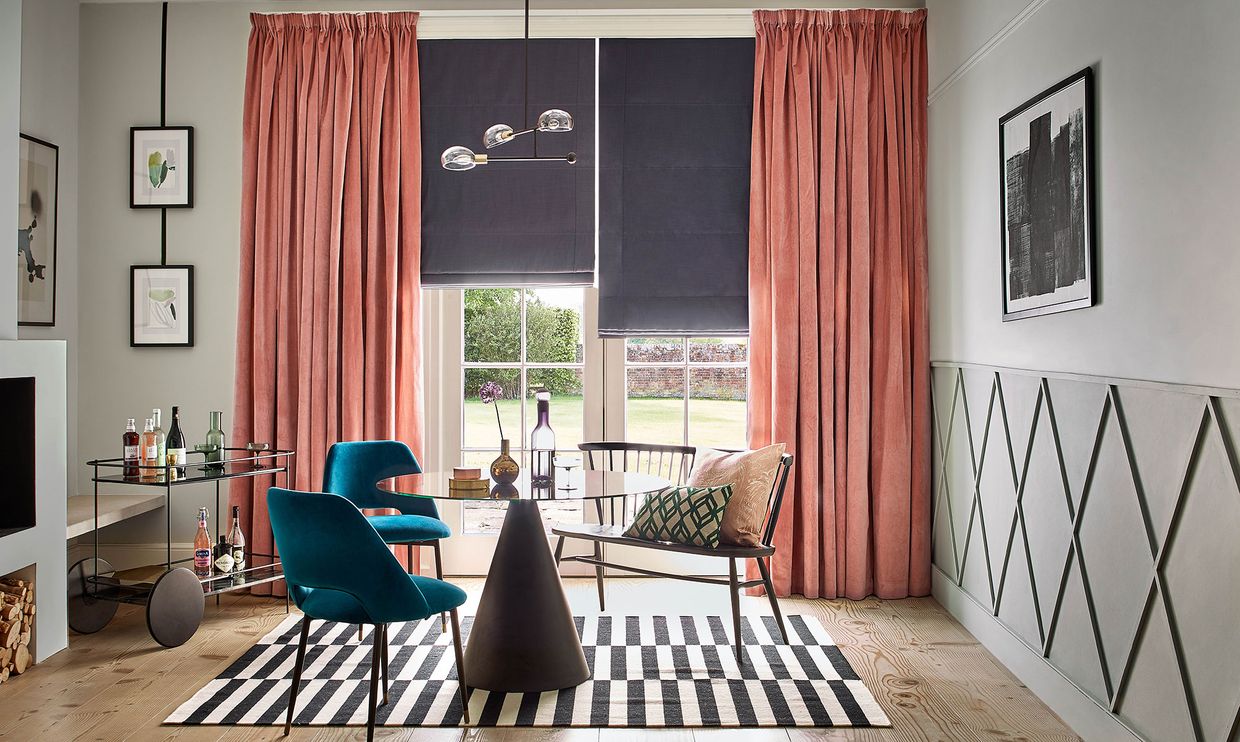 Top tips for dressing your door
Regular readers of the blog will know that here at Hillarys, we pride ourselves on our range of made-to-measure window dressings. What they might not know, is that we provide lots of lovely options for doors too. So if you are debating door blinds, or wondering whether curtains or shutters would be better options, here are my top tips for dressing your door.
Go for versatile Vertical blinds if privacy is important
Vertical blinds are ideal for wide expanses of glass as they provide fingertip control over privacy, so are perfect for large patio doors that are overlooked by neighbours. Vertical blinds are a practical and easy to operate option for sliding doors because they can be neatly pushed to one side to allow for access. These blinds can be used as a modern alternative to old fashioned net curtains, with a wide range of colours and fabrics to choose from.
Can you use shutters on doors?
Tracked shutters are another striking choice for patio doors, as tracking allows for multiple folding shutter panels. What's more, shutters aren't just beautiful - they're practical too. As their name suggests, they're perfect for shutting out extreme climates and helping to maintain a steady temperature in your home. Alternatively, Plantation shutters can also be mounted over doors in bedrooms, dining rooms, living rooms and offices for an striking finish.
Choose cosy curtains for warmth
Thermal curtains are a lovely option for providing a snug and cosy atmosphere. Heat escapes from many homes via the front, back or French doors, so drawing curtains over these areas will help prevent any draughts. The length of curtain that you need will depend on the size of the door or the effect that you want to create. Choose from full length for a dramatic effect or voiles for a softer look.
Get creative with the glass pane
Of course, if you just want to cover a glass panel in your door - not the entire thing - the choice is yours when it comes to which style of blind to go for. Perfect Fit frames are a fantastic choice for uPVC doors as the frame fits snugly and neatly between the beading and the glass pane. PerfectFit Pleated blinds allow light to gently filter into a room, creating a relaxed ambience. Alternatively, Perfect Fit Venetian or Roller blinds can be used to provide a sleek look.
If you're still not certain whether blinds, curtains or shutters would be the best option for your door then arrange for your local Hillarys advisor to bring our full range to you at home. Your expert advisor will make tailored suggestions based upon your individual requirements, making it simple to choose the perfect door dressing.