The Christmas party season is upon us, so the next few weeks are sure to whizz by in a busy whirl of social engagements. If your friends are anything like mine, conversations will inevitably turn to what everybody is planning to wear. With so many different events to attend, buying a new outfit for each would prove pricey.
A tried and tested trick that I've used over the past few years has been to wear the same dress to more than one gathering, but to accessorise it differently. I've found that it's possible to create a fresh look, simply by adding a statement necklace or bright clutch bag. For men, a classic suit paired with a new shirt or tie works in the same way.
Applying this principle to your home is also very easy to do. So if you'd like to vary your décor according to your mood, a few simple touches can make a surprisingly big difference. For example, once you've chosen the curtain fabric that you like best, there are lots of ways to customise it according to your individual style.
Starting from the top, choosing a different header will affect the overall appearance of your curtains. Eyelets have a contemporary appeal and provide large even pleats, while a Pencil Pleat heading is ideal for more traditional rooms. Alternatively, Pinch Pleat headings have a lovely tailored finish.
Poles, tracks and finials are also features in their own right, so it's important to pick an option that complements the overall feel of your room. Warm wooden poles are the perfect partner for natural inspired fabrics, while sleek metal poles suit modern or futuristic schemes. For a decorative look, add an ornamental finial to your chosen pole. Or for a more discreet effect, go for a hidden track instead.
All our curtains are fully-lined to create a full and luxurious impression, but you are also given the option to upgrade to a performance lining if you would like to. Thermal linings are just the thing for draughty windows, while blackout linings are great for bedrooms.
And your choices don't stop there either. Adding a tie back to your curtains will change the way that they hang, just as a belt cinches you in at the waist. Choose from a fabric option to match your curtains, a simple rope design, a flamboyant tassel or an elegant crystal and tassel combination.
Once your new curtains are hanging just the way you want them to, you can then add accessories in the same way that you would complete an outfit with jewellery. Choose cushion covers in a matching fabric for a coordinated look, or mix different colours and designs for an eclectic finishing touch.
You might also be interested in…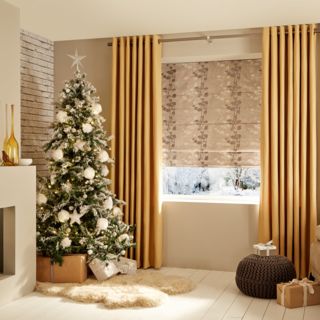 Take a look at our style tips for creating traditional and contemporary Christmas themes.