Guy Fawkes Night is nearly here, so I'm sure that many people will be planning a trip to their local fireworks display over the next few days. Naturally I love the way the rockets and Catherine wheels light up the night sky with an explosion of colour, and have to admit that I'm partial to a jacket potato baked in the embers of a bonfire.
Having said that, it can sometimes be a bit of a drag tearing myself away from my cosy living room to wade through a muddy field - especially after a long day at work. This is the time of year when the temperature really starts to drop, and I start to feel the cold however many layers I've piled on.
If this is the same for you, then you may be able to enjoy the ambience of the evening without going far at all. Over the past couple of years, I've been lucky enough to enjoy a stunning display from the comfort of my garden, thanks to the range of events taking place nearby in the run up to November 5th.
Awnings are often associated with summer, as they supply a shaded retreat from the heat of the sun. In actual fact, they make a fantastic addition to your home no matter what the season, and can create a stylish shelter on Bonfire Night. We chose a sleek grey fabric for our patio, then added accessories to help us get the most from it all year round.
A wind sensor provides protection by automatically retracting the awning when it gets too windy to leave it out, while an integrated lighting system allows us to potter about long after the sun has set. Finally, radiant heaters work to ensure a snug space over the winter months. Obviously we would always wear gloves while enjoying a few seasonal sparklers, but once these burn out, the mittens can easily come off. 
You might also be interested in…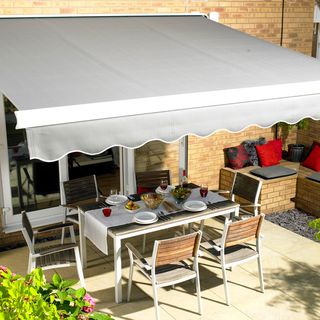 How to make the most of the weather with a stylish and practical awning.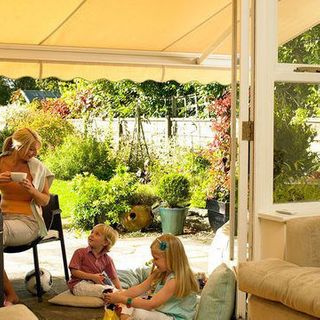 Get expert advice on the things you need to consider when choosing an awning for your outside space.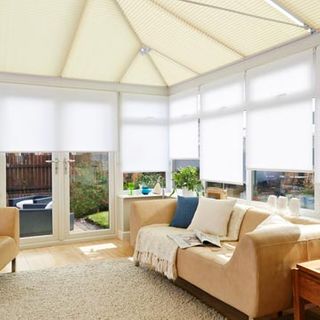 Top tips to get your conservatory looking tip top.