Keep your home on the straight and narrow this summer by introducing stunning stripes to your interior. Now's the perfect time to take on the trend, as the pattern brings back fond memories of seaside holidays, deckchairs and sticky rock. So go on - make your décor earn its stripes!
Just as there are countless holiday destinations to choose from, there are lots of different varieties of stripe too. From verticals to horizontals - and even diagonals - it's definitely worth learning your lines.
Ticking style stripes put the chic into shabby. Our Harrogate Tomato Roller blind is a brilliant example of this. Here, we picked out matching red braid to create a slightly softer effect and supply a fabulous finishing touch.
On our landing, we used the same pattern in another colour-way. Our Harrogate Blue Roller blind adds a splash of coastal cool to the space. Nautical schemes return to fashion year after year thanks to their timeless appeal.
While in our hallway, a yellow hue was the order of the day. Our Harrogate Yolk Roller blind injects a hint of sunny style into the room. A vase of fresh blooms on the window sill then completes the picture.
We went for a similar scheme in our kitchen, but decided to throw a few more colours into the mix. The gorgeous green and warm taupe tones of our Lundy Pistachio Roman blinds turn the large bay window into a key focal point.
In our breakfast room, we used the same print but plumped for a gentle charcoal shade. Our Lundy Charcoal Roman blind looks simply stunning paired with these Brompton Soft Grey curtains. Stripes are great mixers and work beautifully with florals.
Over in our bathroom, we kept things simple with a sleek, lightweight fabric. Our Buxton Natural Roller bathroom blind is made up of sherbet stripes, with delicate lilac and neutral detailing. This provides a pretty contrast to the crisp white walls.
 And in our dining room, we took inspiration from classic summertime themes. Our Prior Park Roman blind has a lovely classic feel, which brings to mind picnics and the great outdoors. Spotty red crockery then finishes the look to perfection.
You might also be interested in…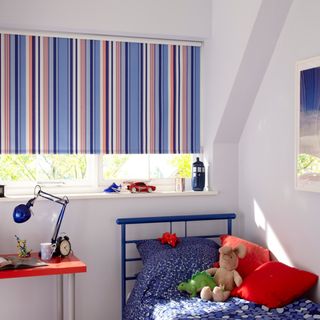 Keep your home on the straight and narrow by introducing stunning stripes to your interior.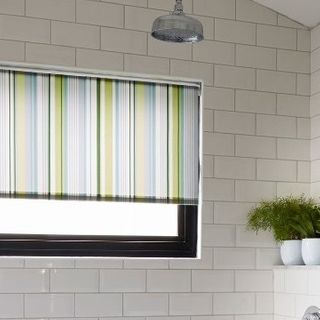 Whether you want to evoke the fun of the seaside or the tailored style of Savile Row, striped blinds achieve a co-ordinated look.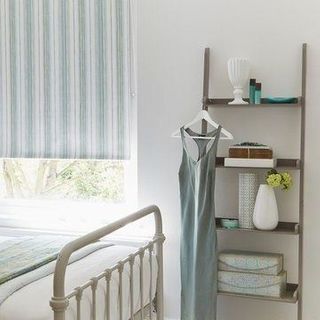 If you'd like to introduce stripes to your home, here are our favourite ways to 'learn your lines'.