It's that time of year again. Children are back at school, the shops are full of autumn clothes and your summer wardrobe staples get packed away until next year.
September is a key time in the world of interiors too. Later this month sees the launch of our exciting collaboration with House Beautiful – a gorgeous edited collection of Roman blind and curtain fabrics. And our favourite paint and wallpaper specialists Farrow & Ball are proud to unveil their latest wallpaper range. Marketing Director Sarah Cole tells us more, and shares with us the products from the Hillarys range that she thinks best complements the designs.
It's an exciting time for us at Farrow & Ball as we are introducing four beautiful new Japanese-inspired wallpapers to our collection.  Taken from traditional Japanese designs they will create a very tranquil and restful feel in the home, and can be perfectly paired with the blinds, curtains and shutters in the Hillarys range.
Yukutori, which means birds flying away in a group, has a very soft feel, with the gentle outlines of birds floating across the paper. I've teamed it with a simple Wooden blind from the Hillarys Haywood collection called Limed White; the washed appearance of the blind shows of the grain of the wood which complements the natural feel of this paper.
The most opulent of our new designs is the distinctively Oriental, Shoubchikubai.  Like all the papers it is available in five different colourways, including three sparkling metallics.
Aranami, meaning raging waves, is a striking design that really shows off our unique printing process.  All our wallpapers are made using our paints and printed according to traditional block and trough printing processes, giving a beautifully textured appearance. 
The added texture emphasises this wave pattern which looks really fresh in a summer blue and white colourway BP4604.  Team with dark wood shutters from the Richmond range of hardwood shutters to create a stunning space.
The final new design is Amime, a subtlety textured woven design.  Pair with the floral pattern of Beauty Lemon from the Revive collection of curtains to create a really zesty yellow accent against either a neutral Amime paper, or our strong blue on black BP4405 for a really bold statement.
Amime BP4405
Embracing the current trends for metallics, organic forms and Japanese inspiration, the new papers can be used to transform any space.  Team with Hillarys contemporary blinds, curtains and shutters, and you can make a stylish yet relaxed look in your home.
About Farrow & Ball
At Farrow & Ball we make unmatchable paints and wallpapers. Ever since we were founded by paint pioneers John Farrow and Richard Ball, their passion for producing paint using on the finest ingredients and age-old production methods has remained at the heart of Farrow & Ball, right through to today.
Our sumptuous paint colours are made using high levels of rich pigments to original recipes and are wallpapers are hand crafted using our own paints and traditional printing methods.
We make everything at our factory in Dorset, home to Farrow & Ball since its beginnings. Each and every batch is subjected to scrupulous testing to ensure that our Elephant's Breath is no Dead Salmon and our wallpapers retain their uniquely tactile texture.
Farrow & Ball products are available from showrooms and stockists around the world. To find out more about the new wallpapers visit www.farrow-ball.com/new-wallpapers.
I've continued the metallic trend by choosing a metal Venetian blind called Gold Copper, it would work particularly well with Shoubchikubai BP4504, which combines our new navy Stiffkey Blue with copper accents.
You might also be interested in…
Our House Beautiful fabrics reference historical patterns and heritage craft techniques.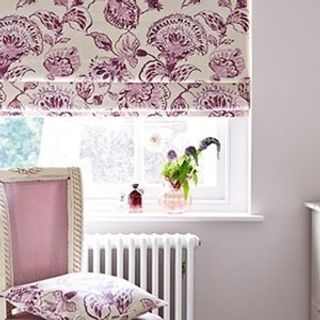 We catch up with Julia Goodwin, the editor of House Beautiful magazine, who shares her thoughts about the new range.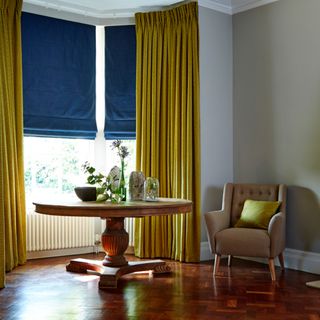 In this article we explore the variety of textures and pattern in the new House Beautiful collection.