Our new Roman blinds and curtains collection has arrived and it's packed with all the key fashions for the coming seasons. Designed to blend together or make a statement on their own, the stunning plains and patterns will transform your surroundings.
Certain motifs have a timeless appeal which never seems to date, and stripes are one of these. Linear prints always prove popular with our customers, so naturally we wanted to include plenty of these when launching our latest fabrics.
As well as traditional stripes, our range includes a contemporary twist on the trend. You might not believe it, but blurring the lines at your window can actually keep your scheme on the straight and narrow. So go on - make your décor earn its stripes!
When it comes to learning your lines, the world is your oyster. You can start with a colour and find a design to complement this, or vice versa. In our study, we wanted to promote a welcoming environment, so plumped for a rich autumnal palette.
This Anouk Dusk Roman blind fitted the bill perfectly, as the pretty purple tones add a touch of warmth and vibrancy to our crisp white room. The combination of snug shades and eye-catching detailing creates a real feature.
We loved the overall effect, so decided to use the same theme in our living room. For a slightly different take on the look, we changed the colour-way and style of window treatment, with these Anouk Blue Mist curtains.
If you're a fan of cool coastal blues, then you'll like what we did with our dining room. The horizontal repeat on our Riviera Turquoise curtains makes the most of our beautiful bay, while the aqua hues are wonderfully refreshing.
A 'nautical but nice' impression was the order of the day in our bedroom too. Here, we teamed a classic stripy Roman blind - called Hatti Mineral - with the blurry beauty of our Riviera Mist curtains, for a striking finish.
Blurred lines also work well with natural forms. In our guest room, we paired this gorgeous grey Riviera Dusk Roman blind with our Isra Dove Grey curtains. The mixture of lush leaves and distressed detailing is a match made in heaven.
You might also be interested in…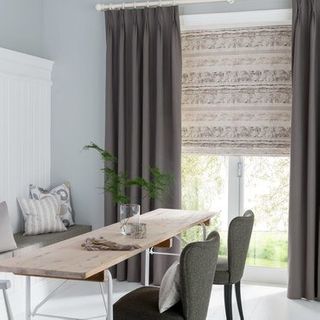 There are lots of different varieties of stripe, from verticals to horizontals - and even diagonals.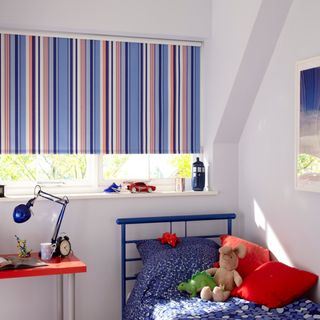 Keep your home on the straight and narrow by introducing stunning stripes to your interior.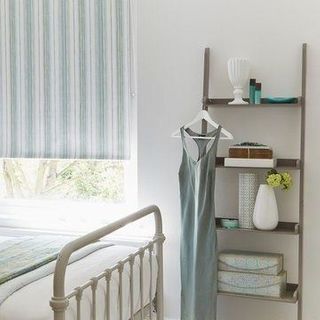 If you'd like to introduce stripes to your home, here are our favourite ways to 'learn your lines'.