Our new Roman blinds and curtains collection has arrived and it's packed with all the key trends for the coming seasons. Designed to blend together or make a statement on their own, the stunning plains and patterns will transform your surroundings.
When it comes to motifs, flowers and stripes always prove popular with our customers, so we wanted to include plenty of these in the range. Historically, the prints were used by themselves, but now we'd encourage you to mix both for a look that's bang up to date.
Unexpected pairings are often the best ones - whether it's peanut butter and jam, bacon and maple syrup or chilli and chocolate. And this theory applies to your interior too, where teaming flowers with stripes results in a lovely eclectic effect.
This fashion is fab for casual country homes, but can also inject a touch of cottage garden style into urban properties. In this example, our Wollaton Natural curtains looked gorgeous in our rustic living room, but we felt that something was missing.
The overall finish was practically perfect… But we thought even this could be improved! The colours in our Francesca Raspberry curtains were an ideal match, while the contrasting floral detailing supplied an extra point of interest.
If cooler palettes are your cup of tea, take a peek at the breath-taking blues in this living space. Our delicate Downtown Mink Roman blinds allowed the bold blooms on our Rosita French Blue curtains to take centre stage.
Over in our bedroom, we decided to flip this theme, with flowery Roman blinds and linear curtains in blue hues. These fantastic Francesca Wedgewood and Hatti Chambray designs transformed our window into the focal point of the room.
Adding these Leyla Praline Roman blinds instantly made the space feel cosier. Layering blinds and curtains creates a lovely snug feel, in the same way that putting a jacket on over an outfit provides instant warmth.
In our lounge, a mouth-watering impression was the order of the day. The pretty pastel stripes of our Hatti Raspberry Roman blinds fitted the bill beautifully, as the stunning sherbet shades have a delicious appeal.
You might also be interested in…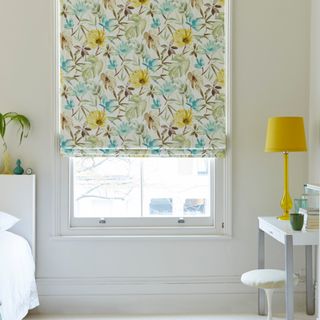 From romantic posies to tropical prints, you're sure to find a favourite.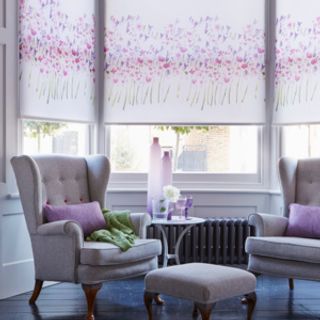 This look recognises the duality between the innovative world we live in and our desire to be close to nature.