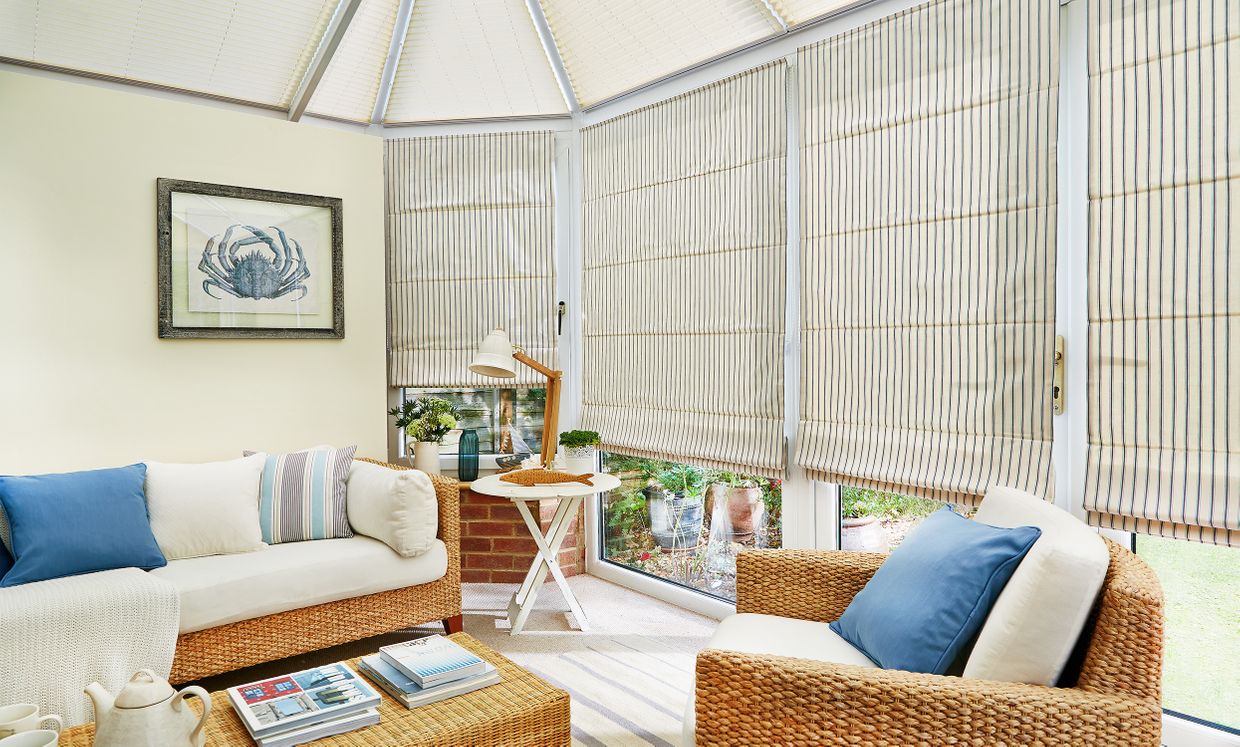 Blinds for conservatories and glass extensions
tips for tailoring your window dressings to your space
Get the most out of your conservatory or glass extension with our top tips for tailoring your window dressings to your space. From improving energy efficiency to creating an atmospheric dining experience, we show you how to create a relaxing space that you'll love to live in, whatever the weather.
Transform your conservatory into a lovely living space
Blinds can transform any room, but nowhere is their impact more noticeable than in a room made primarily from glass. With so many windows to play with, it's worth spending time picking blinds that you'll love, and that support your overall vision for your space.
Pleated blinds are a classic choice for a conservatory or glass extension. They provide a uniform finish, both when they're pulled down, or when they're pushed up, neat and tidy out the way.
When conservatories first came into vogue centuries ago, they were used to grow exotic fruit and plants. Even if you don't have a collection of stunning flora or botanicals to nurture, you can bring a touch of green-fingered style to your space.
Our Rayna Apple Roman blind is a real statement, featuring a screen print style retro print in zesty shades of green. Pull down a Roman blind for a homely, cosy feel – perfect for snuggling up with the family for a night in.
Enjoy every mouthful in a light and airy space
Many people enjoy their conservatory or glass extension as a place to eat. In our dining area, we used two contrasting Pleated blinds in Crush Charcoal along the sides, and Salerno Sand for the roof to create an on-trend monochrome look. There is something very satisfying about starting your day breakfasting in a room with a view, especially in the summer – simply push the tab of the blinds up to enjoy unadulterated views of your outdoor space.
Bridge the gap between indoors and outdoors with a garden room
A conservatory literally sits between the rest of your home and your garden. It's unsurprising, then, that many people like to think of theirs as their 'garden room'. We brought a touch of the outdoors to our space with these Beachwood blinds in our wood illusion range, bursting with attractive wood effect options - a versatile alternative to hardwood blinds. We finished off our space with a strategically placed trowel for whenever we fancy a potter in the garden!
Want more inspiration? Look at our full range of conservatory blinds and book an in-home appointment with one of our expert advisors. 
If you want to use your conservatory or glass extension all year round, consider a special finish to help maintain a comfortable temperature in your space. Our SolarPleat™ Pleated blinds reflect the sun for south-facing conservatories, while our specialist ThermaShade™ blinds can help to both keep the room cosy in winter, and cool in the summer.
You might also be interested in…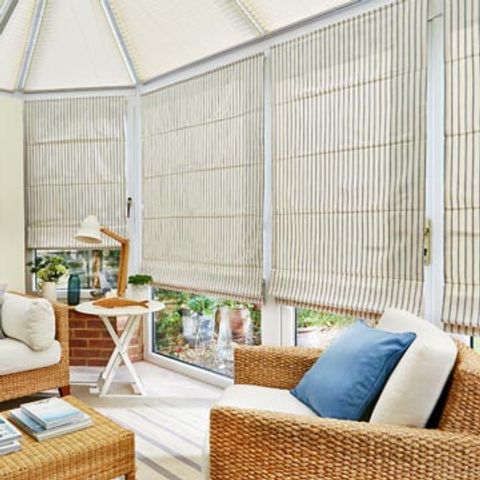 When the weather turns colder, does your conservatory give you the chills?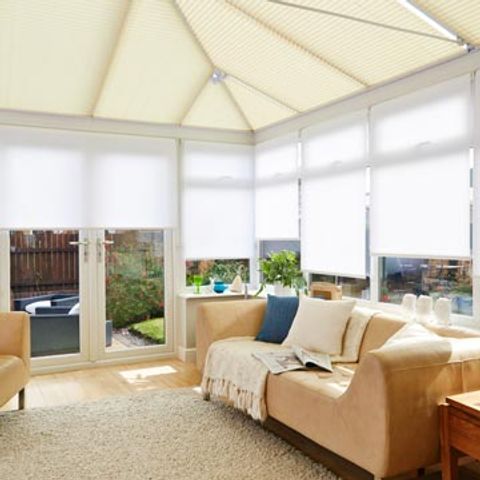 Top tips to get your conservatory looking tip top.