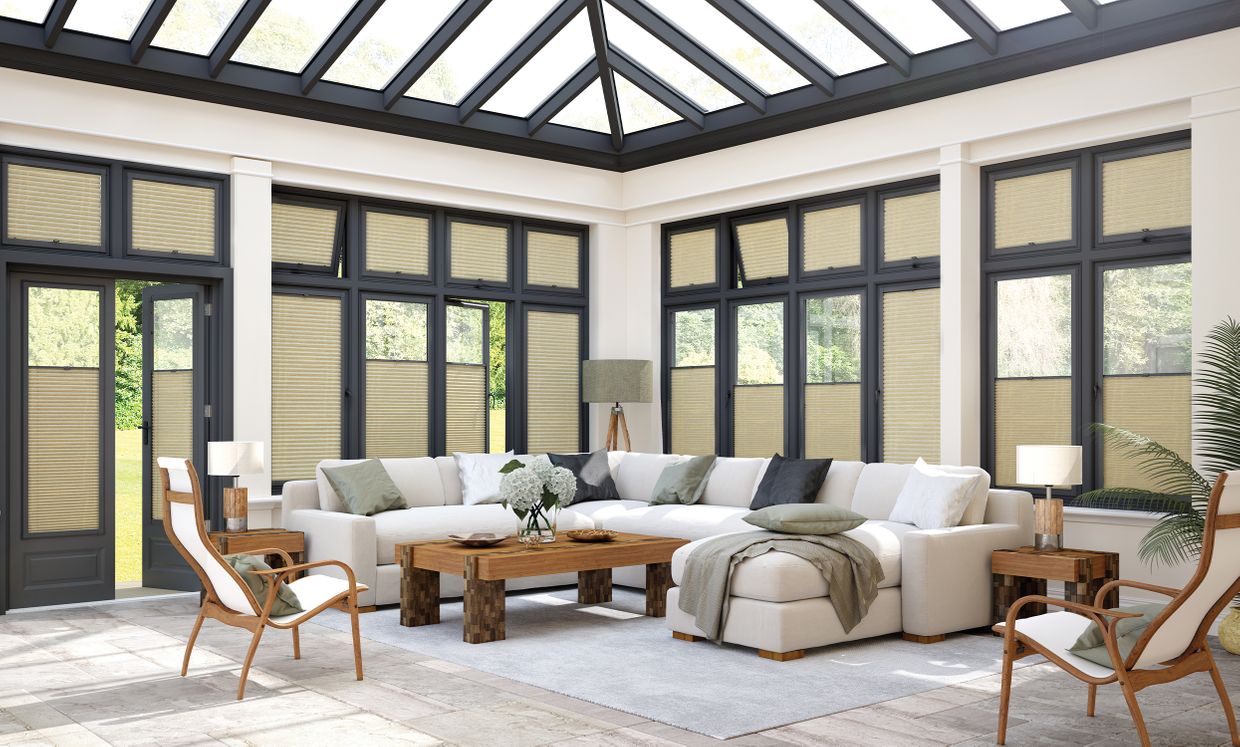 Expert advice:
making the most of your conservatory
We've put together our top tips to get your conservatory looking tip top with the right conservatory blinds for your space. Conservatories may sit on the edge of the house, but for a lot of people they're at the heart of the home. That makes it a room that deserves our utmost attention.
Give your conservatory real reason
Think about what you use your conservatory for. It's easy for a dining area to become a place to plonk a laundry basket, or to store surplus toys. But if that's not what you intended your space to be used for, now's the time to bring the focus back. The use of your conservatory will govern your décor choices, so pick a purpose and stick to it.
Face the facts
Which way does your conservatory face? If you're blessed with a south-facing garden, you'll know just how lovely the sun can be. But a glass room can get uncomfortably hot in the summer. That's where one of our special fabrics come in.
A ThermaShade™ or SolarPleat™ Pleated blind could help. Our ThermaShade™ Pleated blinds have a honeycomb structure and help to regulate the temperature all year round. Alternatively, the special finish of our SolarPleat™ blinds reflect the sun, making it a fantastic solution for south-facing gardens.
Our clever Trilite™ Top-Down, Bottom-Up Pleated blinds have a simple tab operating system which allows you to pull the blind down. But unlike our normal Pleated blinds, you can also pull them up from the bottom. This means you can pinpoint the source of sun, and stop glare in your conservatory, without needing to block the light out completely.
Consider what you want from your blinds
This is where the purpose of your conservatory comes in. For example, if your conservatory is overlooked, blinds which fold or roll up neatly might not be as much of a priority as if you use yours to enjoy the view of your garden.
Consider the following questions to help you decide the blinds which will suit your space best:
Are you overlooked?
The option to tilt blinds to combine light control and privacy is fantastic if your conservatory is overlooked. Vertical or Venetian blinds as well as shutters, are all ideal choices. The narrower your slats, the more privacy they provide.
How important is your view of the outdoors?
Blinds which take up minimal space are best for those who enjoy the lovely views expansive glazing offer. Both Pleated blinds and Roller blinds fold away unobtrusively. We've opted for the best of both worlds in our conservatory, combining our Montoya Sand Pleated blinds at the roof, with crisp Astrid Ice Rollers. 
Pack personality into your space
Of course, it's not just practical features we're worried about when we're choosing for our home. You'll want to make it your own too. Give your space personality with a statement fabric, or opt for a classic neutral.
A bright fabric choice, like our Midas Turquoise Pleated blind above creates a stunning impression. If you prefer a sleek, modern finish, a grey blind is a contemporary take on traditional neutrals. Try our Moreno Pewter Pleated blind.
Or for a really warm and cosy feel, try one of our fabulous blue curtains fabrics. Here we've plumped for a fabric called Rayna Aqua, and finished it off with our pristine Moreno Snow Pleated blinds at the roof.
Finish off your conservatory with roof blinds
Just as icing finishes a cake off, conservatory roof blinds complete your conservatory. A Pleated blind can be made to fit virtually any size and shape, making it the obvious choice for the often unusually shaped windows in a conservatory roof.
If you have a large or high roof, our motorised option, MotoPleat™ will take the hassle out of opening and closing your blinds, with classic crank and wand options also available.
We're always updating our blind designs to make sure they're always on trend. Take a look at our blind collections to see what's new.
You might also be interested in…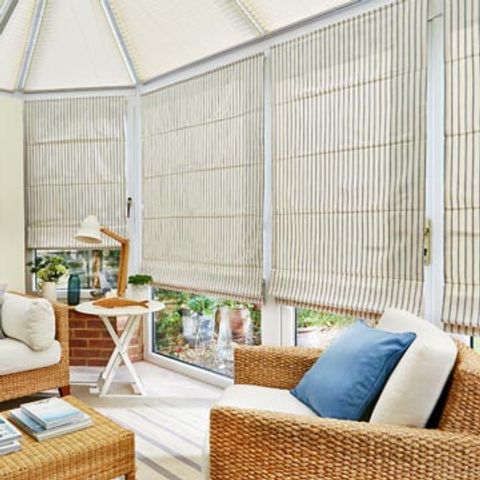 When the weather turns colder, does your conservatory give you the chills?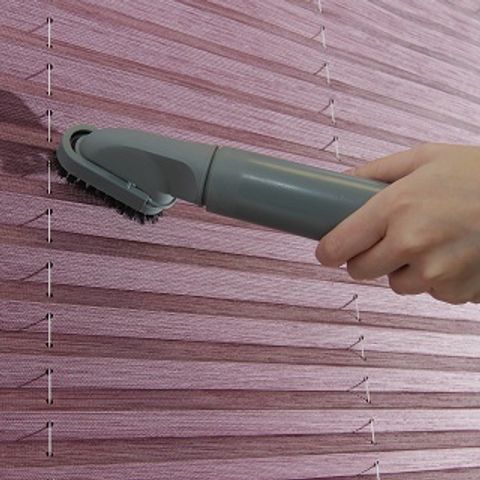 Pleated blinds are very easy to keep clean as part of a regular cleaning routine.