Put the finishing touches to your glass extension with a statement blind. We'll show you some of the best options for giving your extension the wow factor, while at the same time controlling the light and temperature to make sure that your showstopping new space remains comfortable all year round. Here are our top tips:
Pleated blinds for all year round comfort
When it comes to the roof of your glass extension, Pleated blinds are the perfect solution. Our Pleated blinds can be made to fit any size and shape roof.
Soft shades for a sleek finish
A glass extension allows you unrivalled views of your garden, and is a stunning structure in its own right. One way to make the most of these features is to opt for light coloured blinds. They create an open feel even when they're closed. Here, we've chosen matching roof and side blinds called Moreno Snow Pleated blinds for a flawless finish. This white shade makes for a neat, minimalist feel, and is a real breath of fresh air in this space. 
Vertical blinds are a practical choice for glass extensions, combine control over light with privacy and perfect for covering large spaces. Here, our Acacia Fresh Mint Vertical blind provides a fresh feel with its pastel shade, splitting in the middle to allow gorgeous views of the outside space.
Blinds for adaptive light and privacy control
If your glass extension is overlooked, Venetian blinds offer control over privacy, as well as light. Wood never goes out of fashion, and here, our Scandinavian Beech Wooden blinds provide a light and airy feel. The white tape adds interest and a luxurious finishing touch. 
Browse our blinds range to find the perfect blind design for your glass extension.
You might also be interested in…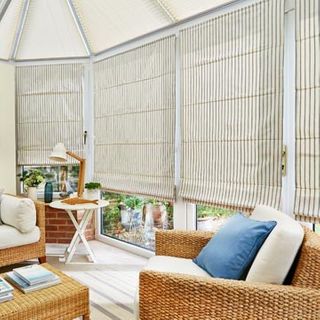 When the weather turns colder, does your conservatory give you the chills?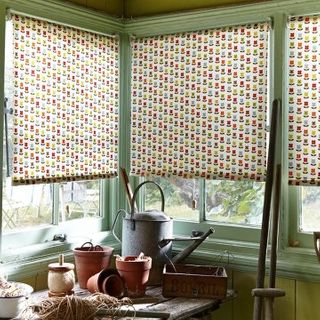 Top tips for tailoring your window dressings to your space.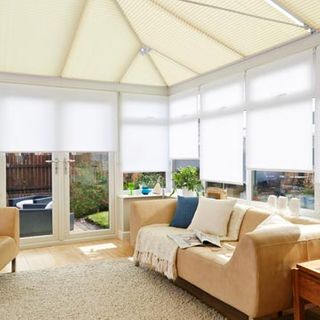 Top tips to get your conservatory looking tip top.