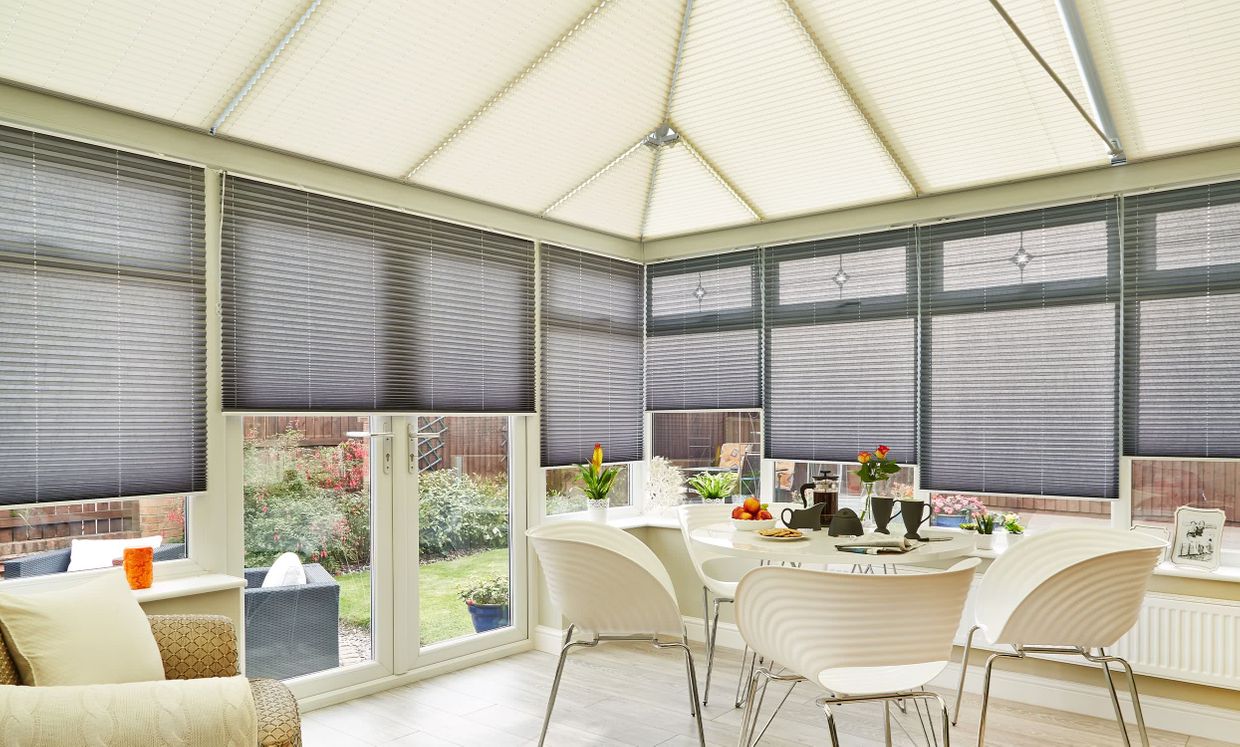 The complete guide
to conservatory roof blinds
Picking blinds for your conservatory roof is the perfect solution to the age-old problem of maintaining a comfortable temperature in a glass room all year round. No matter what style of space you have, our wide range of conservatory roof blinds will transform yours from a jumbled jigsaw into a beautiful, sleek design. Here are our top tips…
Shade yourself from the sun
If your conservatory is south-facing, you'll know just how hot it can get in the summer. Picking a conservatory roof blind that will help to combat this problem is key.
All of our Pleated blinds have a Sun Shade Factor (SSF) – the higher the factor, the more superior the protection it offers from the sun. Our Grenouble Taupe Pleated blind is a smart choice for a conservatory roof, receiving a high rating of eight on the SSF scale.
Motorised blinds
Our roof blinds are available with a classic wand or crank operating device. However, if you have high ceilings or will be operating them regularly, our MotoPleat™ motorised option really takes the hassle away. Pick from a fantastic range of our most popular options, including our Montoya Umber Pleated blind pictured here.
Contrast the look
In any area of life, a bit of contrast makes for a pretty display. It's the same with your blinds. You don't need to choose Pleated blinds to match the ones at your conservatory roof. Here, our Rosie Posie Ivory Roller blinds look simply stunning with pristine Grenouble Cream Pleated blinds.
Of course, Pleated blinds look beautiful wherever they are used, so we can't blame you if you want to continue the look. Different colours create visual contrast, as we've illustrated here with our Salerno Sand Pleated blind and Crush Charcoal Pleated blinds.
Perfect pleats every time
A Pleated blind needs to stay looking crisp for years to come. The TruPleat™ and MasterPleat™ technology encased within our Pleated blinds stops gravity from taking its toll, ensuring even spacing when open, and a neat and tidy finish when closed. So you can be sure of perfect pleats, even when you open and close them regularly.
You might also be interested in…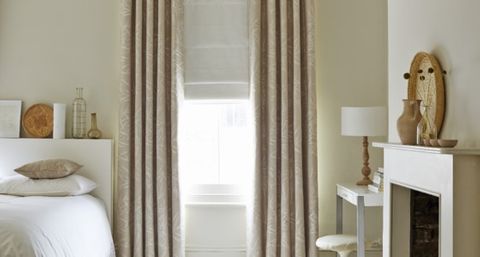 Did you know that as much as 20% of the total heat lost from your home is through your windows?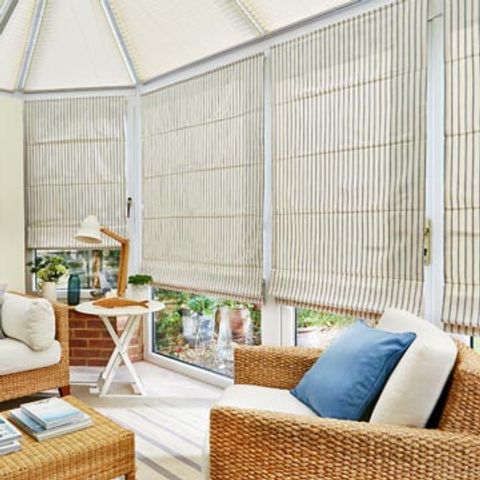 When the weather turns colder, does your conservatory give you the chills?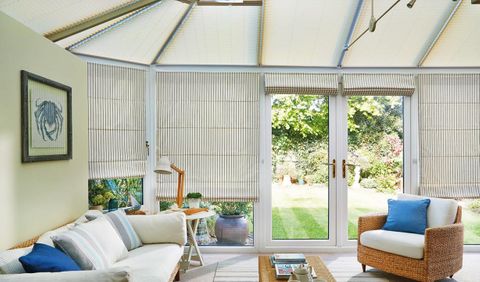 Take a look at our easy-to-follow top tips and keep your roof blinds looking spick and span.