Those who've heard the saying 'April showers bring May flowers', will know that it's ringing true right now - gardens are bursting into bloom up and down the country. Spending time in the outside world is lovely, but it's also important to have a welcoming indoor space to return to.
If you're looking for inspiration for the interior or exterior of your home, then this year's Grand Designs Live Exhibition is for you. The event opens on Saturday 2 May at London's Excel, and runs until Sunday 10 May.
Naturally, we'll be there with plenty of inspiring ideas for your rooms. As well as being the place to pick up exclusive discounts and see our latest ranges, our stand will also showcase a roundup of this season's key trends. There's a sneak preview of these below, plus a link to discounted entry tickets.
Make it fresh
The first theme is perfect for those who love 'Darling buds of May'. Funky florals and bold botanicals are fab choices to breathe fresh life into tired décor. They're also a wonderful way to bring the outdoors in. 
In our dining room, this sleek seed head design provides a chic contemporary alternative to traditional flowery motifs. The crisp tone of our Elsham Ice White Roller blinds contrasts beautifully with our turquoise walls.
Make it bold
Next up, our second style isn't one for shrinking violets! Bright colours and bold patterns will ensure that your windows take centre stage. Use vivid materials to liven up a neutral palette, or team them with clashing colours for an eclectic impression.
We went down the first route in our bedroom. These Lattice Pistachio Roman blinds from our House Beautiful collection add a splash of vibrancy to their understated surroundings. The gorgeous green hue has a zingy feel
Make it elegant
Lastly, our final scheme has a sophisticated appeal, for those who like the finer things in life. Give your windows the wow-factor and impress any guests, with intricate detailing and sumptuous metallics.
As a nation, we typically do a lot of entertaining in our living rooms, so it was important for us to make the most of ours. This Kashmir Silver fabric from our new Roman blinds and curtains range fitted the bill perfectly. 
We hope that these fashions have whetted your appetite. If they have, how about coming to see them in person at the show? To find out more - and claim your discounted entry ticket - visit www.hillarys.co.uk/grand-designs-live/.
You may also be interested in...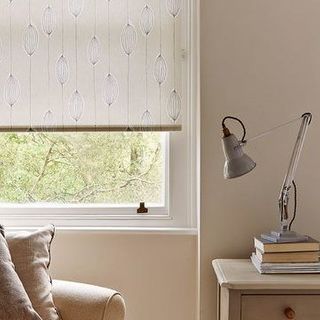 Read how we've given lace the Roller blind treatment.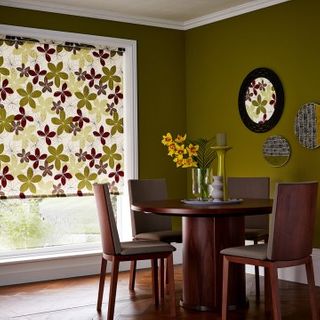 Why olive palettes are proving particularly popular.
How to channel the beauty of the outside world indoors.