Browse our kitchen blinds and get design inspiration for transforming the heart of your home. Our blinds are available in a range of performance fabrics that are perfectly suited for the kitchen environment.
The modern kitchen is much more than a functional space. It is the beating heart of the home, where families come together to cook, eat, work, socialise and entertain. We show you how to choose a kitchen blind that looks great and is highly practical for this busy, multi-purpose space, especially at this time of year!
Festive Farmhouse  
The farmhouse kitchen is a potent symbol of hearth and home. Even if you don't have space for a traditional farmhouse table, you can still create a kitchen that is full of rustic charm. Invest in a distressed, solid wood table, accessorised with handcrafted candlesticks, earthenware crockery and a vase of winter branches. As a kitchen blind This Meadow Way Poppy Roller blind accentuates the crimson tones and adds to the country feel.
Chocolate Orange
There is possibly no greater flavour combination than chocolate and orange, especially at Christmas time. And where better to bring these festive flavours together than in the kitchen. These Moreno Rust Pleated blinds create a warm and fiery glow even when there's nothing cooking, and the pendant lamps add to the intimate and informal atmosphere. Choose a seasonal winter cherry for a dash of festive colour.
Turtle Dove
Grey is one of this year's key colours and it's a great choice for both modern and traditional schemes. This Victorian styled kitchen combines the warm tones of brass and pine with green glass jars and crisp, white crockery. You can almost imagine creeping in to steal a mince pie while cook's back is turned!  The grey blinds in Opulence Dove Grey is from our House Beautiful Global Textures Collection.
White Christmas
This pristine, contemporary kitchen shows that you don't always need snow to enjoy a white Christmas. The clean lines of the ice white units and high gloss surfaces are softened by the pretty paisley wallpaper and the elegant shutters. The rococo mirror adds a touch of romance to the scheme while the stylishly arranged fruit and olive oils add a zing of colour.    
Party Room
There's a good reason why you'll always find your guests in this room at parties. Lots of people are extending their kitchens to create stylish, open plan spaces suitable for socialising. These Midas Turquiose Pleated blinds are a perfect choice for an entertaining space, as they give you real flexibility to control the sunlight and temperature throughout the day, while creating a sophisticated ambience after dark.
You might also be interested in…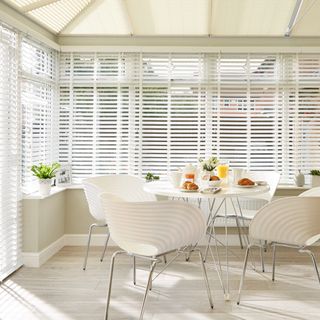 Here's our rundown of the best options for humid conditions.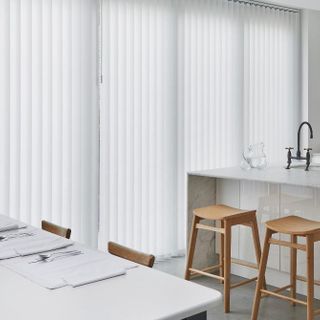 Our Perfect Fit frames offer a versatile and sleek finish to your window and door coverings.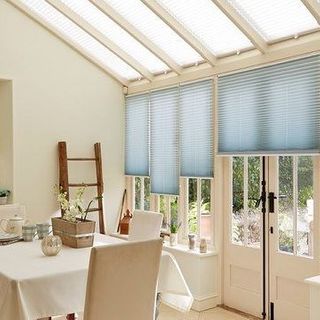 We'll show you some of the best options for giving your extension the wow factor.