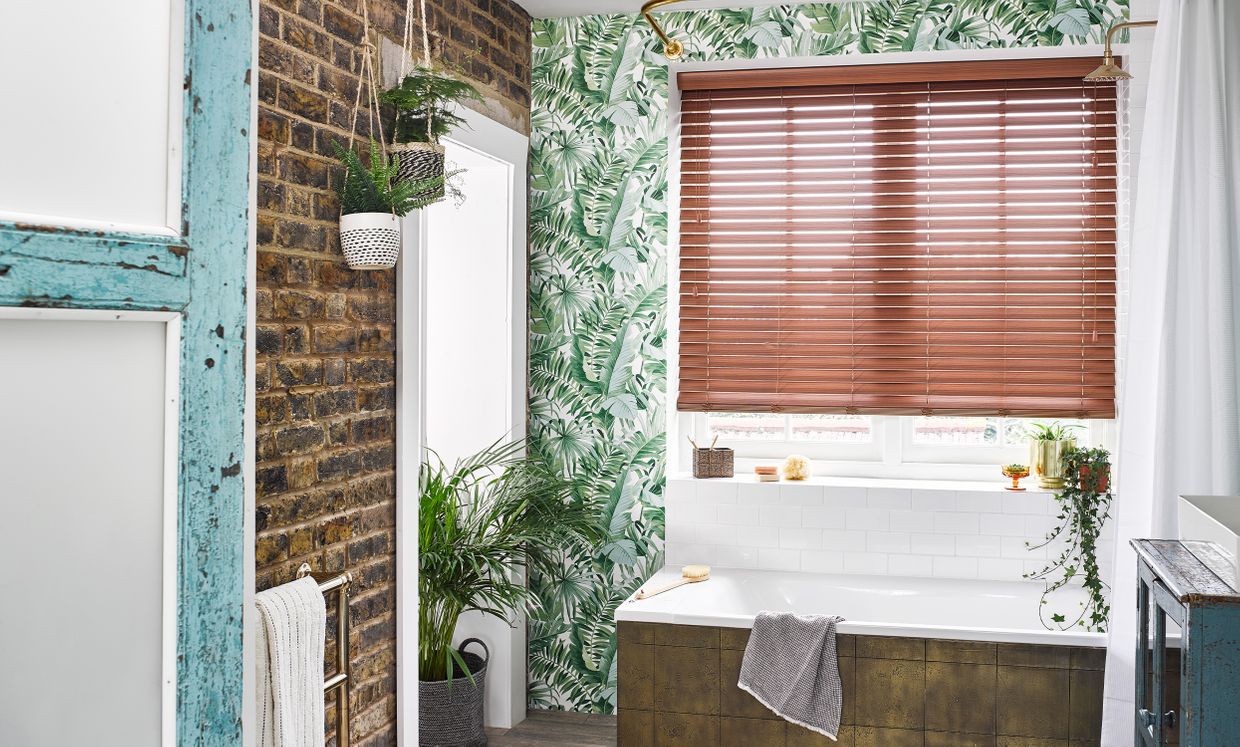 How to clean Wooden blinds
Tips and advice
Read our how to clean wooden blinds guide. Find out how to keep your wooden blinds looking great with regular cleaning and maintenance.   
How to clean with a duster
If you are stuck for time, the quickest cleaning method is to simply close the slats in one direction and wipe over with a feather duster or dry cloth. Wipe in a downwards motion so as not to disturb the slat positions. Open the slats and close again, this time in the opposite direction and wipe down the slats as before.  
For a more thorough clean, you will need a dry, lint free cloth, soft duster or specialist blind cleaning tool. Open your blind and clean the top of each slat by running the duster across the slat, starting at the centre and working outwards. Then close the blind and open in the opposite direction to clean the underside of the slats. 
Avoid water
The natural warmth of wooden blinds enhances any home, but requires regular cleaning to keep it looking good. In this guide we talk you through the dos and don'ts of cleaning your wooden blinds to make sure they stay dust-free all year round.
Like all wooden products, excess moisture can be detrimental to your blinds, causing them to expand and warp, so we strongly recommend that you avoid using any water or liquid cleaning products as part of your cleaning routine. And because many of our wooden blinds have also been treated with special stains and varnishes to give you the finish you require, water and other liquid products may also affect the varnish, causing it to streak and peel. 
How to clean with a vacuum
If you have a low suction vacuum cleaner with a soft brush attachment, you can also use this method to clean your wooden Venetian blinds. Vacuum cleaners with powerful suction can cause damage by pulling the slats downwards. 
Using the soft brush attachment, open your blind, and, taking a slat in one hand, carefully run the brush over the slat with the other. Repeat on each side in the same way as the duster method above.  If the uppermost slats are not within easy reach, use a sturdy, well-positioned step stool to avoid over-reaching and pulling on the blind slats. Alternatively, take the blind down and carefully lay it on the floor, using an old blanket or towel to protect the blind and your floor covering from damage. 
An easy way to remove stubborn stains
For sticky and stubborn stains that you can't remove with a dry cloth, rub lightly with a damp cloth until the stain lifts. Do not rub too hard as this may affect the paint or varnish finish on your wooden blinds. Once the stain has lifted, wipe away any excess moisture with a clean, dry cloth.
How to clean faux blinds without removing them
The easiest way to clean faux wooden blinds without having to remove them is with a feather duster or microfibrer cloth. Work the cloth over the slats side to side moving down the blind gently. To remove stubborn grime, dip a cloth into a mixture of detergent and water being careful not to push dirt into the corners of the blind. Dryer sheets are also great for lifting dust. 
Top tips for cleaning
Invest in a microfibre cloth or feather duster

Use the soft brush attachment of your hoover

Use a mixture of white vinegar and water for faux wooden blinds

Be careful to avoid too much water