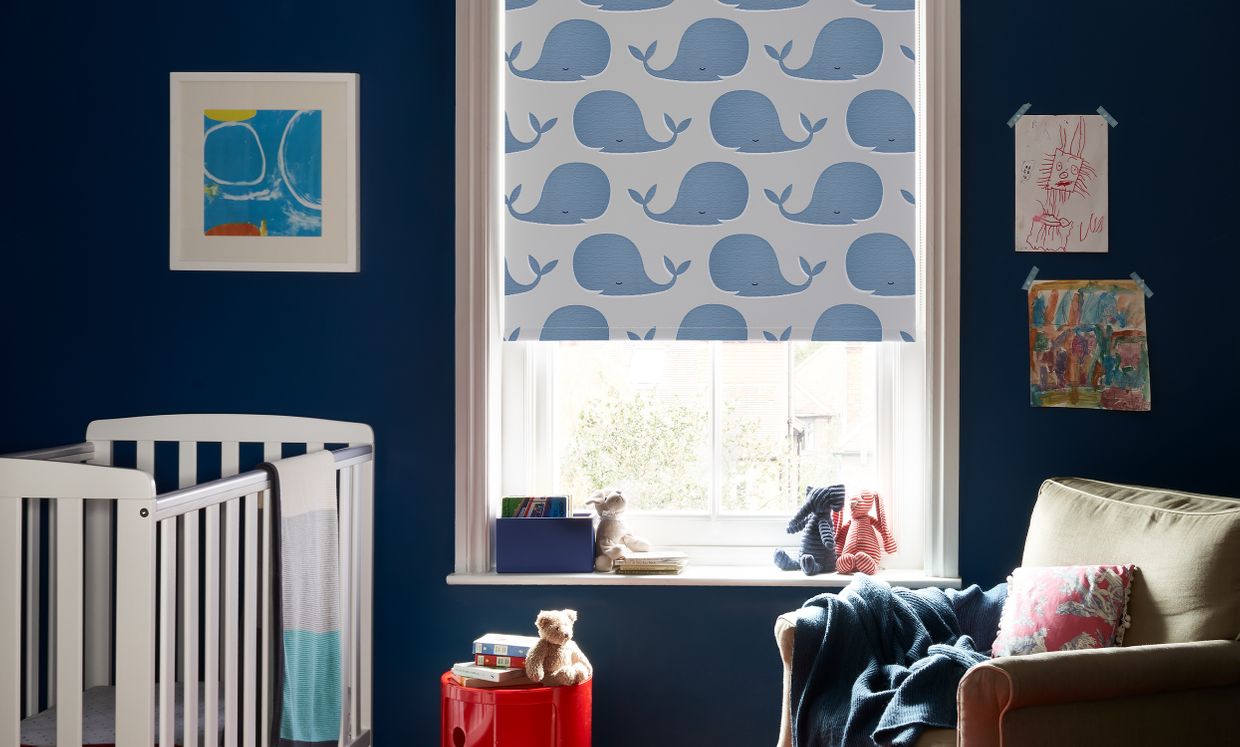 Nursery bedroom blackout blinds and curtains
For a great night's sleep
A child's nursery is a room where you can be really creative, playing with colour, texture and pattern for a stimulating, cosy space that your little ones will love.
When it comes to choosing window dressings for your child's nursery think style, sleep and safety. Of course you want gorgeous blinds and curtains, but you also want to know that your child is sleeping in a safe and comfortable environment. We talk you through the latest interior trends for children's nurseries, with a focus on important safety features and performance fabrics from our childrens blinds range.  
Pick a theme
A themed nursery can provide you with lots of inspiration for your décor and accessories, making it easy to create a coherent scheme that's full of interesting objects for your child to explore. Layering your window dressings gives you added flexibility too. In this nautical nursery, we've chosen a Roman blind with a blackout lining to create the right environment for sleep and layered curtains with a thermal lining over the blind for extra cosiness.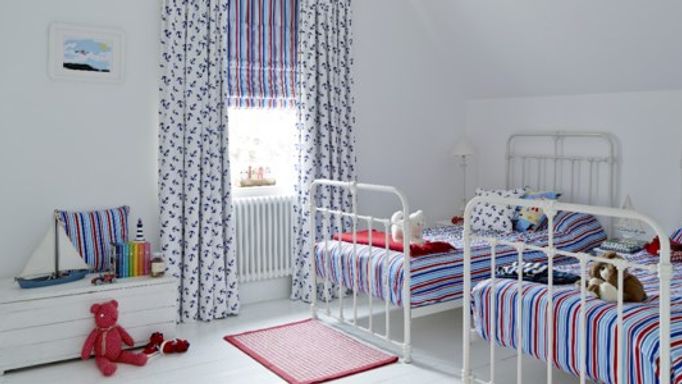 View Blackout blinds
Pick a colour
If you can't decide on the best colour for your blinds, why not combine complementary colours for a fun scheme? These Pleated blinds are a lovely option for a child's nursery, creating a warm glow at the window. What's more, they're available in blackout and thermal fabrics, so your child can take a nap at any time of the day in a dark and cosy environment. Pleated blinds can be operated with a simple tab so there are no loose cords or chains to tempt little fingers.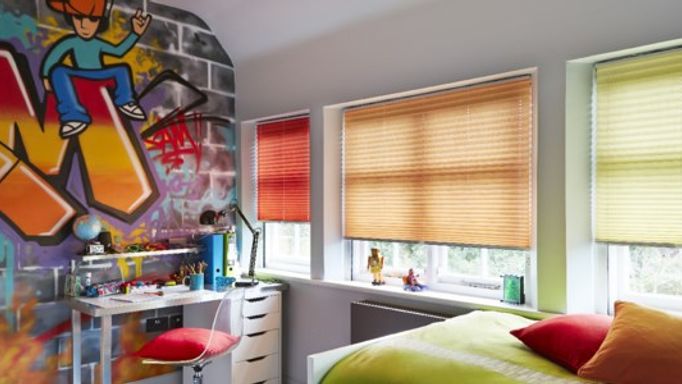 View Pleated blinds
A Perfect fit
If your nursery gets a lot of sun, a PerfectFit blind is a really good option. The PerfectFit frame clips into place at your window and your blind sits snugly within the frame. To create a dark sleeping environment for afternoon naps, you can choose a Pleated blind or Roller blind in a blackout fabric for your PerfectFit frame.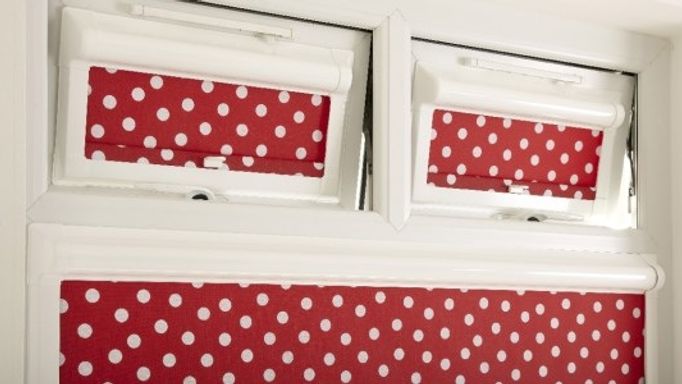 View Perfect fit blinds
Perfect Primary     
Babies love primary colours and choosing a bold shade can give you a really striking look. For the best results, use your primary shade as an accent colour to a largely neutral scheme. In this all-white nursery, we've used a scarlet accent colour for the blackout fabric Roller blind, toys and teddies. For extra peace of mind, choose a cord and chain-free Roller blind from our luxury range.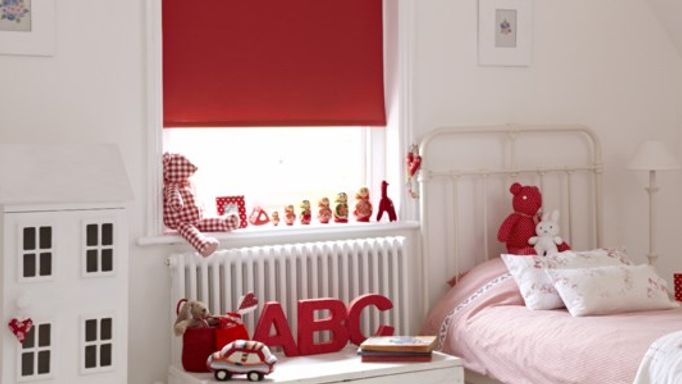 View Blackout blinds
Are you sitting comfortably?
And remember, it's not all about baby. A nursing chair is a must-have piece of equipment in a baby's nursery. You'll spend a lot of time here so make it as comfortable as possible. Have a warm blanket close to hand for those late-night feeds and accessorise with comfy cushions. We've matched the fabric on the chair cushions with the pretty butterfly Roman blind for a co-ordinated look.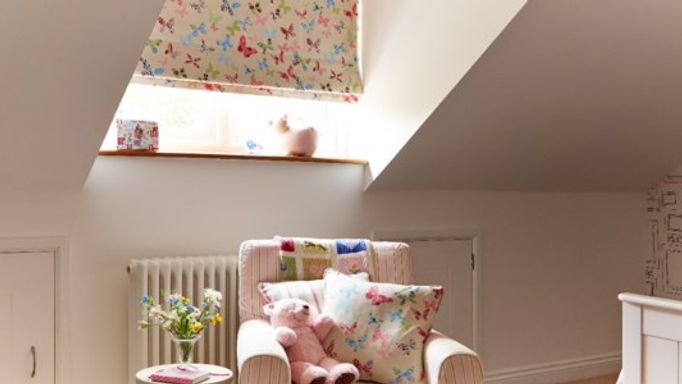 View Roman blinds  
Safe and sound
Keep your child safe and sound by making sure your nursery blinds have appropriate child safety features in place. Choose a cord-free blind, or make sure your corded blind has an appropriate child safety device. All our blinds either have a cord-free mechanism or come with a safety device in line with the latest European regulations. These safety features are installed by your Hillarys advisor at the time of fitting.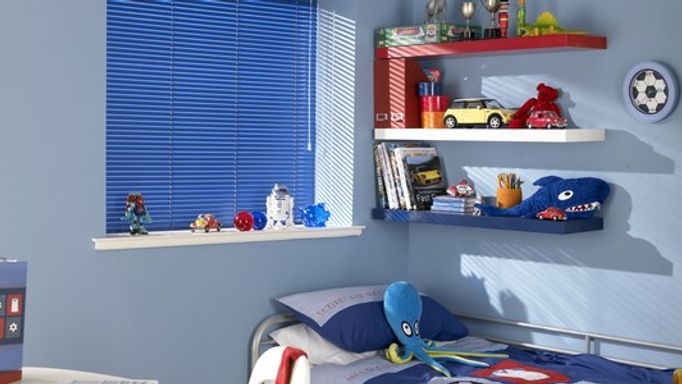 View Childrens blinds
You might also be interested in…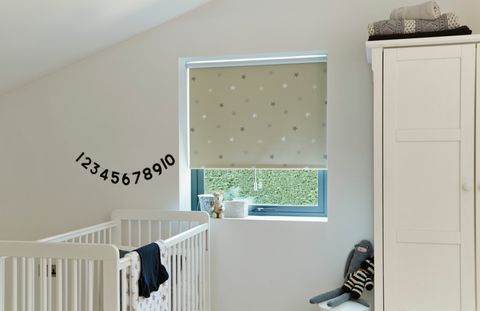 Taking safety seriously, we share with you our advice on ensuring the blinds in your home are safe.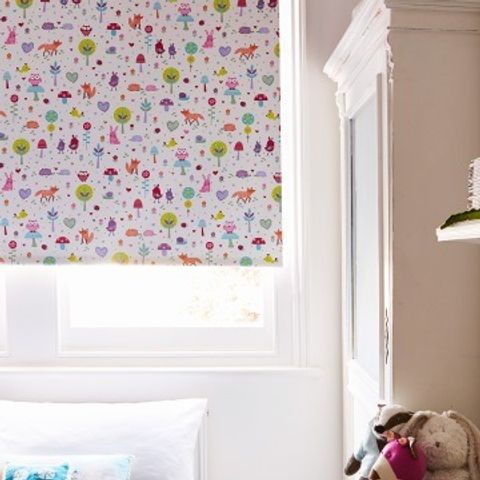 Choose a blackout Roman or Roller blind in a fun design, striped or plain fabric and make sure your child gets a great night's sleep.