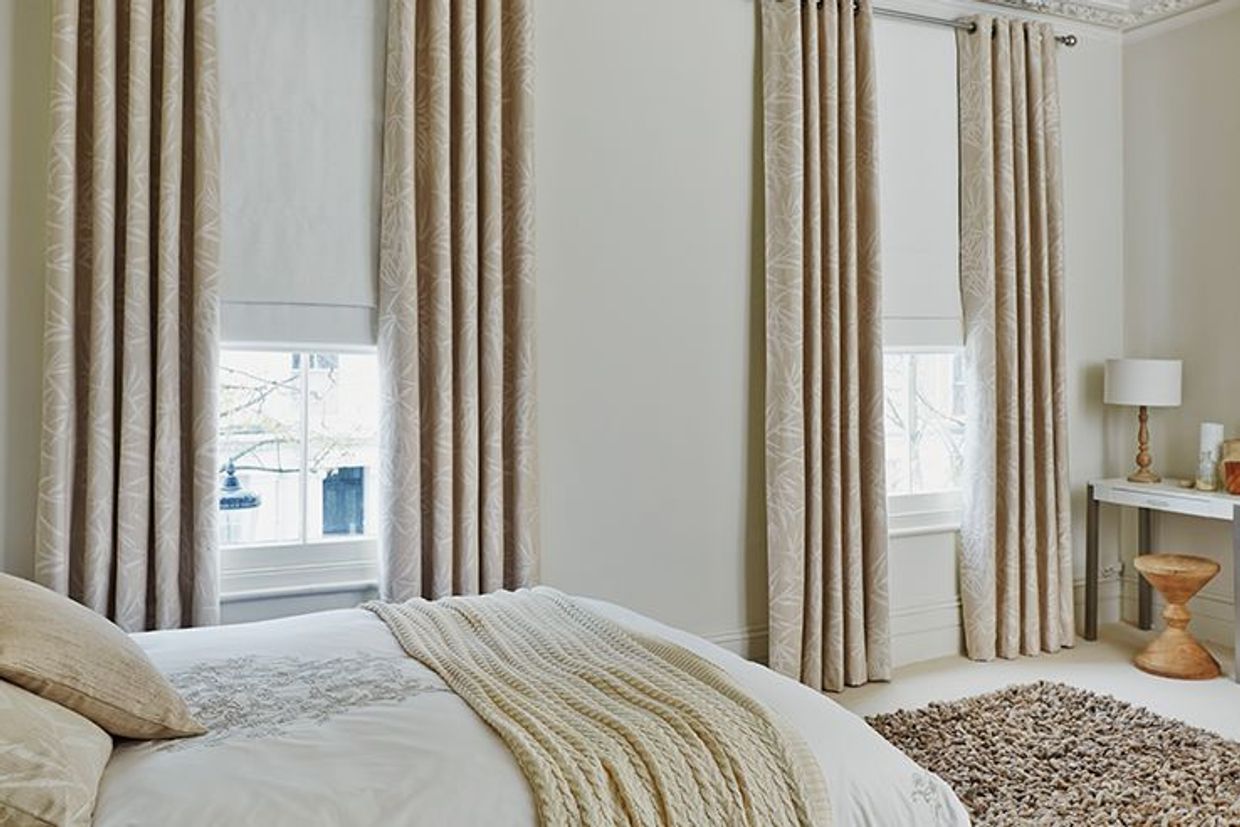 Create a tranquil space, inspired by the natural world
Our latest House Beautiful collection
The Origins collection is our second design collaboration with interior experts at House Beautiful magazine. This capsule collection of Roman blinds and curtains is designed to help you create harmonious interiors that lift the senses.
Inspired by the natural world, Origins uses a contemporary and sophisticated palette of cool greens and blues, soft neutrals and muted yellows, with leafy patterns, watercolour stripes, textured plains and simple geometric patterns that will give any room an instant uplift.  
Here, we showcase this gorgeous range and show you how you can combine fabrics within the collection to transform your home into a calm and tranquil space.   
Fresh Fabrics
Citrus and aqua tones blend beautifully to bring a fresh feel to this light and airy living room. An eclectic collection of clear and coloured glass adds to the feeling of light and space, while the natural wood and wicker tones give the room a cosy feel. Cascade Citrine Roman blinds create a soft wash of colour that complements the bright watercolour florals on these gorgeous Origin Citrine floral curtains.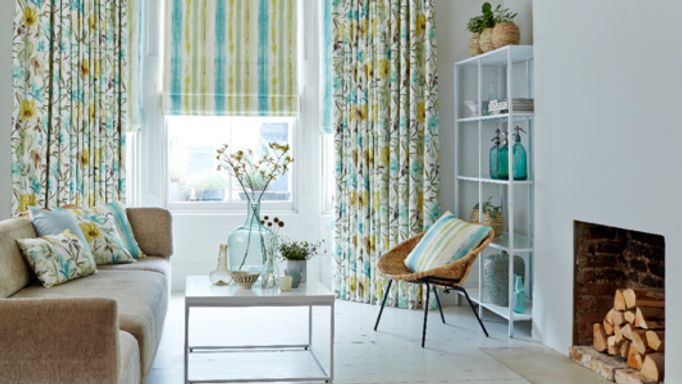 Explore the House Beautiful Origins collection
Reflective Retreat
This look is all about combining natural colours and textures to create a calm and tranquil environment.  Green, leafy stems and handcarved symbolic artifacts add to the sense of wellbeing in this restful retreat, while the white painted floorboards help to create a feeling of space. We've used the simple yet sophisticated styling of a Rattan Stone Roman blind to enhance the contemplative mood in this contemporary space.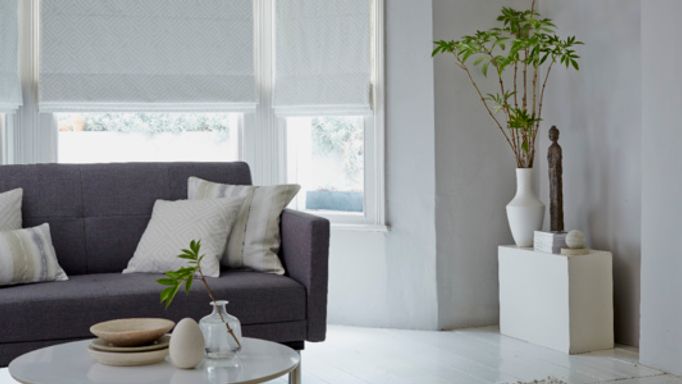 Explore the House Beautiful Origins collection
Restorative bamboo
Bamboo is used as a healing remedy in traditional Chinese medicines, and we've created this sensual scheme to restore the spirits after a hard day.  The fine bamboo motif brings elegance and sophistication, while the natural wood tones add a rich warmth. Crisp white cotton sheets and scented candles add to the relaxing ambience. We've layered Bamboo Linen cream curtains over a Mineral Linen Roman blind for an extra cosy feel.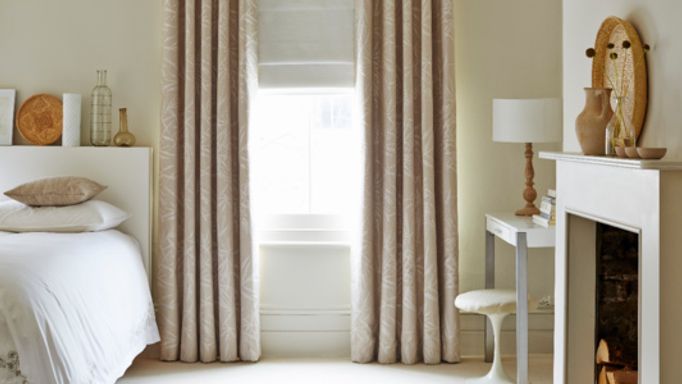 Explore the House Beautiful Origins collection
Refresh the senses
Here's another bright bedroom scheme to refresh the senses and revive a tired interior. We've picked out the fresh citrus, cool aqua and spring green accents from the fabulous Origin Citrine Roman blind and accessorised with contemporary and vintage pieces to create an eclectic, boho look that feels like sunshine. Coordinating scatter cushions add interest and bring the scheme together.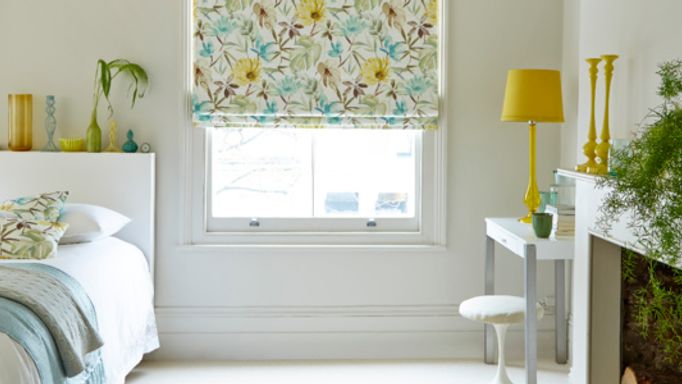 Explore the House Beautiful Origins collection
Space to create
Say goodbye to stress at work with this calm and collected home office. We've combined the structured style of Rattan Stone white curtains with the soft texture of a Mineral Chalk Roman blind to create a smart and formal feel. High on style, but low on tech, the black laquer telephone and old fashioned pen jar give the room a cool, vintage feel. 
You might also be interested in…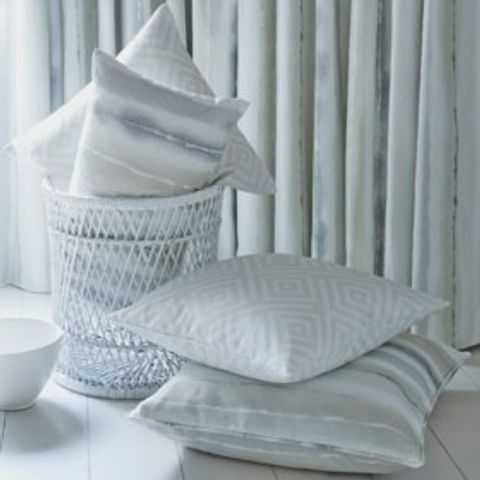 Create a tranquil space, inspired by the natural world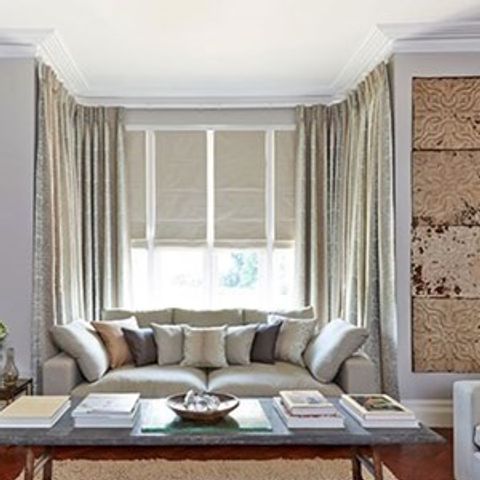 You'll find plenty of Grand Tour inspired ideas in our brand new collaboration with House Beautiful.