So many companies are seeing the benefits of offering flexible working patterns and as a result, more and more people are choosing to ditch the daily commute in favour of working part or all of the week from home.  
Whether you've squeezed a desk into the corner of your bedroom or a converted a whole room into your home office, we show you how you can define your workspace and create a productive environment that still feels like home. 
Combine your living and working area
Not everyone can afford to dedicate an entire room to a home office, but if you're going to combine your work and living space, it's important to get the balance right. By keeping a neutral palette throughout, you can seamlessly combine home and office into a single scheme. Choose items for your workspace that are similar in style to your living area. The formal styling of these Rattan Stone white curtains feels professional, but also softens and blurs the lines between living and working space.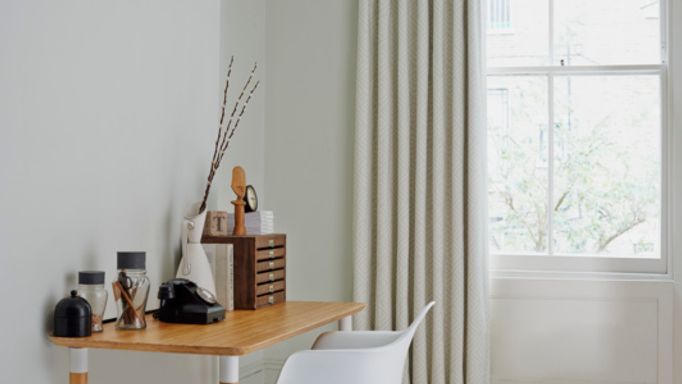 View the House Beautiful collection
Convert your spare bedroom into a cosy home office
If you're converting your spare bedroom into a home office, you still want it to feel like part of your home. In fact, many people choose to work from home because they want to escape the formality of the office environment. We've combined Tetbury Mustard yellow curtains with a Laverne Glacier Roman blind in this stylish home office. By teaming curtains with Roman blinds, you gain an extra layer of cosiness that you'll really appreciate when you step into your office on dark winter mornings.
Utilise your valuable loft space
If you have the budget, a loft conversion can be a great space for your home office. Slightly separated from the rest of the house, you really feel as though you're going off to the office each day. Sloping ceilings and skylight windows lend themselves to contemporary styling.  We've used a zingy, patterned wallpaper to design a vibrant and exciting creative space. To finish the look we've chosen a Sherbourne Orange Roller for the main window and fitted the same blind into the skylight windows for a super sleek finish.
Create a home office in a period property
Your home office should ideally complement the style and period of your property. The dark heritage blue walls suit this Victorian property perfectly, while the bright yellow accents bring the look right up-to-date. café-style shutters in the bottom half of the window. They help maintain your privacy while allowing lots of natural light to flood into the top section of your window.
Transform a small space
Even if you only have a table's width on a landing, you can create a stunning space that you'll love to work in. Sit a slimline draughtsman's desk underneath a window to make the most of the natural light. Pull up an iconic curved mesh chair and finish with a dramatic Anouk Dusk Roman blind for an edgy look that crackles with dark intensity.  
You might also be interested in…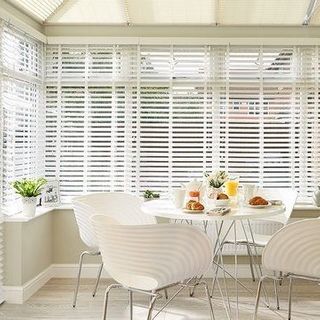 On 31st March, we took over the Lorraine Facebook page to answer viewers' burning interior questions.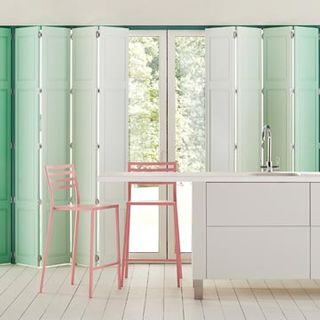 We talk you through the key features of this trend and show you how you can get just the right amount of bright in your energised décor.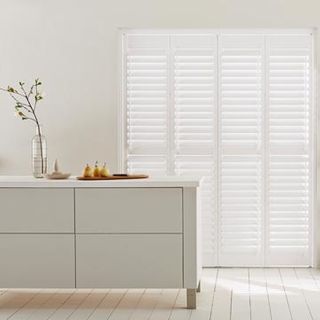 Design inspiration for transforming the heart of your home.