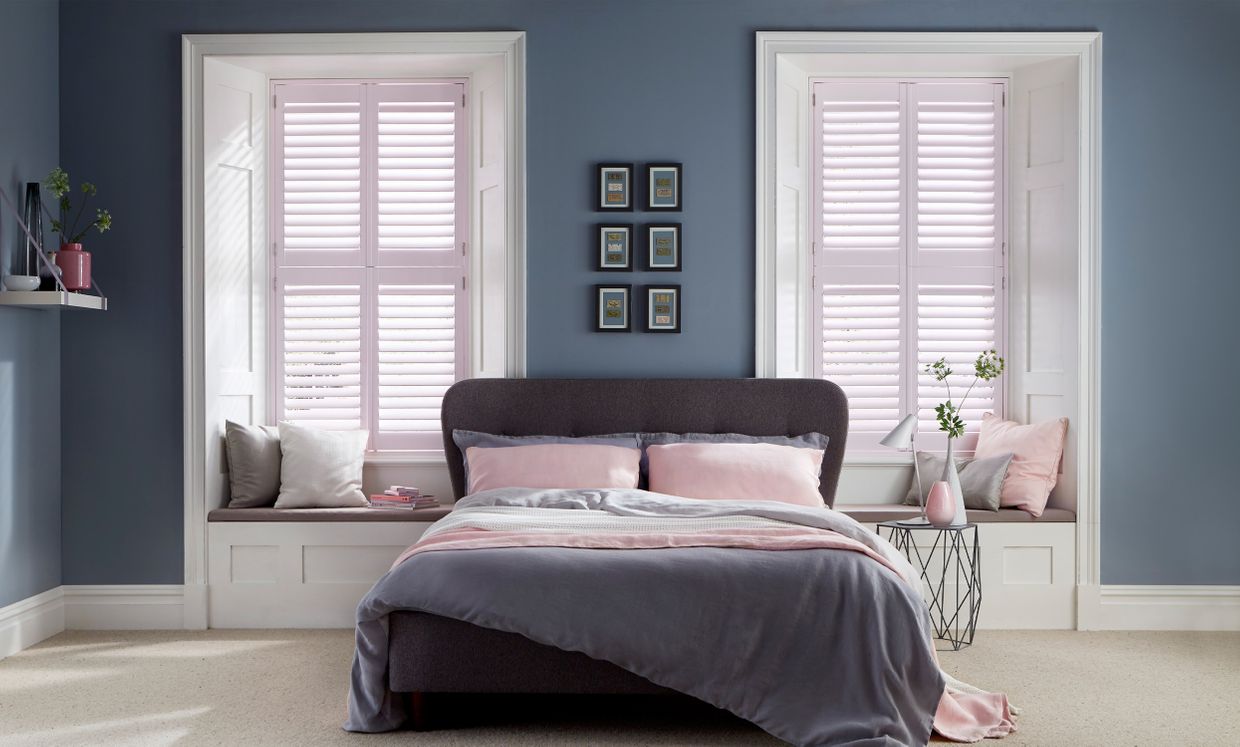 As seen in House Beautiful magazine
See how House Beautiful magazine styled the sets for the launch of the exclusive Atmosphere shutters collection from our shutters range.
House Beautiful magazine stylist Kiera Buckley-Jones talks about the House Beautiful design ethos and how this translates into the styling of the roomsets for the House Beautiful magazine product showcase.
Bedroom featuring Cloud Blue tier-on-tier shutters
Kiera told us: 'The shots needed to look warm and autumnal as they're appearing in our November issues.'   This contemporary bedroom is painted in a deep navy hue with pops of saffron, copper and warm wood tones. A Cloud Blue tier-on-tier shutter punctuates the dark walls with a blast of freshness that adds a lively punch to the dramatic aesthetic.
Home office featuring Aura White full height shutters
This sweet home office has a Japanese aesthetic with its quirky mix of starburst wallpaper and pretty plaid accessories. The Aura white shutters give the room authenticity, while also enhancing the sunny feel. Kiera selected key pieces to create a sense of continuity throughout the shoot. She says: 'we wanted the rooms to link together by using lots of texture, shades of new season saffron, greys, warm woods with highlights of copper'.
Living room featuring full height Element Grey shutters
This living room artfully blends contemporary styling with a relaxed and cosy feel.  Gorgeous cushions covered in a range of super soft fabrics vie for space with warm knitted throws that invite you into this welcoming space. Kiera chose full height shutters in Element Grey for the windows. This contemporary pastel shade adds a soft elegance to the scheme without taking the focus away from the feature sofa. Kiera explains: 'We wanted to create a sense of a real home – not a show home - that feels cosy and inviting.'
Kitchen featuring full height Truffle shutters
This homely kitchen really feels like the heart of this stylish home and Kiera was keen to work with the existing features at the photoshoot location. She says: 'We went for a contemporary country look, as this worked with the style of the location house and the kitchen units that were already installed.' Kiera complemented the rustic styling with Truffle grey shutters which enhance the natural warmth of this country kitchen. In addition, Kiera chose traditional farmhouse styles with a contemporary twist to bring this classic look right up-to-date.
You might also be interested in…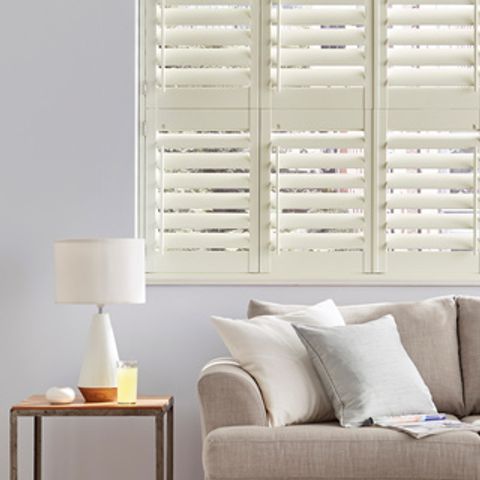 Julia Goodwin, editor at House Beautiful magazine picks her favourite shade from the House Beautiful painted shutters collection.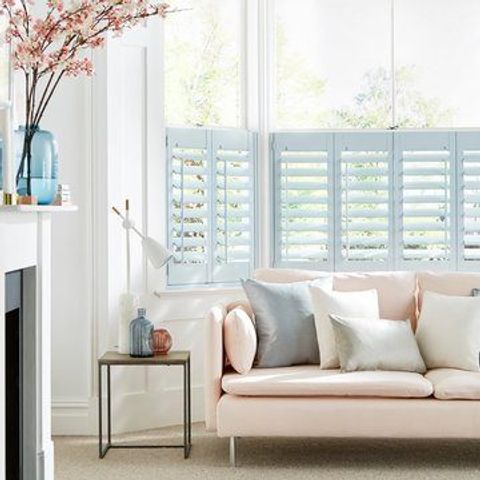 Take a look at the ten deliciously delicate pastel shades in our new and exclusive House Beautiful shutter collection.