So you've gone for a cutting edge, dark interior scheme and now you want to make your space feel stylishly festive. Using our fabulous Charlotte Beevor fabrics, we talk you through the 5 top tricks to pulling off a spectacularly dark festive season.
1. Knock back dark hues
It's wrong to suggest that dark colours will overwhelm a space. By painting every inch of your walls and ceiling in the same dark shade, you actually create the opposite effect. The dark  shade retreats into the background, giving all your fabulous Christmas decorations and soft furnishings the space to shine. We've chosen a gorgeous Sorana Violet Roman blind to create synergy with the intense  indigo shade in this stunning living room.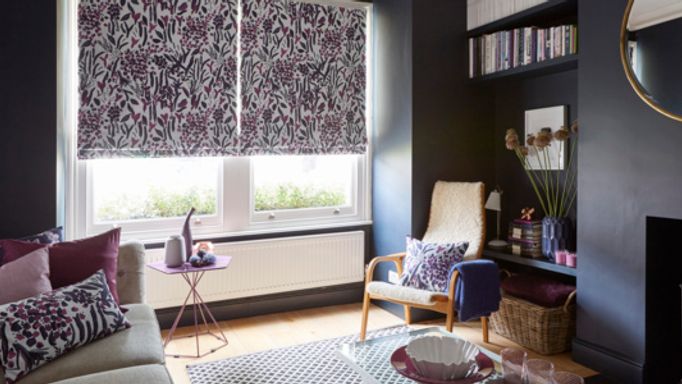 Discover the Charlotte Beevor collection
2. Add Shimmer
With dark schemes it's important to add light and reflective surfaces where you can. Of course there's no better time than Christmas to get creative with shimmer and shine, and we've picked out the three key shades from our interior scheme for the giant baubles on our tree. Brilliant blue and pure white baubles sparkle alongside sugary crystals of pink, for a look that's both sweet and sophisticated. Next we layered faux-silk Radiance Berry purple curtains over our Roman blind to add another textural, reflective surface into the space.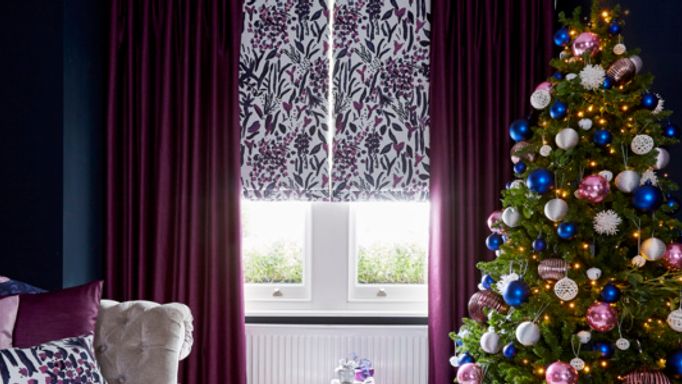 Create more great looks with Charlotte Beevor fabrics
3. Create tension with contrasting styles
Charlotte Beevor's contemporary  take on traditional floral prints allows you to create edgy looks that mix together styles that you wouldn't normally expect to work. And at Christmas there are lots of opportunities to shake up tradition with ultra-modern styling. Here'a a great idea for Christmas day dining. Mix and match a contemporary table and chairs with huge vases of fresh blooms and pretty Grapeflower Berry floral curtains for a fabulously futuristic feast.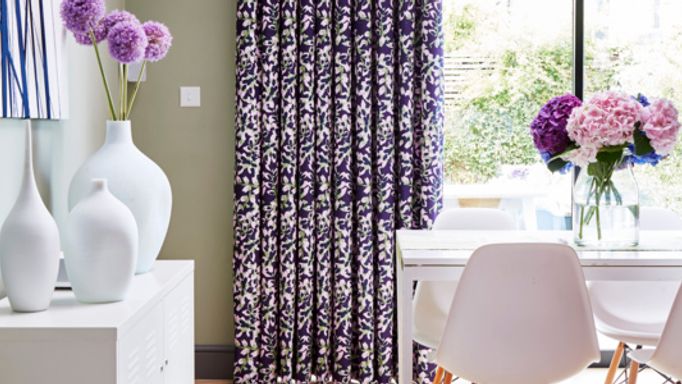 Browse the Charlotte Beevor fabrics
4. Incorporate warm wood tones
Wooden furnishings, accessories and flooring work really well in dark interiors, as they bring natural  warmth and texture into your scheme. In our Christmas living room, the light oak wooden floor and old-fashioned sledge add a rustic, seasonal charm to the overall look. 
5. Create interest with texture
The Charlotte Beevor collection of curtains and Roman blinds artfully combines bold colours, abstract patterns and textures. The bold, painterley brushstrokes,  combined with shimmering faux-silks and earthy textured plains cleverly blurs the lines between artistic expression and interior design. This sultry bedroom cleverly uses texture to draw the eye around the room, from the sleek buttoned headboard to the fun fluffy rug, and from the sophisticated painted drawers to the flocked bedside tables. We've played with texture at the window too, combining a Grapeflower Blush Roman blind with Iris Shadow curtains.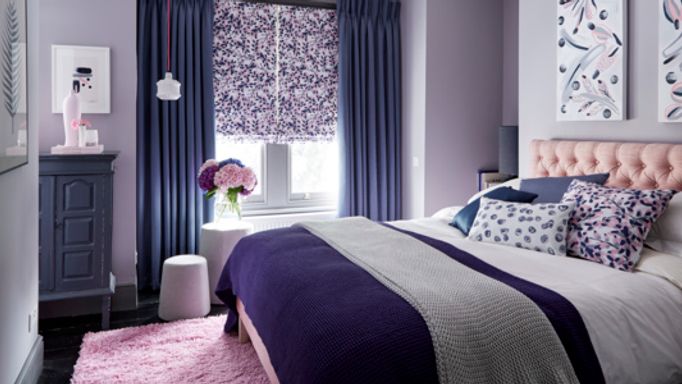 Find out more about Charlotte Beevor's design philosophy
Get more design tips from Abigail Ahern
If you've been inspired to experiment with dark colours in your home, then top interior designer Abigail Ahern can help you with her interior design tips and tricks.  Renowned for her quirky, dark interiors Abigail is widely acknowledged as one of the top tastemakers in the UK today. 
You might also be interested in…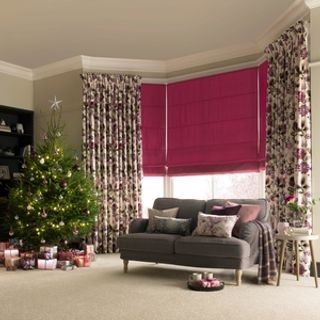 There's so much to do around Christmas it pays to get organised.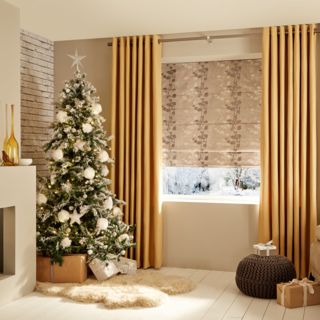 Take a look at our style tips for creating traditional and contemporary Christmas themes.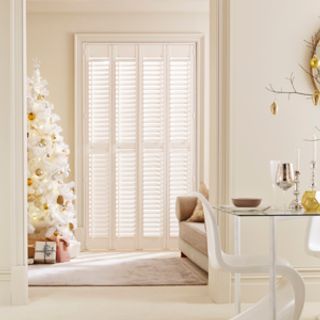 Read our top tips for keeping warm this winter with energy efficient blinds, curtains and shutters.