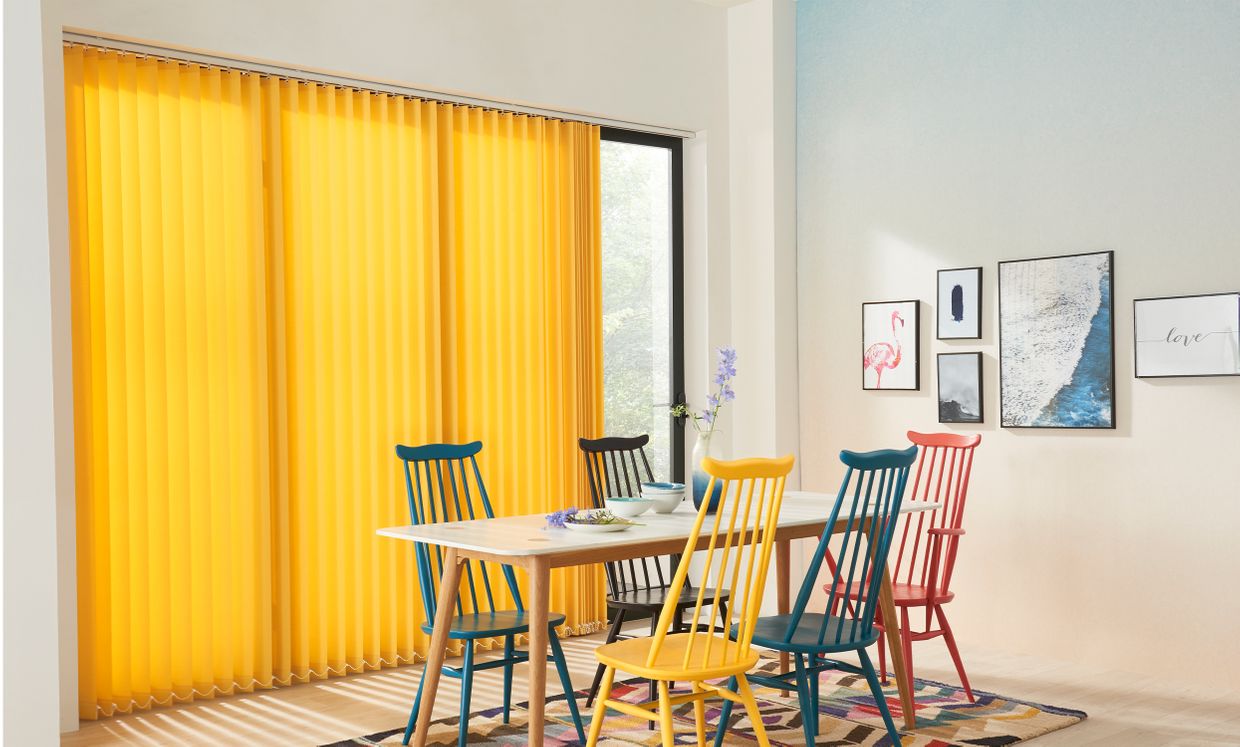 How to dress patio doors with Vertical blinds
If you're looking for the perfect blinds for your patio doors and large glazed windows, then take a look at our exciting range of contemporary Vertical blinds.
These versatile blinds can be made to fit the largest and most challenging of spaces, giving you a fabulous finish that's great to live with.   
Perfect partners for patio doors
When it comes to finding blinds to fit your patio doors, lots of blind types come up short - literally! But not Vertical blinds. They can be made to perfectly fit virtually any window width by simply adding more louvres to the finished blind. And that's not all. The individual louvres in a Vertical blind can also be cut to different lengths to fit patio doors and windows that slope or have a split-drop.  So however challenging your space, versatile Vertical blinds are up to the job. 
Practical partners for busy homes
Patio doors are usually located in the busiest areas of your home and so demand a window covering that can withstand the inevitable smears, stains and scribbles that are all part of daily life. Vertical blinds are available in a wide range of practical fabrics to suit different environments. With wipe clean and moisture resistant options for kitchens and bathrooms, glare reduction and light reflective fabrics for living rooms and conservatories, and blackouts for the bedroom, Vertical blinds have got the whole house covered.
Perfect for privacy and light control
Patio doors are a lovely feature in any home but they're not without challenges. On bright days the sun's glare can become uncomfortable and by tilting the louvres on your Vertical blind, you can gently diffuse the light around the room to create a comfortable ambience. Also, if your room is overlooked by neighbouring properties, you can keep prying eyes out while still filling your home with lovely light. 
Perfect for contemporary interiors
Vertical blinds come in a huge range of colours, prints and textures to suit every interior style. And because patio doors take up such a large proportion of your wall space, you want to get the design of your Vertical blind right. To help you envisage the finished look in your home, our sales advisors not only bring samples of every fabric along for you to look at against your own décor, but with our fantastic visualisation tool, you can even see a mock-up of how different fabrics will look in your very own window.
Request an in-home appointment