Transformations and Folk Art are two stunning new Roller blind collections designed in collaboration with House Beautiful magazine. Both collections tap into the latest interior looks and each has its own distinctive personality, giving you lots of stunning design options for your home.
With so many fabulous fabrics to choose from, we were intrigued to know which style has caught the eye of House Beautiful editor, Julia Goodwin. So we asked her! Here, Julia tells us which of these incredible designs particularly appeals to her.
Julia's Pick
"Periscope Blush, from the Transformations collection is my favourite fabric. Pretty, practical and versatile, the Periscope Blush blind adds a stunning touch to this contemporary living room and would look just as amazing in a bedroom or home office."
Get the look
Periscope Blush is a structured geometric design which feels much softer because of the delicate pastel hue. Available in both Blush and White colourways, you can create a scheme that's really bright and elegant, or add a hint of warm sophistication to your space.
In this stylish living room, we've picked out the blush tones from the blind and used them as the key accent colour in this neutral scheme which combines primary shades of vanilla and white.
Choose cushions in soft, tactile fabrics, such as faux-fur and velvet, and pick out seasonal branches and blooms in warm, peachy colours. Creamy ceramic vases add to the elegant feel, while hints of smoky grey and charcoal draw the eye to key focal points around the room.
A perfect partnership
The House Beautiful Roller blind collection perfectly blends exclusive designer looks with superb practicality. We know that our customers and regular readers of House Beautiful magazine are savvy shoppers and understand that homes are to be lived in as well as looked at. That's why we believe that our creative partnership works so well. This collection will not only transform the look of your home, but with performance fabrics, including blackout, fire-retardant and moisture-resistant options, you can be confident that your blinds will work hard for you too.
You might also be interested in…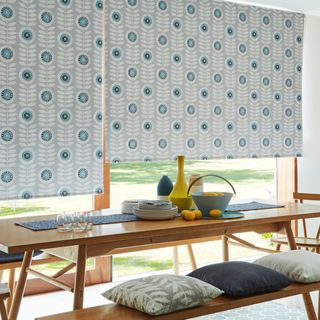 Here, we showcase all the fabrics in the collection for you to choose your favourites.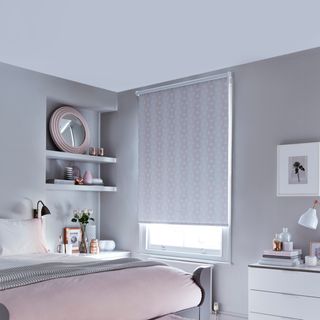 In this article we introduce you to the soft geometric fabrics in the House Beautiful Roller blind range.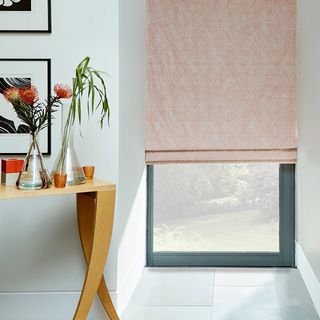 Browse the fabrics from the Zen collection and create a harmonious look that you'll love.