What are roller blinds?
Roller blinds can quickly and simply transform the look of any room, adding a stylish finishing touch to every interior scheme.
In this article we share inspirational and practical tips help you create a sublime space of your own.
What are Roller blinds?
A Roller blind is a single piece of fabric which wraps around a casing and fits into the top of your window frame, either within or outside of your window recess. The Roller blind is operated by a pull cord attached to the bottom of the blind or by a side-winding chain mechanism attached to the blind casing. Motorised controls are also available giving you the option to open and close your blinds remotely.
What type of windows are Roller blinds best for?
Roller blinds are suitable for most types of windows and doors. If you have a bay window, you can position individual blinds into each frame, and they're great for skylights and Velux windows too. They can be made to fit very wide windows and patio doors, but they also look neat and sleek in small spaces.
Why choose Roller blinds?

One of the most versatile blind types, Roller blinds come in a range of finishes that make them ideal for use in different environments. Blackout, moisture-resistant and flame retardant options mean that these blinds are supremely practical. But that's just the start. Roller blinds come in a wide range of colours, designs and fabrics, giving you hundreds of gorgeous looks to choose from. In fact a stylish Roller blind is one of the quickest and simplest ways to really transform a room.  
Are Roller blinds suitable for Kitchens and Bathrooms?
Kitchen and bathroom blinds need to be able to stand the heat; and the wet; and the spills and stains that are part and parcel of every busy home.  Our Roller blinds come in a choice of performance fabrics, including flame-retardant, moisture-resistant and wipe clean options.
What are the benefits of Roller blinds?
PerfectFit Roller blinds
Choosing blinds for patio doors, sliding doors and bi-fold doors can be a challenge, especially if they're in regular use. PerfectFit blinds are an innovative and practical solution that gives you a neat finish that also allows for easy operation of your uPVC doors and windows. A PerfectFit frame clips into place onto your uPVC window and the made-to-measure Roller blind sits within the PerfectFit frame. There are no cords or chains and no need for drilling into your uPVC window frames.  
Motorised Roller blinds

If you're choosing Roller blinds for hard-to-reach windows and skylights, or multiple Roller blinds for a large room or conservatory, you'll be pleased to know that our Roller blinds come with the option of motorised controls. With the touch of a button you can open and close your Roller blinds quickly and easily, all from the comfort of your armchair.
Beautiful blackout fabrics

While it's lovely to wake up to bright sunshine, early morning sunlight can have a disruptive effect on our sleep patterns. But choose a Roller blind in a blackout fabric and you can enjoy a restful night, every night.  Roller blinds in blackout fabrics are great for nurseries, where a good sleep routine is so important. But everyone can benefit from the enhanced levels of darkness that a blackout fabric provides.
How to style Roller blinds
Stand-alone Rollers
Roller blinds can look stunningly minimalist and simple when they dress a window on their own. With a number of different finishes available, there are ways to tailor your Roller blind to your own style.
Cosy up with a layered look

Especially in the winter months you may want to add an extra layer of snugness to your Roller blind. Combine your Roller blind with curtains and you not only have extra flexibility when it comes to controlling light and temperature, but you can also explore colour, pattern and texture combinations to create a sensational interior. In this bedroom we've layered white Roller blinds and curtains for a chic look.
Style multiple windows
Instead of using just one Roller blind, fit individual blinds to each of the windows, this looks especially striking if the windows or close together, or for patio doors. It adds an extra design dimension and gives you practical flexibility, allowing you to position blinds at different heights to control the changing light levels throughout the day.
You might also be interested in…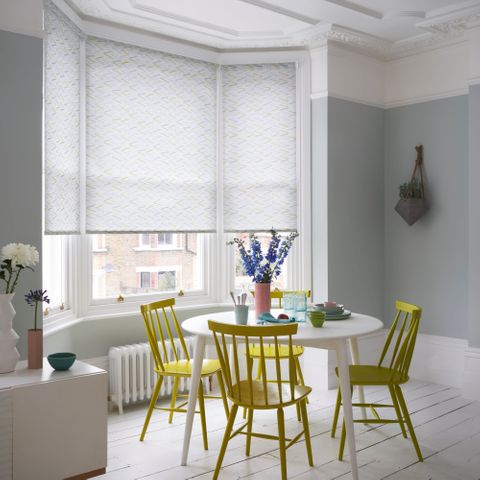 Give your bay window a stunning makeover with beautiful Roller blinds from our range.