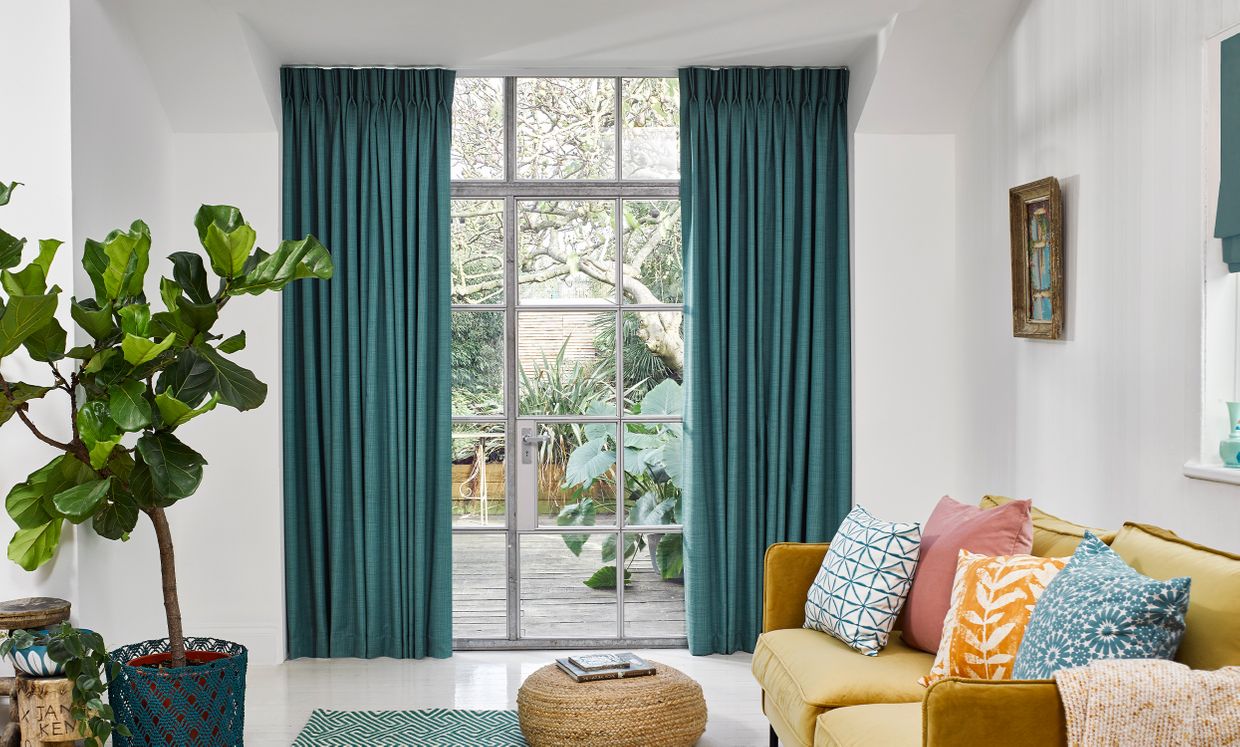 Curtains buying guide
🕒 Reading Time: 3 minutes
To get you started, you'll find the following need-to-know information in this handy curtains buying guide
Getting accurate measurements
There's no point in going for made-to-measure curtains if your measurements are wrong. The fit won't be right: maybe too short or too long and too much or too little fullness. The end look will be underwhelming at best. There is no standard size for curtains as each window requires a different length or you may prefer to position above a windowsill or a radiator. You can also pool a curtain on the floor for a luxurious finish.
That's why we only offer an in-home service, with one of our curtains experts coming to your home to measure up for the perfect length. It's that easy – and it takes all the worry and risk out of measuring windows for a tailored finish.
Choosing a header type
How your curtains drape from the top to the bottom is defined by the way they join the pole or track. This is called the heading and you've four to choose from.
Eyelet heading
Pinch pleat headings
Wave headings
Pencil and deep pencil pleats
Eyelet headings
Eyelet curtain headings are threaded on to a pole through metal rings, with the curtains hanging in deep, uniform folds from the top to the bottom. This heading type is very fashionable in modern homes.
Pencil pleat headings
Pencil pleat curtain headings gather the fabric into semi-cylindrical rolls that resemble a line of pencils. The curtains will tumble freely to the floor. It's a classic heading that goes with poles or tracks.
Pinch pleat headings
Pinch pleat curtain headings draw together lots of fabric, which is gathered in bunches and stitched to create a highly decorative finish featuring elegant folds flowing to the floor. You can have pinch pleat headings with either a pole or a track.
Wave headings
Wave curtain headings are perfect for an informal, relaxed feel. The curtain falls in soft, wave-like rippling folds allowing more of the fabric to be seen. Wave curtains are fitted to a slim track.  
Thinking about curtain fullness
Quite simply, curtain fullness is how much fabric goes on the track or pole. More interestingly, curtain fullness is what creates the sumptuous finish that's so desirable right now.
Curtain fullness is best described like this: if your curtain pole is one metre and your fabric is one metre then you have a fullness of one and the fabric will seem tight or stretched when pulled across the window. But if you have two metres of fabric on the same length pole then your fullness is two and the look will be more flowing and more voluminous.
Different header types require different levels of fullness. Likewise, a thin sheer fabric may require more fabric – a greater fullness – than a thicker material to achieve a similar look.
At Hillarys, all our curtains are made-to-measure and our experts will take the measurements for you making sure the curtain fullness is right for the combination of header and fabric you choose.
Choosing how high to hang your curtains
To add to your room's sense of height, have your curtains fixed several inches above the top of the window frame. You can also take into consideration if there is a radiator near the window which can mean altering the curtain length.
Choosing the right curtain lining
All of our curtains are lined as standard for a luxurious and full finish. There's also the option to have a thermal curtain lining, which will help insulate the home; or a blackout curtain lining, which will help prevent outside light coming inside through the window. 
Layering curtains with other window dressings
For added effect, you can layer other products with curtains at your window. This could be for aesthetic or practical reasons.
Layering different blinds with curtains is a great way to combine fabrics at a window to create a sense of depth by playing on textures and patterns. Or you might choose a blind to layer with curtains to increase the blackout effect or to enhance sound or heat insulation.
Another option is layering curtains with voiles. The combination of a light voile with a full curtain looks fantastic, adding a delicate touch to a window. Voiles will also help stop prying eyes from seeing into your home during the day. However, they'll need layering with curtains for privacy at night.
Finishing with stylish accessories
The finishing touches you choose are every bit as important as the fabric is to the end result. You need the right accessories to compliment the fabric you've picked.
Do you want a track or a pole? If it's a pole, then what finial will look best in your home? What about tiebacks – are they needed? That might seem like only a few decisions – but there are lots of options. An in-home appointment with a Hillarys advisor gives you an opportunity to go through them all with an expert and to get a true understanding of the end result.
The importance of precise fitting

Fit your curtains badly and all the time and effort you've given carefully putting together a look goes to waste. It could be an ever-so-slightly wonky pole or tiebacks set at different heights.
That's why it's so important to go for a professional service. With Hillarys, your expert advisor will be with you every step of the way and will take care of fitting to make sure your new curtains look every bit as good as you imagined.
You might also be interested in...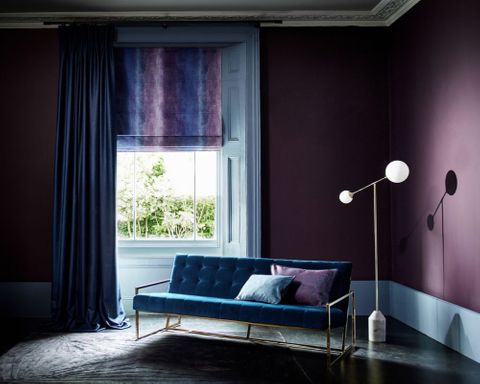 Read our top tips for choosing curtains and blind fabrics that work beautifully together.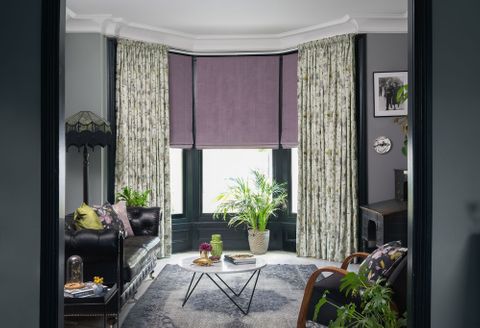 Read our top tips to choosing the right curtains for your bay window.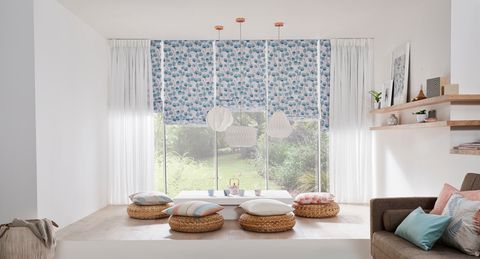 Top tips and clever tricks for dressing your wide windows and doors