With festival season upon us, we took a peek into the LifeStyle of Radio 2 DJ and TV presenter Jo Whiley to discover more about her love of music festivals and hear her top tips for transforming your home into the hottest ticket in town.
Create a feeling of freedom
Jo lives in a beautiful barn conversion in the Northamptonshire countryside and loves the feeling of space and freedom that country living affords. So it was no surprise that Jo was drawn to these light and airy Wisp Grey Voile curtains for her stunning full-height windows.  Jo explains her choice, saying: "We love the light and the Voiles soften the whole look and just give you that free-flowing feeling".
Make an effortless transition from day to night
Jo admits that hers is a party house, especially in the summer months, and the addition of contemporary made to measure curtains gives Jo the flexibility to adapt the mood to suit any occasion. While Voiles are perfect for allowing lots of light to flow through the house during the day, these gorgeous Tetbury Charcoal grey curtains are ideal for creating a cosy and warm evening ambience. And of course, the sultry, night-sky hue creates a stunning backdrop for Jo's twinkling fairy lights.
Dress to impress
Create a multi-sensory experience by draping your table in mismatched fabrics, filling Mason jars with a choice of flavoured punch and popping a bunch of fragrant wildflowers in an old milk bottle. Jo has selected fabrics from our range which combine African and Moorish design influences in a distinctive monochrome palette. The intricate patterns add interest and texture, while the subtle colours allow the vibrant festival fare to take centre stage.
You can never have enough seating
Every festival-goer knows that all the comfy seats are reserved for the VIP lounge.  So, make sure you provide enough comfortable seating to make sure everyone feels as though they're on the guest list. Jo has some ingenious and affordable seating solutions up her sleeve. She says: 'get friendly with the local farmer and borrow some hay bales; everything that makes it comfortable and interesting to look at.' As well as softening hard seating areas with draped curtain fabrics, we've covered lots of cushions in co-ordinating fabrics for added comfort and cosiness.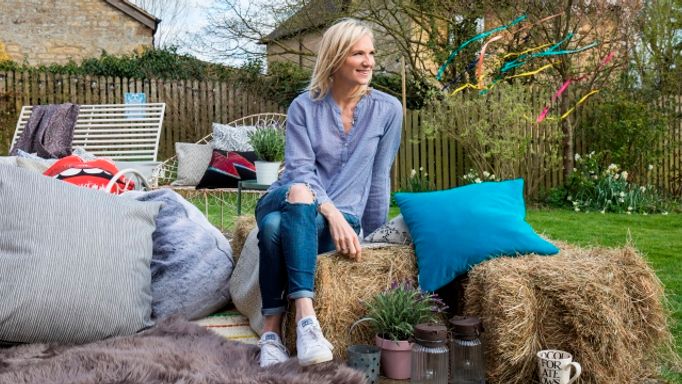 Browse cushions and accessories
Make it your own
Remember, this is your show, so make sure you inject plenty of your own personality into your festival styling. Jo's musical influences are evident everywhere, from the kitsch glitter ball to the quirky rock-n-roll references. Jo says: 'we like to decorate the place so it reflects our musical taste, so we've got a big Bowie lightning flash and we found a big old glitter ball, that looks amazing. '
Make time to enjoy the fun
Just because you're the festival organiser, doesn't mean you have to stay in the shadows. Make sure you take time to enjoy socialising with friends and family. A fire pit creates a social space for everyone to gather together, as well as providing much needed warmth on a cool summer's evening. And as Jo says: 'At every festival you have to have your marshmallows to toast on the fire pit.'