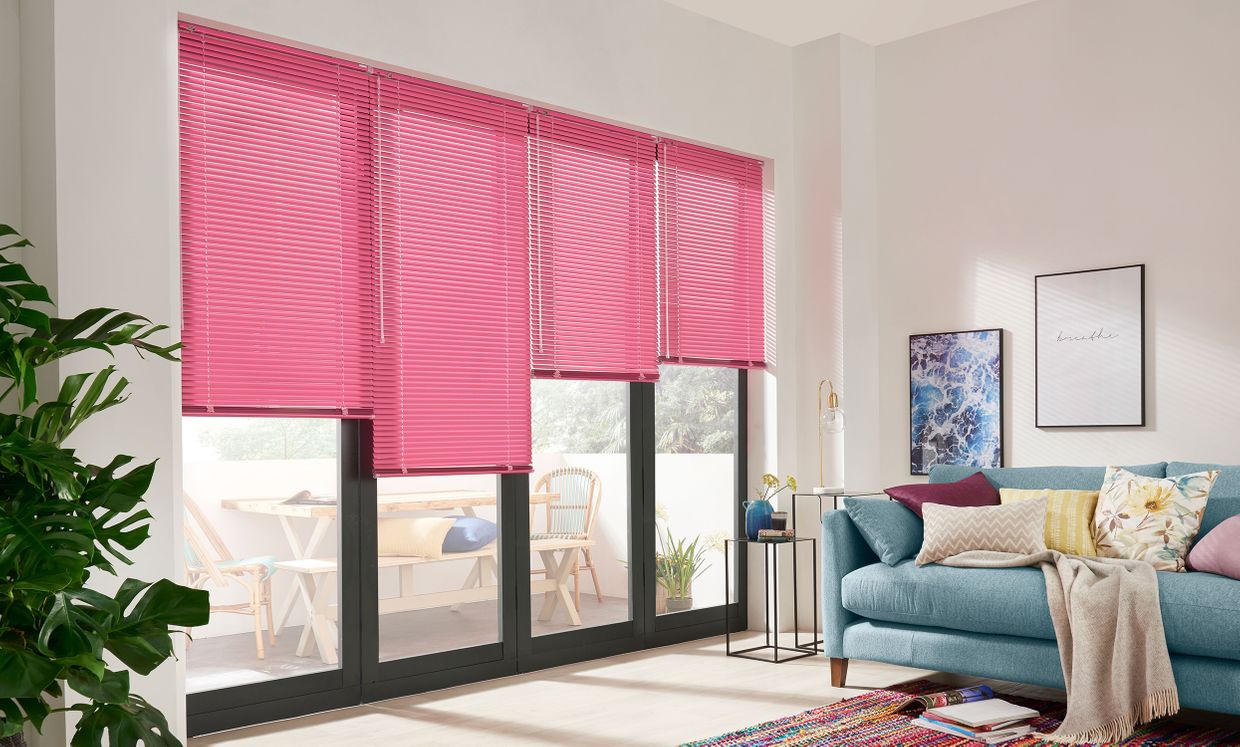 Blinds and shutters in sun-soaked shades
Even if you're staying put this summer, you can bring the spirit of the Mediterranean into your interior with vibrant blinds and shutters in sun-soaked shades. From frivolous fuchsia to tempting tangerine, these high summer styles are sure to fill you with plenty of joie de vivre…
St Tropez chic
Every year style conscious holidaymakers flock to St Tropez where the skies are somehow bluer, the sun more golden and the clouds are tinged with a rosy pink glow that warms the senses. In this picture postcard living room we've taken a leaf out of the St Tropez style guide with a soft pastel sun, sea and sand colour palette, injected with a shimmering pop of fuchsia. Vibrant Venetian blinds make a striking feature of the patio doors, and the stripey rug in sunset shades lends a feeling of calm to the overall scheme. Faded watercolour florals on the cushion colours lend an air of hazy heat, while the lush foliage is distinctly tropical.
Parasol promenade
If you've ever strolled along the promenade of any French seaside resort, you can't fail to be captivated by the riot of colourful parasols on the sandy beaches. And it's easy to bring the same sunshine feel into your home. In this relaxed dining room we've upcycled traditional rustic dining chairs with our favourite summer shades and picked a stand-out Acacia Canary hue for the Vertical blinds on the wide windows.
Sorbet shades
Riviera ice-cream parlours are an experience all in themselves. Sweet and juicy sorbets in summer fresh shades delight and tempt the senses.  And if you've got a particular hue in mind for your window dressings, you'll be pleased to know that, if you've got your heart set on shutters this summer, our custom colour service can match your painted shutters to virtually any shade.
Heat haze florals
Mediterranean floral displays are brimming with tropical colour and succulent foliage that shimmers and sways in the hazy heat. You can reflect this mid-summer look in your home with watercolour florals in zesty shades. In this stunning bedroom we've used an Origins Citrine Roman blind from our House Beautiful collection. The fresh floral print brings life and colour to the cool white palette, for a refreshing and warm summer feel.
You might also be interested in...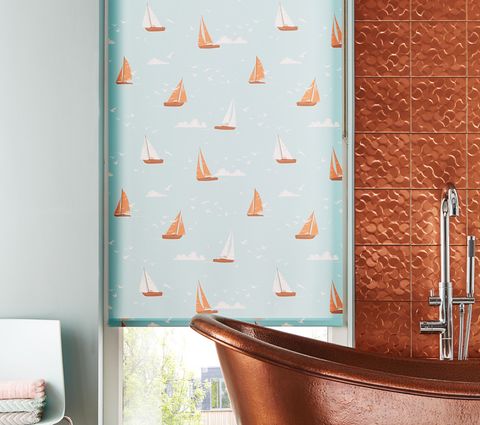 Read our top tips and find out to use blinds, curtains and shutters to design the perfect coastal interior.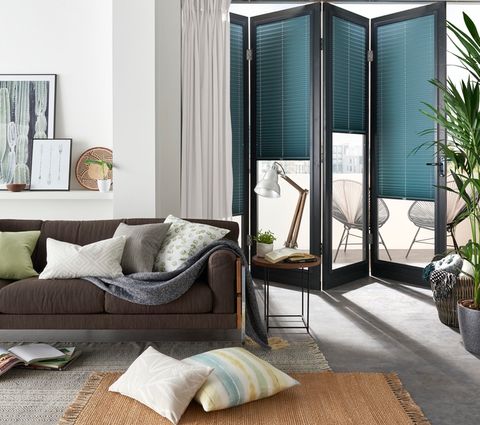 Browse our inspirational ideas for achieving this eclectic look with gorgeous blinds and curtains from our range.