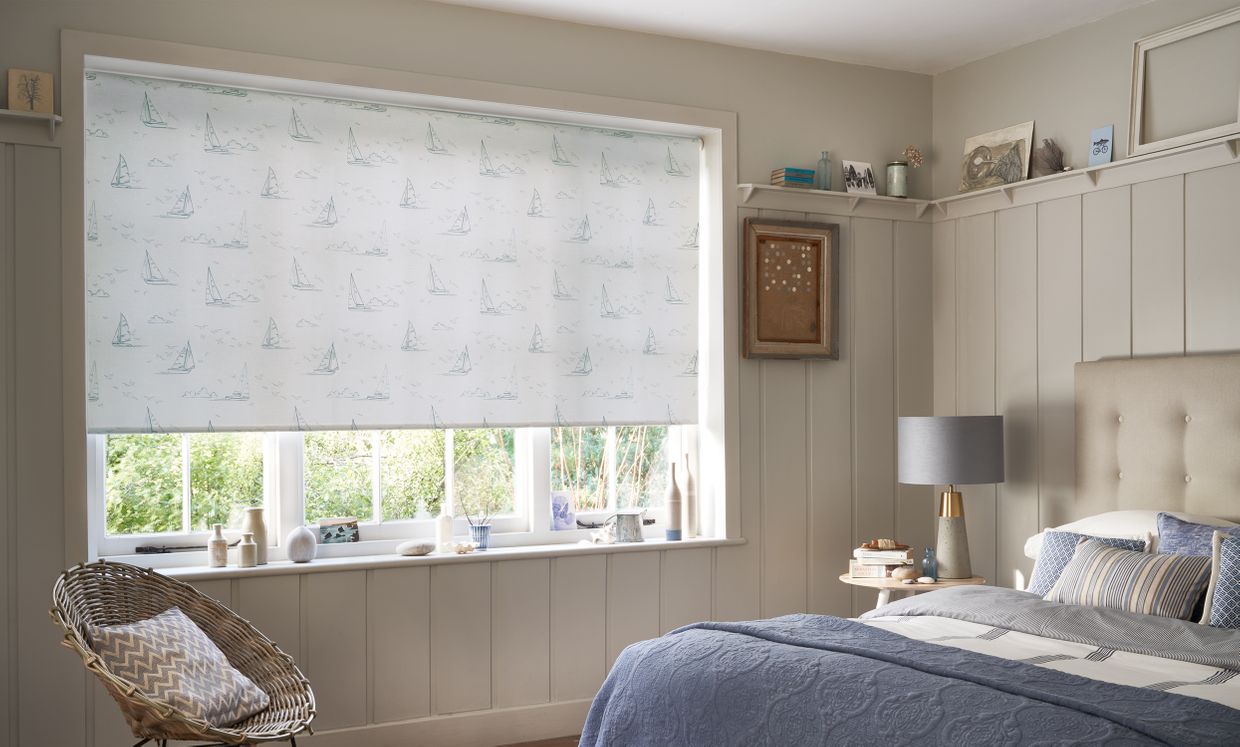 Six reasons why Roller blinds are great for bedrooms
Your bedroom is a very personal space where you can relax, unwind and feel completely at ease. Roller blinds are a simple, sleek and stylish way to finish your bedroom décor, in addition to providing important practical features that can help you to enjoy a restful night's sleep.
In this article we share inspirational and practical tips help you create a sublime space of your own using bedroom blinds.
Beautiful blackout fabrics
While it's lovely to wake up to bright sunshine, early morning sunlight can have a disruptive effect on our sleep patterns. But choose a Roller blind in a blackout fabric and you can enjoy a restful night, every night.  Roller blinds in blackout fabrics are great for nurseries, where a good sleep routine is so important. But everyone can benefit from the enhanced levels of darkness that a blackout fabric provides. Even the delicate pastel tones of this gorgeous Sphere Blush Roller blind can be made-to-measure in a blackout fabric to give you enhanced levels of light control.
Suits a variety of window styles
Roller blinds are really versatile and can be made-to-measure for almost any size or shape of window – including very wide or really narrow windows. If you're lucky enough to have very large windows, you can create a serene space with a plain Roller blind in a neutral shade, or stamp your personality with a vibrant print or stripe. For narrow windows, choosing a bold pattern can really help to transform an unloved space into an exciting statement feature.
Perfect for loft bedrooms
Lots of people are adding value to their homes by converting their loft space into an extra bedroom, adding dormer windows to maximise the available light. Roller blinds are a great option for dormer windows as they're so neat and sleek. Our Roller blinds are also available in PerfectFit frames for an even smarter look. PerfectFit frames clip into place in uPVC window frames and the Roller blind sits snugly inside the frame. In this stylish loft bedroom we've combined made-to-measure Roller blinds at the window with PerfectFit Roller blinds on the dormer windows, for a streamlined and stylish look.
Pep up a guest bedroom
Roller blinds are an obvious choice for guest bedrooms, giving you lots of gorgeous design options at an affordable price. Because your guest room needs to suit a variety of guests, pick a neutral palette that will have a broad appeal and can be easily adapted to suit changes in décor. In this simply furnished bedroom we've picked a Melia Mineral Roller blind which combines subtle hues of sage, cream and aqua.
Cosy up with a layered look
Especially in the winter months you may want to add an extra layer of snugness to your Roller blind. Combine your Roller blind with curtains  and you not only have extra flexibility when it comes to controlling light and temperature, but you can also explore colour, pattern and texture combinations to create a sensational interior. In this bedroom we've layered white Roller blinds and curtains for a chic look.
Finishing touches for your Roller blind
You can finish your Roller blind in lots of ways to suit your style and décor. With options for shaped hems, braids, eyelets and poles, your made-to-measure Roller blind can truly reflect your space and personality. In this country cottage bedroom, the shaped hem on this beautiful Rosie Posie Ivory Roller blind perfectly suits the style of the décor and adds to the romantic ambience.
You might also be interested in...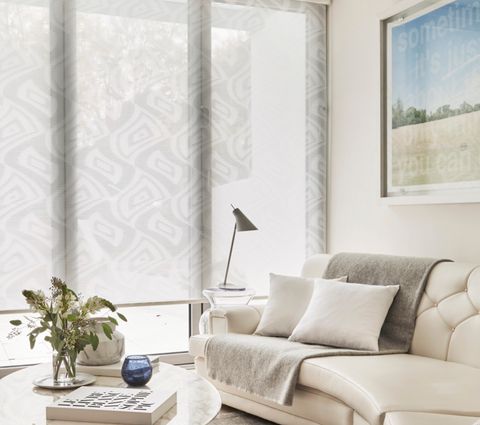 In this simple guide, we give you advice on choosing Roller blinds to transform the look of your living room.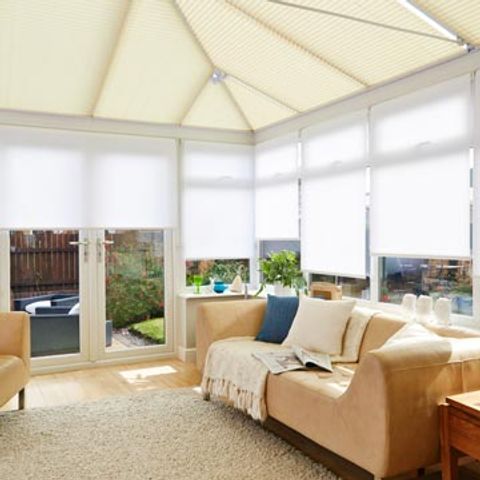 In this guide we offer expert advice on choosing the best Roller blinds for your conservatory.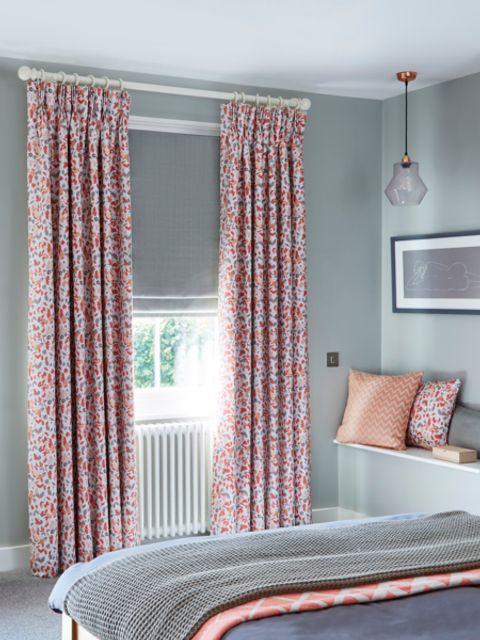 Read our top tips for choosing curtains and blind fabrics that work beautifully together.