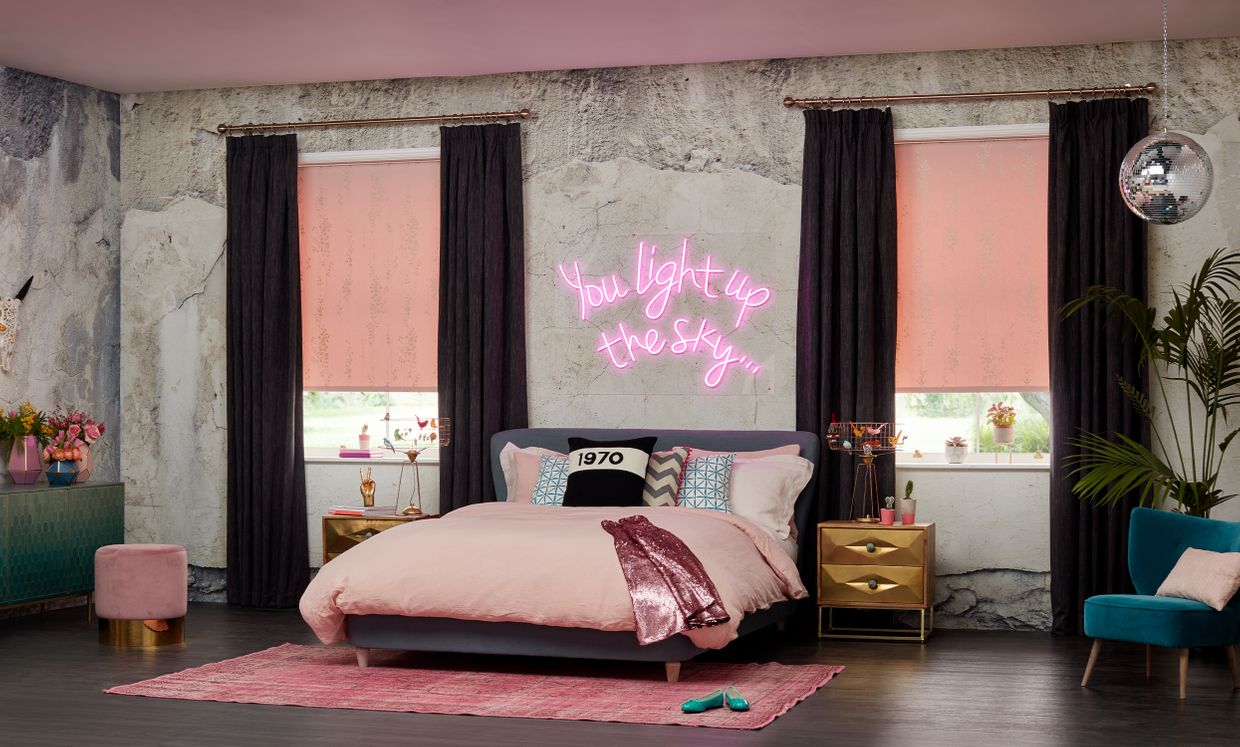 Colour clash: Get the look
If you want to banish beige and knock- out neutrals in your home, you might just be ready to embrace the Colour Clash look.
Together with our style partner Sophie Robinson, we share the key design elements of this joyful look to help you design your own unique take on this vibrant trend.  
Blend vivid colour and pattern
To really get to grips with this trend you need to be daring with colour and pattern. You'll actually be pleasantly surprised at how well different patterns and prints work together, as long as they share some commonality. In Sophie's roomset, the vibrant floral Caprice Paradise Roman blind seems an unlikely partner for the serious geometric of the Eclipse Denim But look again and you'll see that the curtains pick up the subtle blue accent in the Roman blind, while both the curtains and blind share a similar creamy background shade. In fact, look closely and you'll see that Sophie's entire palette is made up of just three key colours – blue, pink and yellow.

Make it individual
Don't be afraid to add and subtract accessories whenever you find a new favourite. Sophie's roomset is a perfect example of how disparate styles can work together beautifully. The retro chandelier and floorlamp sit happily alongside modern art and an original vintage painting – all finished with a cottage garden floral display. Sophie has cleverly placed most of her accessories against the dark navy wall. This deep blue shade provides the perfect backdrop for the brightly coloured accessories.
Create a feeling of organic design
Sophie likes to feel that a room has been curated over time, and this eclectic feel is easier to pull off than you think. Remember, as long as your pieces share some common elements, different styles, textures and genres will rub along together very nicely. Here a traditional nursing chair and period fireplace are teamed with a contemporary sofa and modern geometric rug. The fabrics that Sophie has chosen for her cushion covers help to bring all these elements together for a carefully crafted look that seems casually careless.
More is more
Pattern extremes are key to this playful look and help to create the high impact, high-energy feel that can transform an ordinary interior an extraordinary space to live in. Be confident in your choices and if you're unsure whether a fabric will work at your window, consider living with a design on a smaller scale before you take the plunge. Cushion covers are a really fun, cosy and affordable way to experiment with colour and pattern.