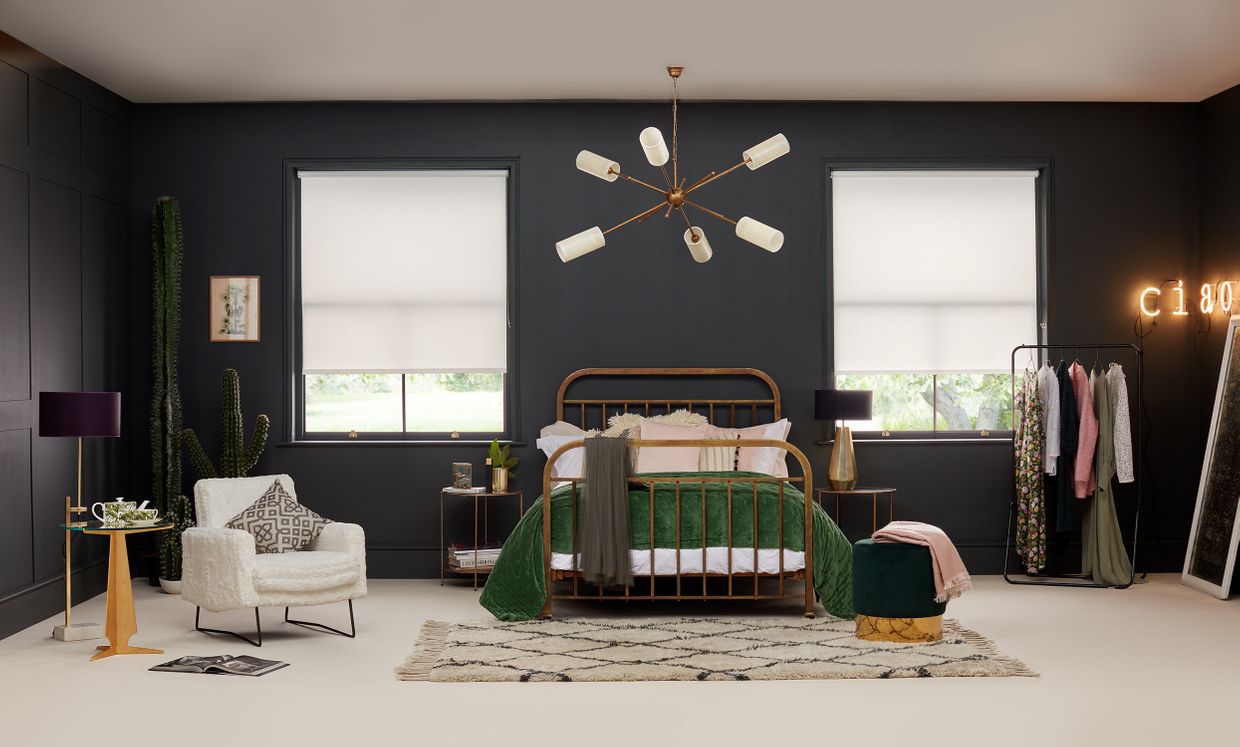 Get the look: Urban Glamour
Bring a touch of Urban Glamour into your home. Together with our style partner Kate Watson Smyth, we share the key design elements of this fabulously edgy look to help you design your own unique take on this achingly cool trend.  
Surprising colour combinations
Unexpected colour combinations help to create drama and tension in this consciously stylish look. In Kate's design, the blush pink Roman blinds instantly create an air of refinement, and the faux-silk fabric provides an exciting textural contrast to the matte finish on the walls. It's no surprise that Kate has chosen a plain pink blind for her windows and a dark background colour for the walls. This results in an overall feeling of elegance while allowing other intriguing design elements within the room space to breathe.
Browse our new Roman blind collection
Loose integration
While the individual elements in this look appear to be disparate, Kate has carefully curated each piece to ensure that the whole look hangs together wonderfully. Kate's secondary palette of black and white helps to bring all of the elements in the room together, with the clashing geometric patterns, animal prints and marbled surfaces creating a daring frisson.
Faded grandeur
The most successful urban glamour looks manage to communicate a sense of faded splendour, alluding to a glorious past that's now in decline. In her roomset Kate cleverly combines luxurious marble and brass surfaces with an aged and mottled mirror which takes centre stage, throwing fragments of light and half-formed images around the room to create a sense of history and atmosphere.
Curated curios
Add character to your design with quirky accessories and curios that reflect your personality and sense of humour. Kate's palm tree floor lamp is outrageously kitsch and attention-seeking. Guests and visitors cannot fail to be amused and delighted by this exuberant addition to the space.