When the weather outside is frightful, wrap up your windows in cosy curtains and Roman blinds from our delightful collection of wool, plaid, checked and striped designs. From contemporary tartan colourways to de-constructed stripes, these stunning styles are sure to be on your New Year checklist.
Wallace
Whether you want to tap into your highland heritage or create a boutique boudoir, a classic tartan is as warm and familiar as a hot toddy on a cold winter's night. In this gorgeous bedroom we've chosen the soft, neutral hues of Wallace Chartreuse for our curtains. To create a contemporary feel, we've picked out a vivid yellow accent shade for the bedroom chair and throw. This bold bright picks up the delicate chartreuse hues from the curtains and breathes new life into the image of a traditional tartan.  
Browse curtains
Wilcox
There's something rather rustic about this simple woven stripe that will instantly imbue your home with natural warmth and charm. Accentuate the earthy feel of these Wilcox Natural curtains with handcrafted ceramics and antique pine furnishings. Throw in a rattan basket full of rough-hewn logs and all that's left to do is curl up for the evening in front of your favourite movie.
Howard
Evoke the feeling of a magical misty morning on a remote highland moor with the soft heather hues of Howard Thistle. This beautifully warm woollen fabric is as cosy as a picnic blanket on the banks of Loch Lomond.  The subtle stripe is ideal for a nursery or bedroom, soothing you to sleep with its delicate pastel hues.
Browse Roman blinds
Romari
Bring a sense of classic British tailoring into your interior with this gorgeous Romari Raven tweed Roman blind. In this stylish cloakroom, the traditional fittings and striking monochrome palette are given a luxe edge with the addition of antique brass taps and accessories.
You may also like...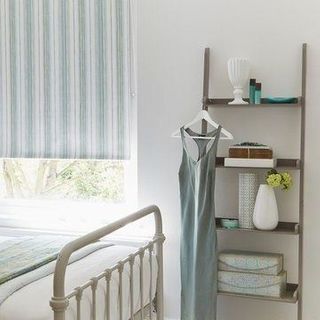 If you'd like to introduce stripes to your home, here are our favourite ways to 'learn your lines'.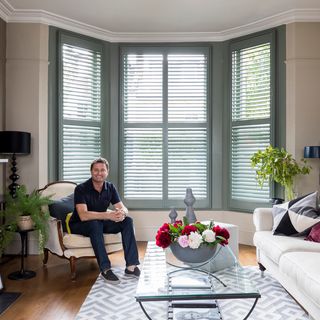 In this article, Architect and TV presenter George Clarke shares his love of bay windows and the best way to dress them.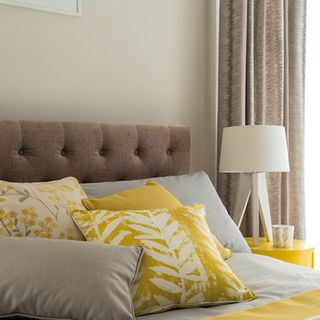 We talk you through the options and show you some of the best bedroom ideas for your home.