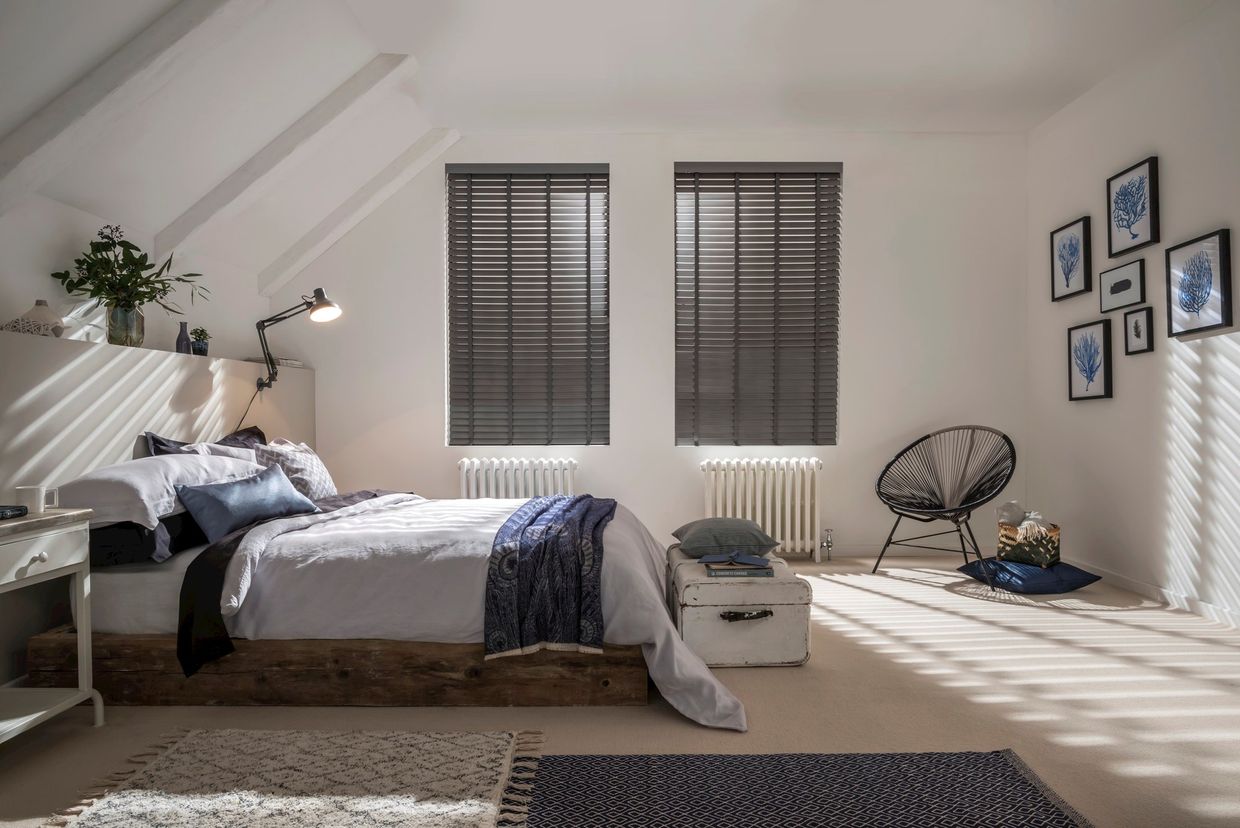 Choosing Wooden Blinds: Faux vs Real
Wooden blinds are a perennial favourite.  They're stylish, practical and look great in every room of the house.  There are so many lovely wood stains, painted colours and faux wood options to choose from, you'll be spoilt for choice.  Discover which colour, texture, slat width and finish will suit your lifestyle and budget.
Why wooden blinds?
There's something satisfyingly solid and comforting about wood at a window; shutters and blinds sealing the space, keeping the world out. But shutters may not be right for your space, and blinds have the benefit of being more adaptable, practical and also cheaper. They're also easy to keep clean and extremely durable. And, as with most blinds, you control the level of light that you want, with the benefit of not requiring an additional blackout layer.
First of all, choose your style of blind:
Natural Wooden blinds
The natural beauty of wood enhances your living space and complements every style of décor. Our wooden blinds have a beautiful soft grain that is naturally warm and welcoming. They are available in four slat widths to suit different sized windows and to give you the flexibility to manage the amount of light that filters through each slat. Choose from a range of warm wood tones or pick out one of our special finishes or painted shades.
Painted Wooden blinds
Real wood, painted in a satin finish, creates a beautiful product.  White and cream living room schemes are always popular, and our range includes wooden blinds in shades of white, cream and ivory.
Choose every shade from a bright white to create a crisp and clean look to chalky creams, distressed greys and sage.
Stained Wooden blinds
A light touch: If you want a little colour applied with a light touch, opt for a bleached wood or woods with a gentle colour wash.  Natural wood shades with a subtle wash of grey will perfectly complement a contemporary neutral palette or help to create a subtle heritage look in your home.
Liming: Liming is a traditional method of finishing wood to create a subtle bleached-out look that highlights the natural beauty of the grain. Liming gives you a warm, chalky tone and texture with natural undertones where the wood grain continues to show through.
Richer hues: Alternatively, complement your furniture and style with our range of stained colours.  Create a space that feels naturally warm and welcoming, with wooden blinds in light, golden tones, or for a dramatic and sultry design scheme, with a rich nut shade.
Faux-wood blinds
For your kitchen, lounge-diner or bathroom, there is a selection of moisture-resistant faux wood blinds. Available in a range of natural and painted finishes, these blinds combine perfectly the good looks of a wooden blind with the practicality of faux wood materials. They wipe clean and are moisture-resistant, so they stand the test of time in a steamy environment.
Next, add a personal touch with tape and the slat width of your choice
All of our wooden and faux-wood blinds can be accessorised with coloured tapes for an individual look. From bold, contrasting colours, to zebra stripes and geometric patterns, choose a tape that picks up an accent colour from your living room wallpaper, carpet or sofa for a coherent scheme. Alternatively, choose a coordinating colour to add some texture to your look.
Different options in our wooden and faux wood range have slats in different widths.  The standard sizes are 35mm and 50mm, but a narrower 25mm and wider 63mm slat are available on selected products.  The wider slats are suitable for large windows and are very contemporary in appearance.
Finally, how to style a wooden blind?
One idea is to go for a layered look.  Team your wooden blinds with curtains for a cosy feel that gives you real flexibility at the window. The wooden slats give you daytime privacy while still allowing generous amounts of light to filter through. At night, when you want a snug feel, close your curtains for an extra insulating layer.