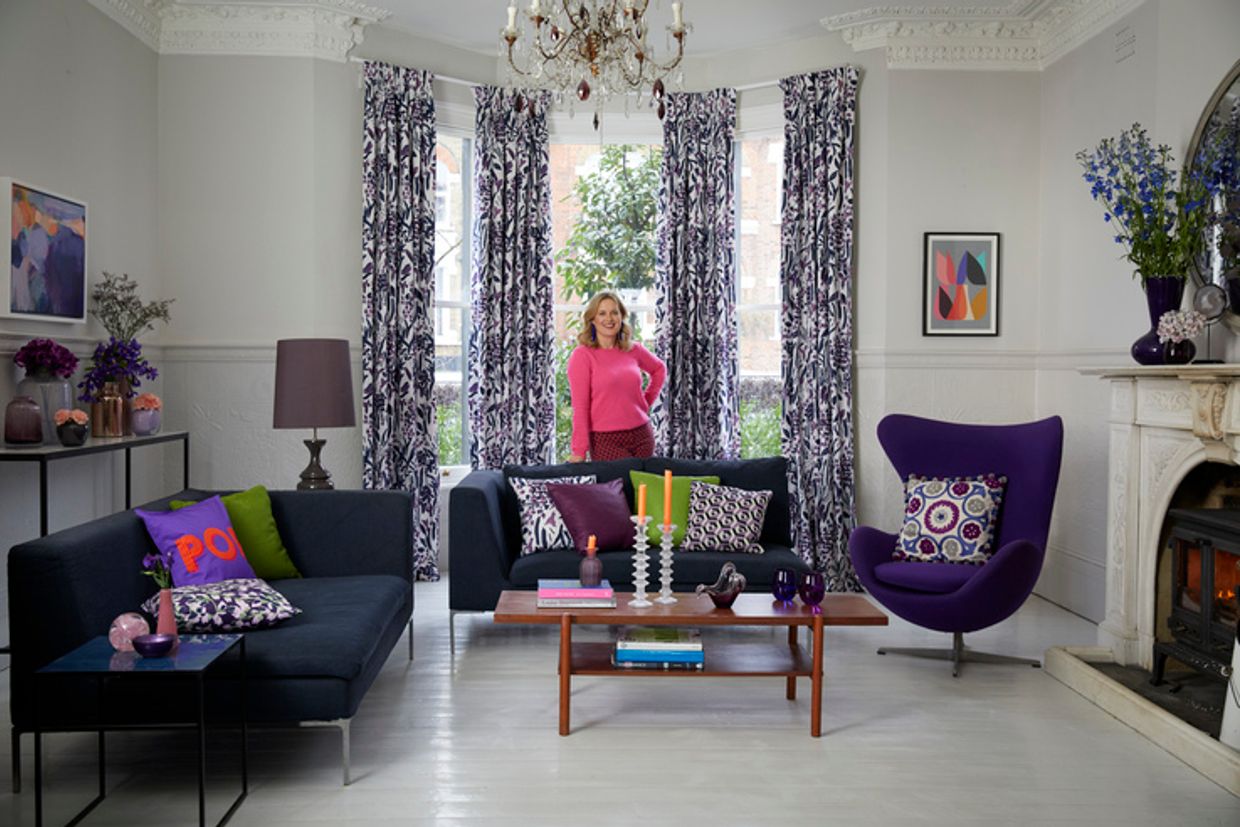 Custom Colour
It's official. Ultra Violet is Pantone Colour of the Year 2018, chosen for its visionary qualities and futuristic feel. Rather than dwell on the uncertainty of the present, Pantone have picked out a spiritual hue that invites us to imagine a better future.
But how do we actually incorporate this celestial shade into our homes? Well you'll be pleased to know that you don't need to search the galaxy for inspiration. You can find it all right here with our gorgeous selection of Ultra Violet décor ideas.
Peacock Feathers
Ultra Violet is a vibrant, blue-based purple, which, surprisingly for such a bold colour, can be taken in lots of design directions, from timeless elegance to anarchic self-expression. And even somewhere between the two. In this art deco drawing room, we've framed the windows with beautiful Willowy Amethyst curtains, a classic floral in a rich purple hue. Next we've created a sense of drama by lining two gentlemen's club chairs with a striking Ultra Violet velvet trim for a deliciously decadent finish.
Floral brights
If you're lookig for a different kind of drama, Ultra Violet can hold its own with a palette of bold brights to create a fantastically exuberant feel. In this sunny kitchen, we've picked an Ester Hollyhock Roman blind for our window. This playful floral print combines pops of Ultra Violet with fresh aqua and chartreuse hues. Reclaimed wooden shelving and storage jars in sweet pastel shades create an air of joyful simplicity.
Elizabeth Taylor eyes
Even the most practical window dressings can channel this daring shade in a decidedly delicate way. Moisture-resistant and easy to clean, Vertical blinds are an ideal choice for kitchen windows and patio doors. And if you want to add a touch of on-trend colour too, choose this beautiful Edra Violet floral print. Accessorise with a vase of freshly cut flowers and cookware in winter berry shades for an effortlessly easy take on this must-have interior look.
Browse Vertical blinds

Heather hues
For a softly spoken scheme, combine Ultra Violet hues with shades that are closely connected on the colour wheel. Grape, mulberry, lavender, rose and lilac combine to create a warm and welcoming décor. Tactile velvet and hand-embroidered linens add an extra element of home-loving charm and Ravenna Amethyst Roller blinds create a sleek finish at the window, imbuing the room with a rose-tinted glow.