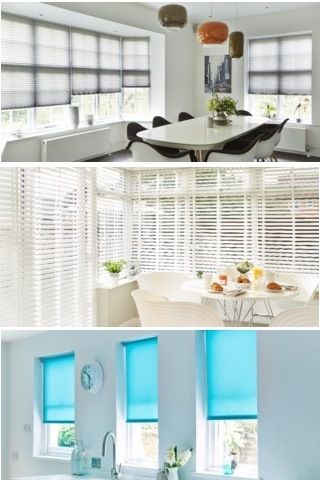 5 of the best window questions from our Lorraine Q&A
On 31 March, we took over the Lorraine Facebook page to answer viewers' burning interior questions. And they didn't disappoint! Take a look at five of the best Q&As from the day.
Patio doors
We're often asked how best to dress patio doors, so it was no surprise that Luci wanted advice on the subject. And although lots of different window dressings are perfect for the job, we recommend an innovative system called PerfectFit. Pleated, Venetian or Roller blinds in a PerfectFit frame clip into your uPVC frames and become an integral part of the door.
Bay windows
Bays are another window hot topic, and Helen asked how she could dress hers. For a modern effect, we recommended Wooden blinds, softened at the edges with dress curtains. Alternatively, Roman blinds and curtains together create an effortlessly chic feel that never goes out of fashion. 
Maximising space
Rachel wanted to make a small window appear larger. A sneaky trick is to fit curtains higher or wider than the window to give the illusion of extra space. Choosing compact blinds that fold up small is another smart idea – Pleated blinds take up very little room at the top of the window, for example.
Conservatories
Vie wondered about privacy in her conservatory. In any room, a blind with slats is perfect for improving privacy control, but faux wood is perfect for conservatory side windows as it won't warp with temperature changes. We recommended adding made-to-measure Pleated blinds at the roof for supreme heat and light control.
Kitchens
Kitchens are practical spaces, and Sophie wanted an equally practical blind for hers. We recommended a moisture-resistant Roller blind. A wipe-clean fabric is perfect for withstanding any little splashes, particularly when the window is behind a sink.
If you'd like to read the full answers, along with loads more questions, head over to the Lorraine Facebook page.