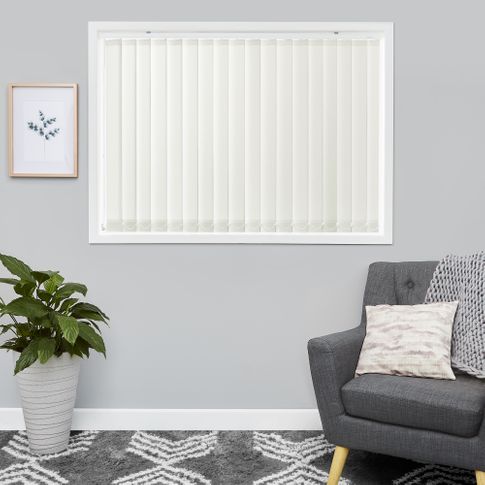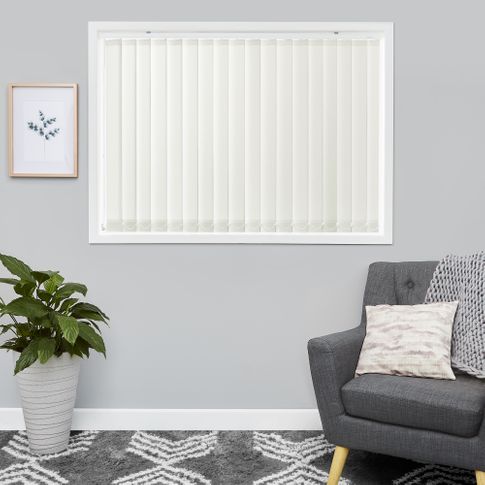 Make it your own
Create the perfect, unique look with our range of customisation options
Available as Conservatory blind

Coloured Control Chains

Coloured Weights & Chains

Chainless Weights

Coloured Headrails

Curved headrail

Sloping headrail

Split drop fitting
Available as Conservatory blind
All our vertical blinds are available as conservatory blinds, ask your advisor for more information.
Coloured Control Chains
Choose a coloured tilt range to match your style. Options include white, black and anthracite.
Coloured Weights & Chains
White and black weights are available to blend with light and dark fabrics for a smoother finish.
Chainless Weights
For a fuss free finish, our chainless weights eliminate the need for fussy chains along the bottom of your Vertical blind - ideal for doors and childrens' rooms.
Coloured Headrails
Headrails are available in four colours and finishes to suit your style.
Curved headrail
White curved headrail for bow, bay and some corner windows
Sloping headrail
Sloping headrail for rooms with sloping ceilings and windows
Split drop fitting
Split drop option for rooms with different floor heights or restrictions around windows
Product Details

It might be named after a market town in Northumberland, but a glance at the Hexham Stone Vertical blind prompts more exotic visions of white, sandy beaches. Armed with a subtle sheen, the fabric is finely delicate and designed for rooms that require the softest of touches bringing to the window. Neutral is the message that this blind echoes, although the delicate touch and feel also means that it could be used to quieten down any nearby overpowering interiors. Both contemporary and traditional interiors would comfortably benefit from the fabric. From a practicality perspective, the blind is constructed from 100% polyester allowing for any spills to be wiped clean with ease.

Specifications

Included as standard:

Standard headrail, Stabilising chain, Coordinating Wand operating system, Coordinating Plastic Chain operating system

Guarantee

We take the greatest of care to make sure that your gorgeous made-to-measure blinds look and fit exactly as they should. And because we want you to be completely satisfied with your Vertical blinds, we offer a full 12-month warranty which starts the moment your products are fitted. That's our promise to you that you're investing in a quality product that's made to the highest specifications. As part of your warranty we promise to repair or replace any faulty goods free of charge.

Cleaning Tips

The louvres of your blind can be simply wiped down with a clean, damp cloth to keep them looking spotless. Stubborn stains should be treated with a specialist stain remover, following the manufacturer's instructions. To clean the headrail, unclip the louvres and wipe the rail with a clean, damp cloth and replace the louvres.

Child Safety

Our standard chain operated Vertical blinds include a safety hook fitted to an adjacent wall which chains and cords are hooked through to keep taut and out of reach of children

Sloping Vertical blinds are fitted with a safety hook and a tension spring. The tension spring keeps the cords under constant tension, keeping them fully taut at all times.

FAQ's

Which windows are Vertical blinds good for?

Vertical blinds are one of the most versatile, budget friendly and adaptable blind types around, suitable for standard windows, extra wide windows and doors, bay and bow windows and even sloping windows. Because Vertical blinds are made up of individual louvres, it's really easy to just add in more to fit even the widest of spaces. This makes them ideal for glass extensions and extra wide patio doors especially.

Why choose Vertical blinds?

Vertical blinds are a popular choice because they're so practical, especially if your windows are overlooked. The louvres can be tilted to diffuse light while still preventing prying eyes from looking into your home, fully opened to let in lots of light, or closed to provide complete privacy and light control. Our collection includes classic colours and textures, as well as on-trend styles and prints, giving you great looking styles as well as practical features.

Which rooms are Vertical blinds best for?

Our collection includes styles for any space, along with specialist fabrics that are particularly suited to certain environments. For example, our rigid PVC louvres are wipe clean and moisture-resistant so are an excellent choice for bathrooms and kitchens. Our range also includes blackout fabrics suitable for providing extra light and temperature control in bedrooms and hot glass extensions.

Can I have Vertical blinds in a curved bow window?

Vertical blinds are one of the only blind types to fit beautifully into curved window shapes. Our Vertical blinds come with optional curved or flat louvres for a sleek finish and can be fitted to special curved headrails that follow the curve of your window.

Which louvre width is right for me?

Our Vertical blinds are available in a choice of louvre widths to suit the size and style of your window, as well as personal preference. If you're not sure what width to choose, talk to your advisor, who will help you decide on the best option for your space.
Sit back, relax.
Let us do it all.
All expertly measured
We do the measuring and advise you on the perfect solution for your window
All tailor-made for you
All our products are made to order for an exact fit
All fitted to perfection
We do the fitting, and all our products are fully guaranteed