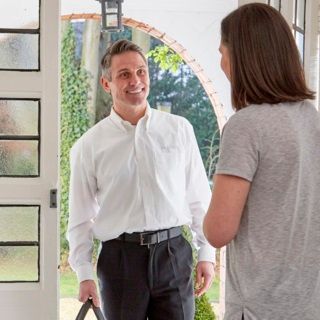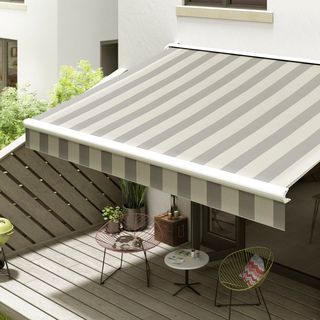 The Hillarys difference
Request a free in-home appointment and you'll receive a personalised service that's second to none.
YOUR IN-HOME APPOINTMENT
As well as bringing our range of fabric samples to your home, our specialist in-home advisor will bring a wealth of experience and expertise to make sure that your awning is perfectly placed to give you year-round protection.
Your advisor will help you with your fabric choices and talk you through all the options available to customise the look and performance of your awning. This includes everything from shaped hems to innovative wind sensors and integrated heating options.
MEASURING SERVICE
Your advisor will carry out a technical survey to confirm the exact size and position your awning needs to be to give you adequate protection from the sun as it moves across the sky throughout the day. We'll then agree a date for your specialist advisor to return to fit your gorgeous made-to-measure awning.
EXPERT FITTING
When your awning is fully fitted, your advisor will demonstrate how to use the remote control system, and set up the sun and wind sensor if you have opted for these. Then all that's left for you to do is sit back and relax in the sunshine.
CHOOSING A GARDEN AWNING: MEET TONY AND STELLA
If you're considering a garden awning for your home, take a look at our short video following Tony and Angela's story. They couldn't be happier with their new awning and here they explain why it's made such a big difference to how they use their outdoor space.