Children's blinds
From tots to teens, we've blinds for children of all ages. Browse playful prints and rainbow plains that are guaranteed to bring a smile to your little ones' faces.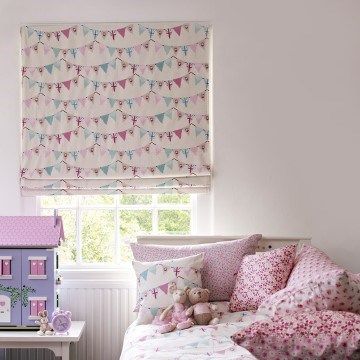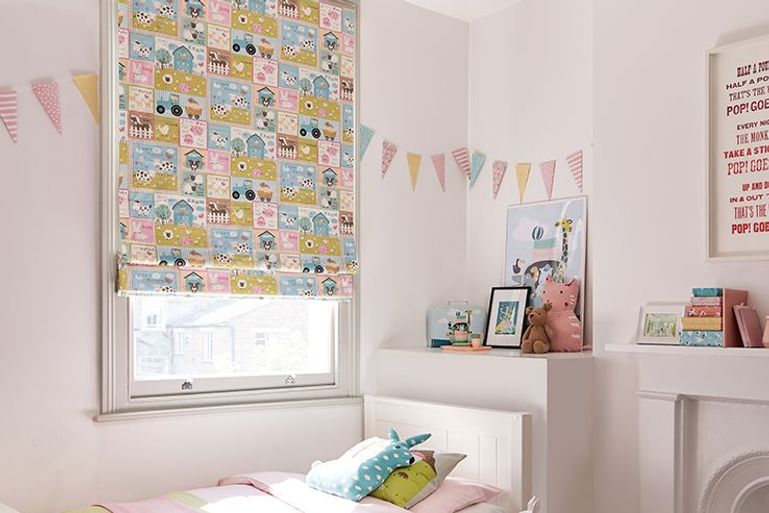 Playful designs
Keep little one's happy with one of our patterned blinds, like this farmyard design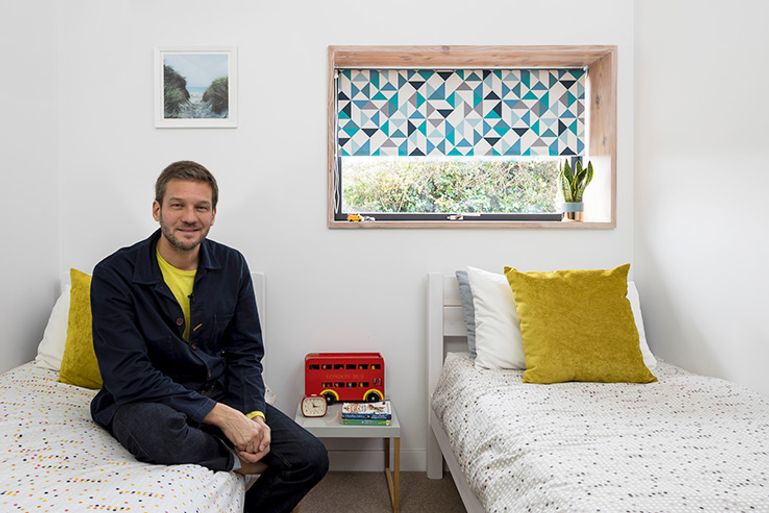 Charlie Luxton
Architectural designer and TV presenter, Charlie Luxton didn't want his tribe waking up at the crack of dawn, so it was important he chose a blind with a blackout fabric which adds a splash of fun to this simple kids' bedroom.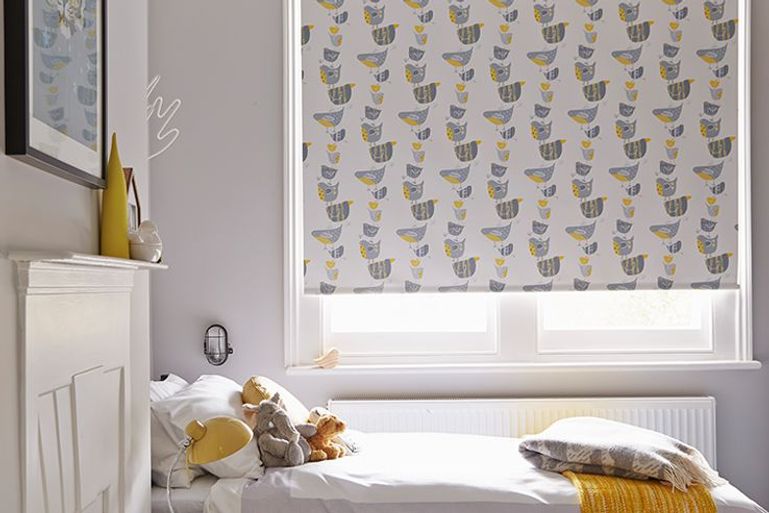 Sweet slumber
Blackout options are available to help light sleepers gently drift off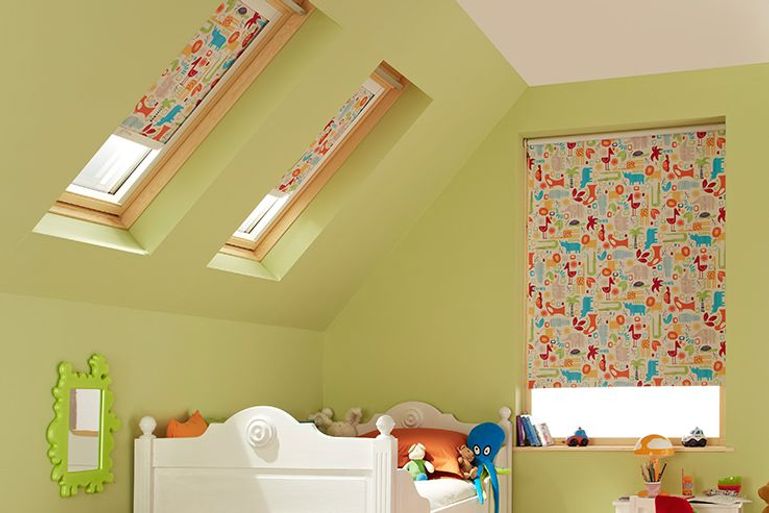 Skylight solutions
We've children's blinds to fit all window types, including skylights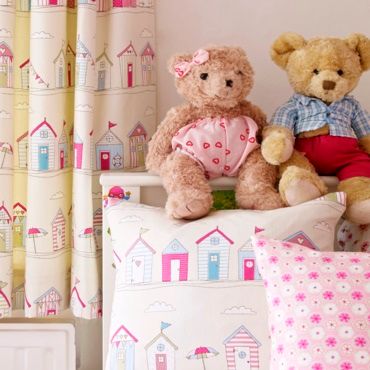 Made-to-measure
With a choice of fabrics and accessories for a bespoke finish every time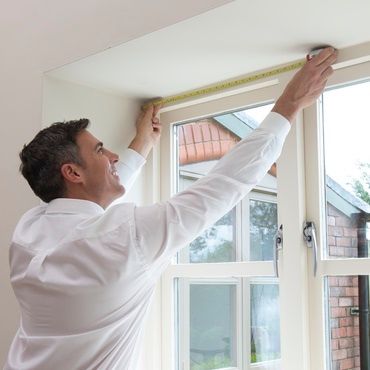 Free expert fitting
Expert measuring and fitting is included as standard. It's all part of our dedicated in-home service
REQUEST AN APPOINTMENT
Children's blinds fabrics
Loads of gorgeous fabrics to choose from. We'll bring them all for you to browse during your in-home appointment.
Children's Blinds Gallerys
Be inspired by our gallery of children's blinds
Browse childrens blind inspiration and ideas
Find a style you love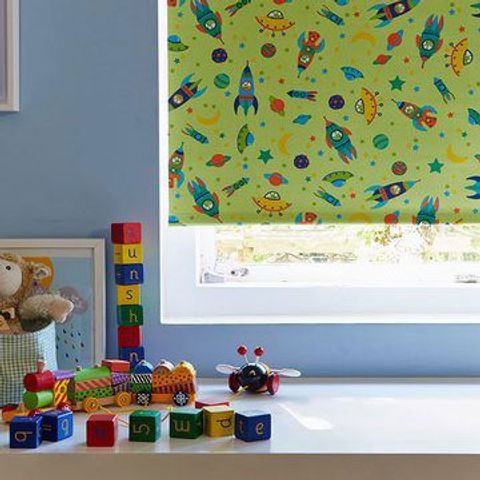 Browse our gorgeous design ideas for nurseries and find out more about our child safety features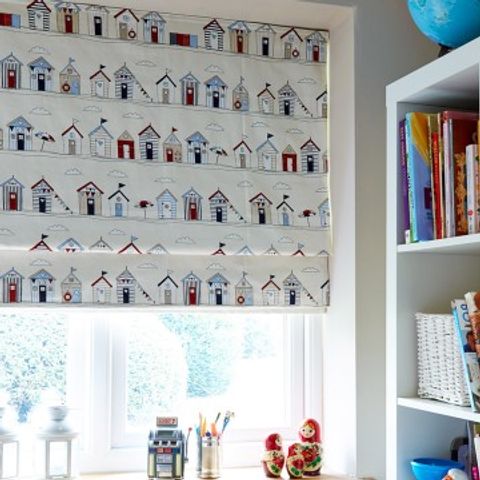 We talk you through the latest interior trends for children's nurseries, with a focus on important safety features and performance fabrics.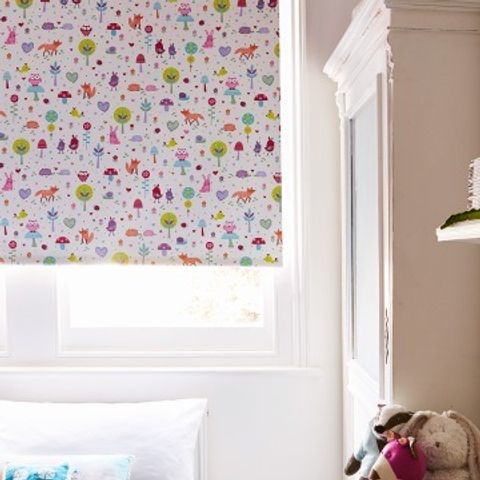 Choose a blackout Roman or Roller blind in a fun design, striped or plain fabric and make sure your child gets a great night's sleep.
Why you'll love children's blinds
Children's blinds are a must for a refreshed or totally new nursery, playroom or bedroom. The bright colours, strong patterns and smiley prints will dress the window and finish the space perfectly. You can choose blackout options too. 
Children's blackout blinds
Children's blackout blinds are a blessing for sleep deprived parents. The fresh and fun styles are kid-friendly, while the special fabric helps stop sunshine from disturbing your child's sleep early in the morning. Your boy or girl is more likely to sleep late. And that means you can look forward to lie ins too!
Children's Roller blinds
Our children's Roller blinds range is packed with fun colours and big prints – just the ticket for cheering up a kids' bedroom. You can choose children's Roller blinds featuring special blackout fabrics too.
Children's Roman blinds
Hoping to create a bedroom fit for a prince or princess? Then children's Roman blinds are your best option. The lovely soft fabrics and beautiful designs will finish the space with happy-ever-after feelings.
Find the perfect children's blinds during an in-home appointment
An in-home appointment with one of our expert advisors. That's exactly what you need to find the ideal children's blinds. Your advisor will guide you through the range while answering all of your queries. You can see how well each fabric suits your child's room and then pick the one that goes perfectly.
Rest assured, the children's blind you choose will be child safe. Our advisors fit child-safety devices where needed, or you can go for one of our cordless options. 
What's more, your advisor will even measure your window and give you a quote to consider.
Your choice, made-to-measure for your window
Children's blinds are all made-to-measure to your exact spec. As well as fitting your window perfectly, your new children's blinds will include any of the personalising touches you've picked during your appointment. And your advisor will come back to fit your children's blinds, for a truly bespoke look.