Bedroom blinds
You'll drift gently into the land of nod with one of our blinds at your bedroom window. Blackout fabrics are available too, for an additional level of light control.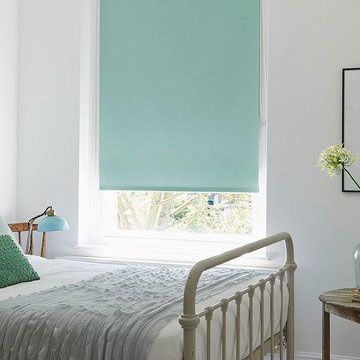 Bedroom blind fabrics
Hundreds of gorgeous fabrics and finishes to choose from. We'll bring them all for you to browse during your in-home appointment.
Bedroom blinds gallery
Be inspired by our gallery of bedroom blinds
Why you'll love our bedroom blinds
Bedroom blinds are essential for creating the comfortable conditions so important for ensuring a great night's sleep. Our wide range, made-to-measure approach and expert fitting service means you're sure to get the look you want. Here's more on why you'll love bedroom blinds.
Bedroom blackout blinds
As well as looking fabulous, blinds with blackout fabrics can help you sleep. These designs feature special fabrics, which can stop the sun from shining into a room through the window. And that can be the crucial difference between waking up early with the dawn sun and lying in late in a darkened, sleep-friendly bedroom. You can choose blackout fabrics in Roller and Pleated styles, or have a blackout lining fitted to any Roman design.
Bedroom Roller blinds
You'll find a wonderful breadth of choice in our bedroom Roller blinds range. There's everything from earth tones to bold colours to subtle neutrals, and there are gorgeous prints and patterns too. You can even choose blackout fabrics – ideal for helping you sleep past sunrise.
Bedroom Roman blinds
Treat your window to one of our bedroom Roman blinds and enjoy an elegant addition to your décor. Our bedroom Roman blinds feature rich fabrics and sophisticated styles in a range of colours. What's more, you can have a blackout lining fitted to any of our bedroom Roman blinds.
Find your perfect bedroom blinds during an in-home appointment
During an in-home appointment with Hillarys, you'll have the ideal opportunity to find the right bedroom blinds for your style and décor. One of our advisors will come to you and guide you through the range, answering all your questions and giving you plenty of tips. You can touch and feel the fabrics and see how well each one goes with the rest of your bedroom suite. What's more, your advisor will measure up and give you a quote to consider.
Your choice, made-to-measure for your window
We take your measurements and craft made-to-measure bedroom blinds just for you. This includes any of the personalising touches you chose in your appointment. The result is a bespoke bedroom blind that suits your taste and fits your window wonderfully. And of course, your advisor will return to expertly fit your bedroom blinds, making sure the finish is everything you'd expect from Hillarys.