Living room blinds
Transform your living room into a space you'll love to lounge, with a stylish blind that's made-to-measure just for you.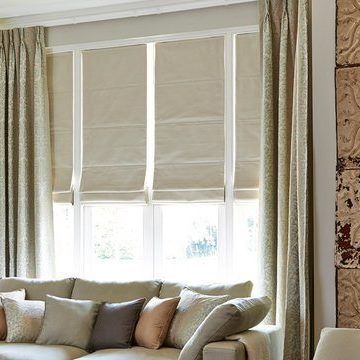 Living room blind fabrics
Hundreds of gorgeous fabrics and finishes to choose from. We'll bring them all for you to browse during your in-home appointment
Living Room Blinds Gallery
Browse our gallery full of inspirational ideas for your living space
Why you'll love living room blinds
A lounge should be a comforting, social space – somewhere personal to you. Make sure yours meets your tastes and needs by finding the perfect finishing touch in our living room blinds range. Here's more on why you'll love our blinds.
Living room blinds give you an opportunity to complement your big ideas with your decorative elements. For an understated colour scheme, think of coordinating with a neutral fabric or contrasting with a bold material. Looking for a showstopper? Then browse our range of fashionable patterns, for edgy, sophisticated or contemporary finishes.
Choose living room blinds in a sheer fabric to veil your lounge while allowing plenty of sunshine to flood in. Alternatively, you might prefer blackout or glare-reduction styles, which are great for stopping the sun getting in your eyes while you're trying to relax. For an extra cosy feel, why not pair blinds with our gorgeous curtains? The possibilities are endless.
Find your perfect living room blinds during an in-home appointment
The perfect setting for choosing new living room blinds is … your lounge, of course. And that's what you have a chance to do during an in-home appointment with Hillarys.
One of our advisors will bring our entire living room blinds range to you. You'll hear expert tips about picking the right colour, pattern, and fabric for your lounge. And you'll have a chance to see how each of your favourite designs looks and works with your décor, so you'll know your final pick is harmonious with your lounge. What's more, your advisor will measure up and give you a quote.
Your choice, made-to-measure for your window
Having made-to-measure living room blinds will give your lounge a bespoke look – a look that says you care. As well as being made to your window measurements, your living room blind can be further tailored to your taste with a selection of personalising touches.
And your advisor will return to fit your living room blinds, making sure you're delighted with the results.