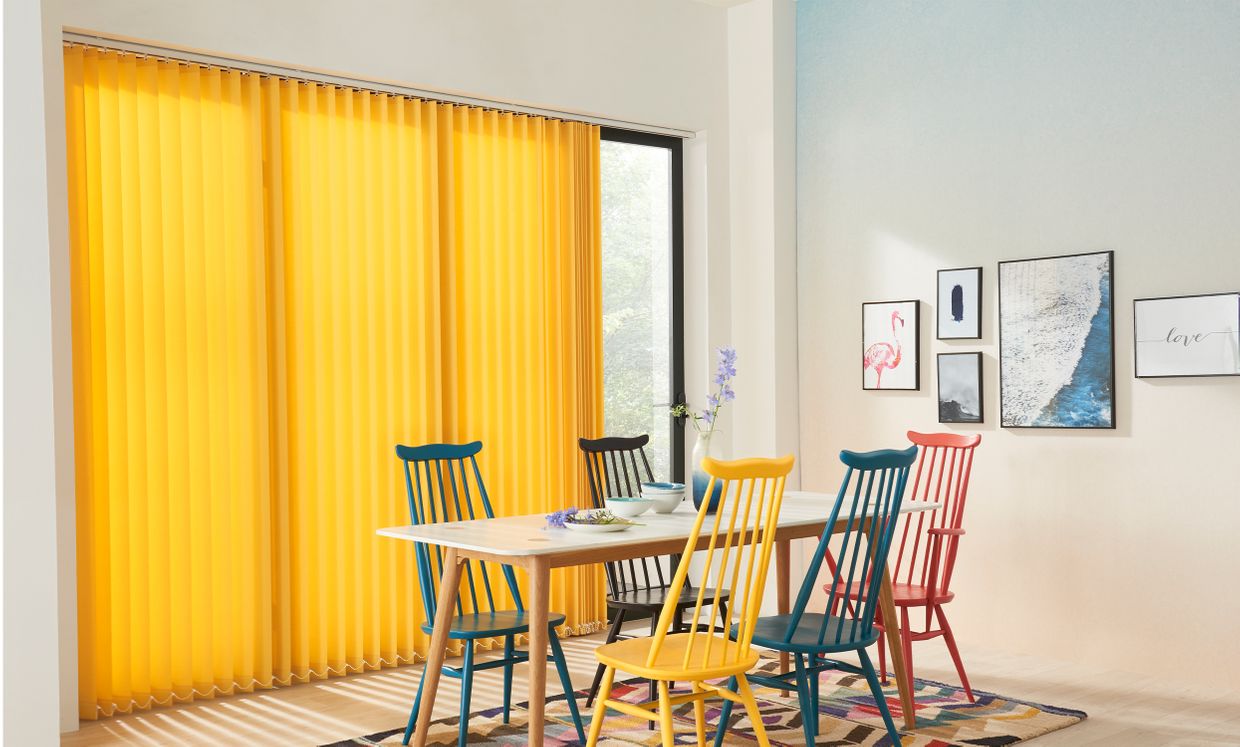 What are vertical blinds?
vertical blinds explained
Read our 'back to basics blind guides' and discover all about the different blind types we offer.
In this guide, we tell you all about Vertical blinds – what are they, what windows are they best for and what are the benefits of choosing Vertical blinds over different blind types.
What are Vertical blinds?
A Vertical blind is made up of individual louvres or slats that clip on to a sliding track at the top and are joined together by weights and stabilising chains at the foot of the blind. Each slat hangs vertically and the entire blind is operated by a chain (or wand) and a separate cord. The chain (or wand) control is used to tilt and turn the slats while the cord control opens and closes the blind. Vertical blinds are available in a range of fabrics, colours and patterns to suit a wide variety of environments and interior styles. 
What type of windows are Vertical blinds best for?
Because Vertical blinds are made up of individual louvres, there is virtually no limit to how wide they can be made, so these blinds are ideal for large windows and patio doors that are too big to accommodate other blind types. But that's not all, Vertical blinds are also perfect for curved and square bay windows, as well as other challenging spaces, including sloping and split drop windows. This is because the individual louvres can be cut to different lengths to perfectly fit the pitch of your window.  
Why choose Vertical blinds?
There are so many benefits to choosing a Vertical blind for your window, but first let's focus on the wide range of special finishes and fabric types that make Vertical blinds an obvious choice for any busy home. For kitchens and dining areas, we offer flame retardant and wipeable options, as well as easy-to-clean, rigid PVC fabrics. For bathrooms and wet rooms we have moisture-resistant styles, and there are light reflective and glare reduction fabrics that are ideal for living rooms or home offices. And of course, we have practical blackout fabrics for the bedroom.   
Hundreds of colours and prints
Vertical blinds aren't just practical, they can be a really stylish addition to your interior décor too. There are hundreds of gorgeous colours, textures and patterns to choose from, to suit every interior style. Create interest in a neutral scheme with a textured fabric or add a pop of vibrant colour to give your room the wow factor. Choose pretty florals for bedrooms and living areas or opt for a sheer fabric to let lots of lovely light filter into rooms that don't get a lot of sun. 
Flexible control options
Best of all, Vertical blinds are really easy to live with, giving you optimum privacy while gently filtering light into your home. So if your windows look directly out onto the street, or your room is overlooked by another property, you can be confident that your Vertical blinds will effectively keep prying eyes out while still allowing lots of lovely light in through your windows.