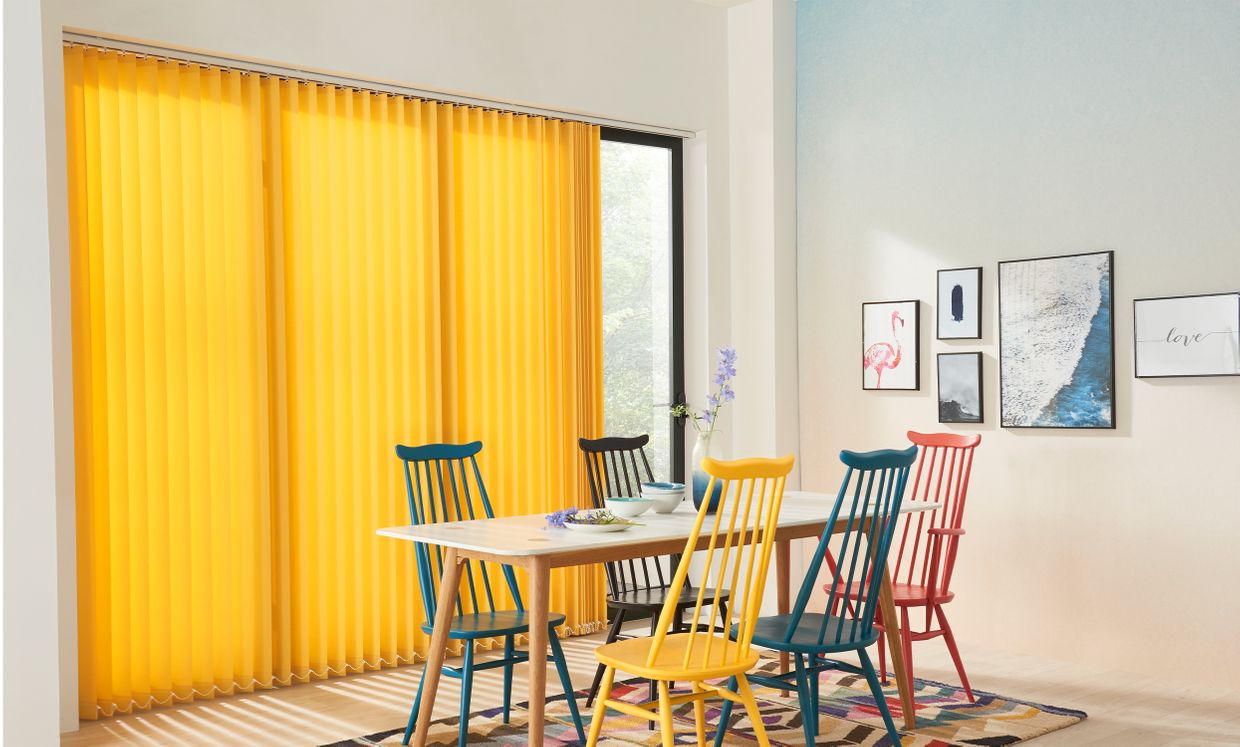 What are the benefits of Vertical blinds?
vertical blinds explained
Vertical blinds are thought of as a functional window dressing, but with a wide variety of fabric choices available, they can be an aesthetically pleasing and contemporary option too.
What are Vertical blinds?
Vertical blinds consist of a series of vertical fabric louvres or slats, which can be twisted to close and obscure the window or opened wide to let in lots of light.  The louvres are linked together by a chain and are operated using a cord, positioned at the far right or left of the blind.  The blind can be fully opened to expose the window, by positioning all the louvres in an open position and then pulling the cord to move all the louvres to one side or other.  You can choose to have your Vertical blinds split in the middle, like a pair of curtains, so half the louvres move to the left and half go to the right.
What are Vertical blinds made of?
The louvres or slats of Vertical blinds are available in a range of fabrics.  Our collection is packed with prints and colours to help you create a range of contemporary looks.
As well as looking stylish, a number of these fabrics have special properties to help manage the different problems that windows can bring.
For example, there are dim-out and glare reduction fabric options which help manage bright sunlight more effectively.  These are particularly useful for home offices, living rooms and bedrooms.
For bathrooms and kitchens, you can choose ever-practical moisture resistant and wipe-able finishes in PVC.
Are Vertical blinds useful?
Vertical blinds are a good solution if you have large full-length glazing, like sliding or bi-fold doors. They are useful for controlling the light as well as providing privacy. If you need to manage strong sunlight, the louvres can be re-positioned throughout the day to manipulate the light. And when it's dark outside, you can semi or fully close them to obscure the view into your room. When you want to open the door and go outside, the blind can be pulled right out of the way.
Can you use Vertical blinds in bathrooms and kitchens?
Vertical blinds are an excellent option for bathrooms and kitchens.  The louvres provide additional privacy and flexible light control and we recommend selecting one of our moisture-resistant or wipe-clean fabrics to prolong the life of your blind.
Are Vertical blinds good for conservatories?
As Vertical blinds are so good at controlling strong sunlight, they are a practical choice for a conservatory.  Naturally there will be a lot of sunlight to contend with, so you can adjust the louvres as the sun moves across the space.  This will help to keep the intense heat and bright light at bay and make your conservatory more comfortable for relaxing in.
Can Vertical blinds be used with bay windows?
The beauty of Vertical blinds is their versatility. The head-rail can be easily shaped to work around curved and bay windows, and the individual louvres can be cut to different lengths to fit almost any space, including sloping windows.
Can you get Vertical blinds without the chain?
Our range of Verticals blinds is also available with chain-less weights. Each louvre is weighted at the bottom to eliminate the need for stabilising chains along the bottom of the blind. As well as creating a much neater look, this makes them ideal for doorways where children and pets might be moving through.