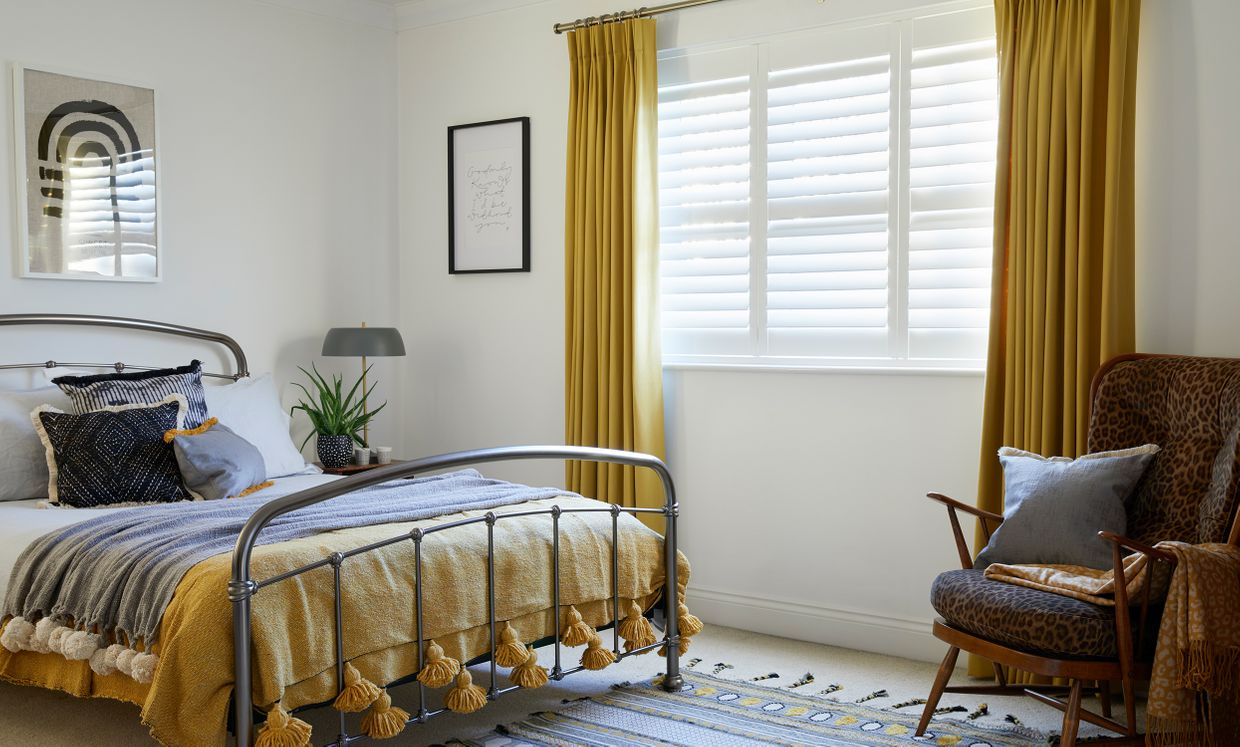 Guest Bedrooms
that feel like home
Style your guest bedroom with these fantastic blinds, curtains and shutters. We show you how to make the most of your spare room and make your guests feel right at home this Christmas.
Now is the time to get your spare room ready for seasonal sleepovers. Whether you're looking for design ideas for a master suite or a loft conversion, you'll find lots of inspiration to suit any age, style or budget.
Boutique chic
Exclusive and ever so stylish, the boutique experience is all about providing your guests with comfortable surroundings and just a little touch of luxury. Deep pile carpets, crisp white linen and an eclectic mix of furnishings epitomise this look. These Baroque Mulberry blackout curtains from our House Beautiful Global Textures Collection teamed with Opulence Amethyst Roman blinds add just the right amount of glamour.
Day to night
If space is an issue, a day bed is a great solution for creating a versatile, shabby chic space, ideal for lounging by day and snoozing the night away. Combine woolly throws and floral cushions for daytime snuggling, with chintzy quilts in pastel shades for night time cosiness. A Venetian blind in palest pink lets the daylight flood in and sheer Voile curtains complete the look.
Teenage kicks
Keep your fashion conscious teenage guests content with a stylish monochrome palette that will never go out of style. Minimal accessories and contemporary wall art give this scheme an edgy twist, and the sleek black bedroom blinds in blackout blinds fabric will help your teenage guests sleep through until lunchtime.
Artful design
Transform a kid's room into a grown-up retreat by making a few simple changes. Replace the toys and playthings with a groovy night light and add some tactile felt wall art. Zingy lemon wooden shutters continue the artistic theme while keeping the room feeling cosy. The contemporary bedlinen gives this small space bags of style and personality. 
All-round appeal
Create a scheme that guests of all ages will love. This contemporary and charming Dickie Bird print Roller blind looks at home in any style of décor, and the neutral palette gives you the flexibility to adapt and accessorise the room according to taste. In this scheme, we've picked out the yellow accents to add a splash of on-trend colour.