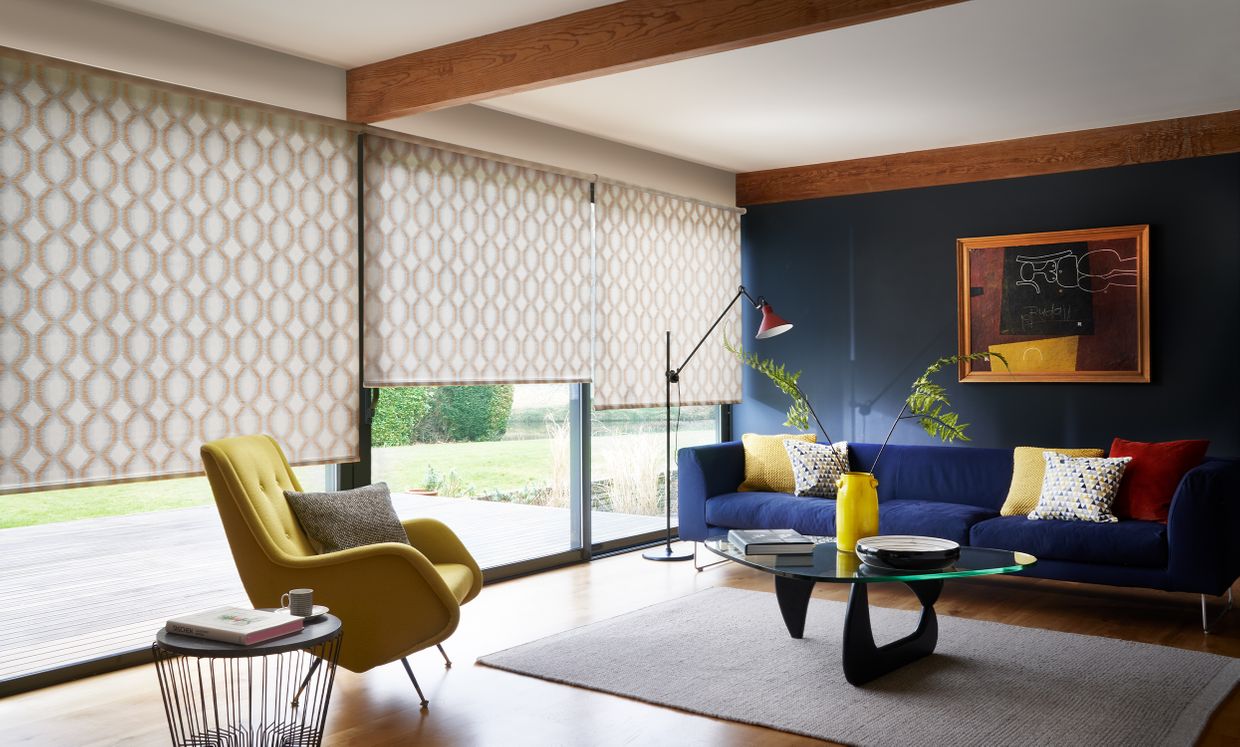 Deciding on the perfect blinds
With so many different styles to choose from, finding the right blinds for your home can be a daunting prospect. But get it right and you'll be rewarded with beautiful looks, excellent light control and much more. Our handy guide takes you through all the different blinds available - as well as the benefits of each - so that when it comes to deciding on the perfect blinds for your windows, you can be confident you're making the right choice.
How to select the right blind
Before we take a look at all the different options, first make a note of which room your new blind is for and if you have any special requirements, as this will help guide you to the perfect blind. For example, if it's for a bathroom you'll need it to be moisture-resistant. Or if it's for an overlooked conservatory, you'll need something that will protect your privacy. Once you know exactly what you need from your blind, it will be easier to find the right one.
Things to consider
How much light control do I need?

What type of material do I need? waterproof or flameproof?

Which room is this for?

What type of window is it?
How to measure for a blind
Your Hillarys advisor will be able to measure your window to ensure the blinds fit perfectly. There are so many options for made-to-measure blinds from Romans to rollers that can help you to block out more light.
Roller blinds for light control
Roller blinds are one of our most popular window dressings, and it's easy to see why. They offer a simple, efficient way of controlling the light, and are available in a wide range of colours and styles. We've moisture-resistant options that are great for kitchens and bathrooms, blackout options for bedrooms, as well as motorised options too.
Roman blinds for privacy
Roman blinds bring a little luxury to your windows. Made from the same fabric as our curtains, they have a soft, relaxed look whether they're raised halfway, as pictured, or lowered to cover the entire window. All our Roman blinds come fully lined as standard, or you can choose to upgrade to a blackout lining for light control. We also offer Voile Roman blinds which give you privacy, while allowing lots of light to filter through the sheer folds of fabric.
Cost effective Vertical blinds
These blinds are made up of individual fabric panels that hang vertically at the window. The panels can either be positioned flat to block out the light, or upright to the let light filter in. They can also be pushed open to one side for when you want a clear view of the outside world. Vertical blinds are known for their versatility – they can fit a variety of window shapes, such as sloping or curved bays, and come in a range of performance fabrics. They're also one of the most cost-effective solutions for dressing large windows, so make a fantastic choice for sliding glass or patio doors.
Colourful Venetian blinds
Venetian blinds consist of horizontal metal slats held together by cords. Much like a Vertical blind, slats either lie flat against the window to block out light, or tilted to let it gently filter through. Our Venetian blinds are available in a selection of colours and finishes, including pretty pastels, playful brights and metallic effects. Plus, if you have uPVC windows, they can be made to fit inside Perfect Fit frames, which eliminate the need for cords.
Real or faux Wooden blinds
Wooden blinds work in the same way as Venetian blinds, except that the panels are made of wood, rather than metal. Slats are operated via a cord, and can be positioned to let the light in, block it out or filter it, depending on your needs. Our Wooden blinds can be made with real wood which has a gorgeous natural grain, or Faux Wood which has water-resistant properties. You can also choose to decorate your Wooden blinds with a tape for a classic look at your windows.
Pleated blinds for sun protection
Named after the folded effect they create at the window, Pleated blinds look simply stunning, and are hard-working too. The delicate fabric folds are encased neatly at the top of the blind when not in use. Then when you need a little protection from the sun, they can be pulled down to the desired height. When lowered, Pleated blinds allow a gorgeous diffused light into a room, making them a great choice for conservatories or areas where you're overlooked. We also offer thermal Pleated blinds, also known as Thermashade™ blinds, which help keep the heat in the room with you.
Blackout blinds for the perfect snooze
We know how important a good night's sleep is, which is why we're proud to offer a range of blackout blinds. Choose a Roller blind in a blackout fabric, or opt for a specialist blackout lining with your Roman blind – both will reduce the amount of light penetrating through your blind, so you can get a good night's rest. Our collection includes a variety of colours and styles, including a kids' collection.
Skylight blinds for bedrooms
Skylight blinds fit directly onto skylight windows for a hassle-free way to control natural light. You can choose between Roller, Venetian or Pleated blind styles - and blackout fabrics are available too, perfect for skylights in a bedroom.
Perfect Fit blinds for a no-drill, neat finish
Perfect Fit blinds are a no-drill solution for uPVC windows. Roller, Pleated or Venetian blinds sit within bespoke, made-to-measure frames that clip neatly onto your window, creating a tidy look. Perfect Fit binds are available in a wide range of colours and patterns, as well as blackout and thermal options.
Browse more Perfect Fit blinds
Day and Night blinds for light and privacy control
Innovative Day and Night blinds offer the best of both worlds when it comes to privacy and light control. The overlapping panels feature translucent and opaque stripes which can be lined up to let light filter in, or positioned apart to block it out. These blinds provide a striking look at the window that's sure to be talking point in your home.
Need some advice?
If you're still a little unsure which is the best blind for you, our advisors will help you make the right decision. Book a free appointment and we'll talk you through all the options and show you a range of samples – all in the comfort of your home. Then once you've decided, we'll measure up and return to fit your new blinds too. It couldn't be easier or more convenient.
Book your free home appointment today