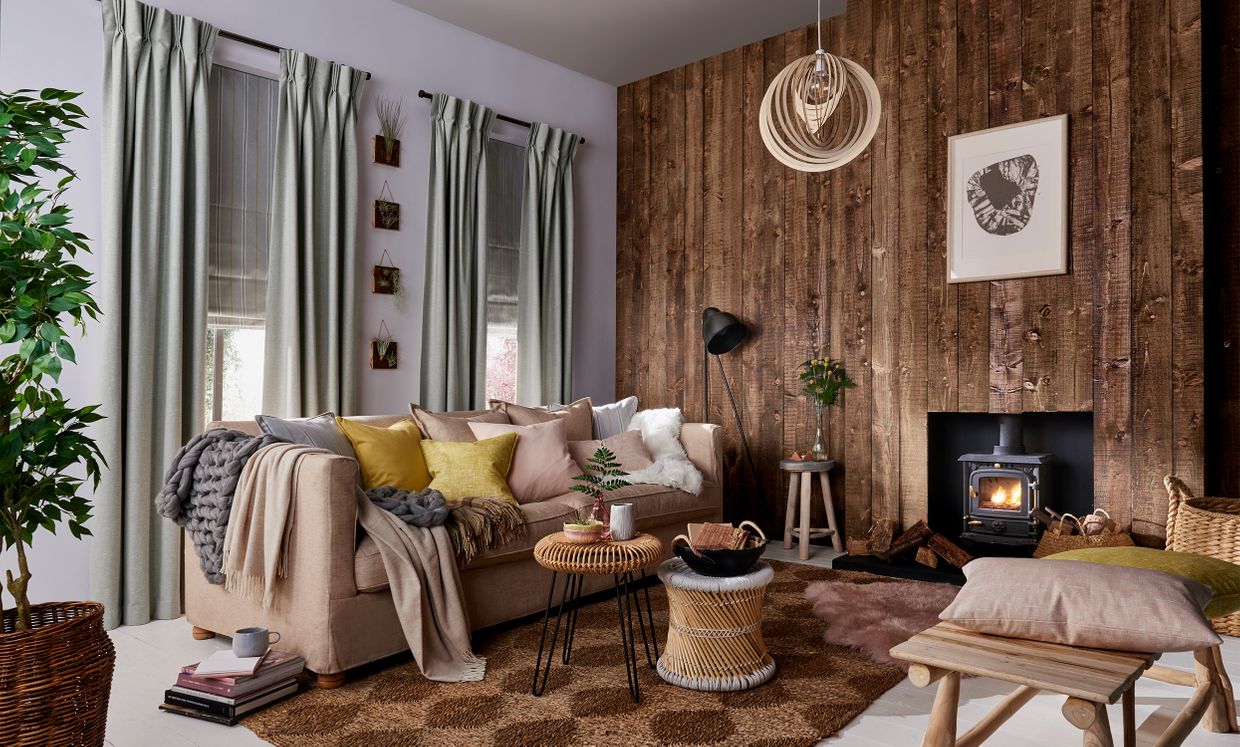 Modern Rustic Get the look
Come home to an authentic Modern Rustic interior. Together with our style partner Emily Henson, we share the key design elements of this eclectic look to help you design your own unique take on this textural trend.  
Naturally cosy
This is a very cocooning look that invites you into its bosom and envelops you in a rich, textural embrace. Warm layers and natural materials are key to achieving this deeply nurturing feel. At the windows, Emily has combined wool-look Howard Chartreuse Roman blinds with linen-look Lindora Silver curtains. The naturally cosy feel of wool, combined with a coarser textured linen-look creates a deeply satisfying textural frisson. 
Soothing shades
Modern Rustic interiors are inherently calm and comfortable, so bold colours are definitely out of the question. Emily has chosen a neutral palette, bringing in pops of soft pastel colour to give life to the scheme without overwhelming the senses. Blush pink adds warmth, while mustard amd citron provide a light and fresh feel. Make sure you continue the textural contrasts throghout your scheme. On the contemporary styled sofa, Emily has combined luxurious faux-silk with sumptuous sheepskin and chunky knits.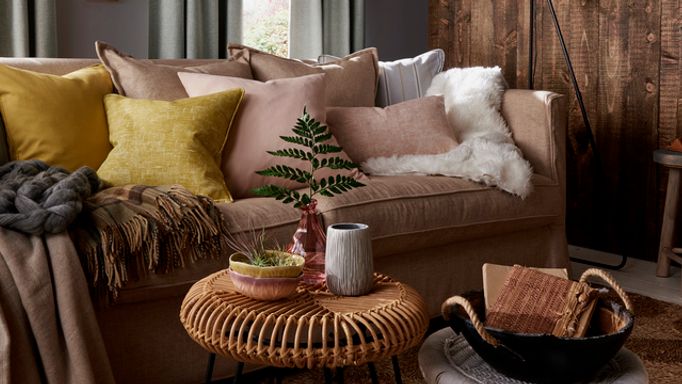 Browse cushions and accessories

Norwegian wood
Nautral wood tones and textures are key elements to this rustic look. Contrast rough hewn planks with smooth painted floorboards and combine darker shades with warm and pale wood tones , wicker and rattan for a multi-textural finish. The sea grass rug and cast-iron logburner encourage a simplistic and relaxed way of living that provides an escpae from the hi-tech bustle of modern life.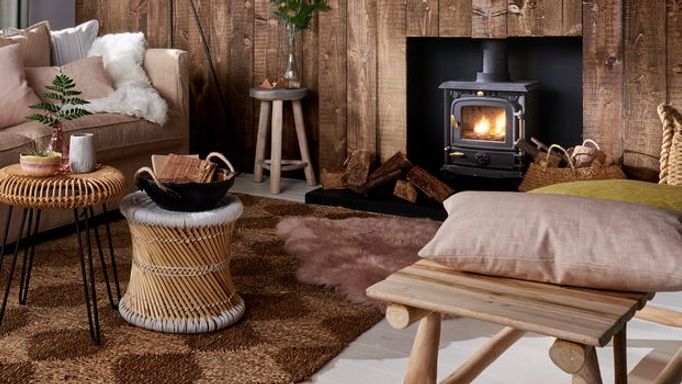 Add a modern twist
This look takes traditional design elements and subtly subverts them to create an innovative modern look. Emily's pendant light transmutes simple wooden shapes into intriguing structural forms, while the humble indoor plant is taken off the plant stand and given pride of place in the very fabric of the wall. Meanwhile an industrial style floor lamp highlights a vase of garden weeds teetering on the edge of an old wooden stool.