Gardens are currently bursting into bloom with an array of bright flowers, from rich reds to powerful pinks and vivid violets. If you'd like to channel the beautiful transformations taking place in the outside world but prefer a less vibrant colour palette, then you could consider a monochrome scheme.
At first this may sound like something of a contradiction, but when any bold colours are removed, the fabulous natural forms take centre stage. Sleek shades of black and white are a far cry from old-fashioned chintz. In fact, they were even featured on the spring / summer catwalks.
In our living room, we've gone for a classic take on the trend, with white walls and a black sofa and accessories. Our simply stylish Tivoli Monochrome Vertical blinds complete the picture, with a subtle floral pattern.
While in our dining room, we've inverted these colours with black walls, white detailing and our Miranda Monochrome Roller blinds from our black blinds range. You might think that this will make the space seem darker, but it actually means that any light coming in through the windows is exaggerated.
We also went for a dramatic effect in the bathroom, with our Serena Monochrome Roller blind. The eye-catching fabric features a selection of bold blooms, while a shaped hem and decorative pull provide the perfect finishing touches as a bathroom blind.
Over in the bedroom, a restful ambience was the order of the day, so we plumped for a delicate design featuring small sprays of flowers. The pretty Pleated blind allows sunlight to gently filter into the room, creating a laid-back vibe.
Or for a really crisp and clean impression, you could choose an entirely white fabric. In our entrance hallway, an Oregon White Roller blind from our latest 'New World' collection has a lovely airy appeal.
Alternatively, if white seems like too much of stark choice then you can warm things up with an ivory hue. Here, our cream floral curtains contrast beautifully with a striped Roman blind. Teaming the two styles together results in a lovely layered look. 
You might also be interested in…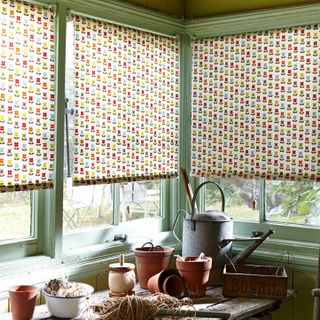 Pay homage to the colour and life of the great outdoors.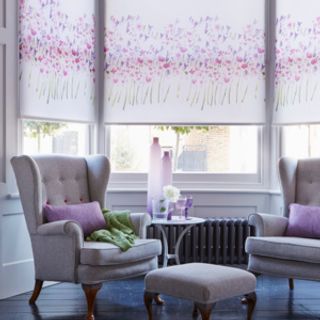 This look recognises the duality between the innovative world we live in and our desire to be close to nature.